"Trump is a corrupt real estate magnate with ties to the mafia and sleazy autocrats around the world. Anyone out to get him should have started by following his misbegotten money. Instead Democrats tried to do three things at once: get Trump, destroy U.S.-Russia relations to provoke a new Cold War that would profit the military-industrial complex and explain away the bankruptcy of Hillary Clinton's brand of centrist corporatism." — Ted Rall 1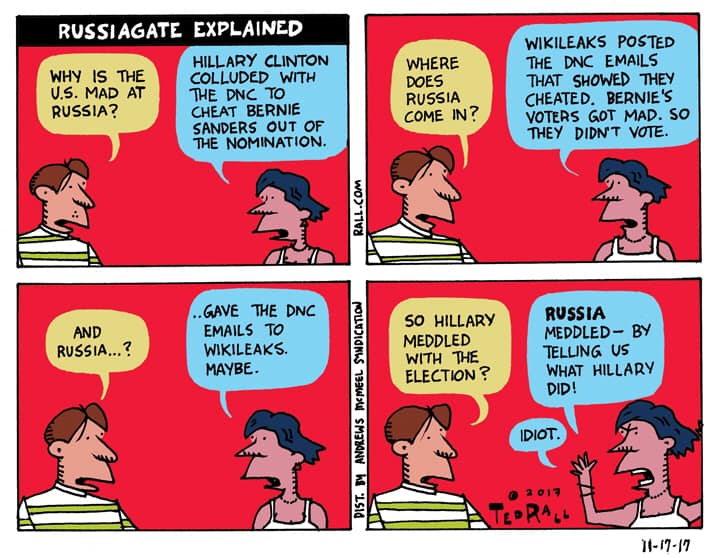 I've been writing this blog for close to a decade and during that period can remember no major current affairs story so devoid of actual substance or so blatantly idiotic as Russiagate; yet the corporate media fell all over it like pigs jostling beneath a bucket of swill. Even by the abysmal standards of present day mainstream journalism, their collective laziness, lack of diligence, failure to investigate basic facts, and unquestioning reliance on official sources has been beyond belief…
Yep, those Russiagate WMDs just had to be somewhere right, because once located the twin evil-doers Trump and Putin could be taken down once and for all! Such was the infantile rationale. Wishful thinking became copy, as the news media gobbled up the lies and the half-truths, irrespective of the fact that the public was losing interest anyway. Having sacrificed the last remnants of any credibility, now we all must pay a hefty price for this mindboggling circus of deceit and the media's demented role in its 24/7 promotion:
You know what was fake news? Most of the Russiagate story. There was no Trump-Russia conspiracy, that thing we just spent three years chasing. The Mueller Report is crystal clear on this.

He didn't just "fail to establish" evidence of crime. His report is full of incredibly damning passages, like one about Russian officialdom's efforts to reach the Trump campaign after the election: "They appeared not to have preexisting contacts and struggled to connect with senior officials around the President-Elect."

Not only was there no "collusion," the two camps didn't even have each others' phone numbers!
Reported Rolling Stone's Matt Taibbi shortly after the release of a redacted version of Mueller's long anticipated report back in April. A few paragraphs on, he continues:
[R]eporters should be furious at the many sources close to the various investigations who (it now seems clear) must have known pretty early there were serious holes in many areas of this story, and that a lot of these "dots" were dead ends, but didn't warn their press counterparts. For instance, the papers should be mad those who supposedly had misgivings about the Steele report didn't warn them earlier.

But they're not mad, which makes it look like a case of intentional blindness, in which eyes and ears were shut among other things because the Trump-Russia conspiracy tale made a ton of money. Media companies earned boffo ratings while the Mueller probe still carried the drama of a potential spectacular ending, with blue-state audiences eating up all those "walls are closing in" hot takes.

This fiasco will surely end up being a net plus for Trump. The obstruction parts of the report make him look like a brainless goon and thug, but the absence of what Mueller repeatedly calls "underlying crime" make his ravings about an elitist mob out to get him look justified. This is not an easy thing to achieve, but we're there, and the press is a big part of that picture. 2
Click here to read Matt Tiabbi's full report published by Rolling Stone magazine on April 23rd.
Political commentator and cartoonist Ted Rall, another Russiagate refusenik, didn't even bother to wait for the release of the Mueller report before delivering his own damning verdict:
Russiagate was a propaganda campaign waged by the Democratic Party and its media allies with a daily blizzard of overheated speculation that Russia installed Donald Trump as its stooge by hacking the 2016 presidential election. Several years and millions of dollars later, special counsel Robert Mueller has concluded that it didn't happen.

Of course it didn't happen. It couldn't have happened.

As I wrote last year: "You're asking us to believe that Trump's people met with Putin's people, not to discuss Trump's sleazy real estate developments in the former Soviet Union, but to encourage Russian hackers to break into the DNC, steal Hillary's emails and funnel them to WikiLeaks with a view toward angering enough voters to change the outcome of the election in Trump's favor. Trump doesn't even read one-page memos. Yet we're being asked to believe that he supervised a ridiculously complex Machiavellian conspiracy? ["]
Rall was writing in late March immediately following Mueller's final submission to Attorney General William Barr, and before the any public release of the report, but like others paying proper attention he quite rightly surmised that the investigation would run into the sand because the entire Russiagate conspiracy theory had always been a hoax – and the Mueller inquiry was therefore a $32 million 'nothing burger'.
As he bluntly puts it:
The media idiots' WMD BS cost a million-plus Iraqis their lives. Their Russiagate crap has vastly increased the chances that Trump will win reelection. Russiagate will make it all but impossible to impeach the bastard as he deserves and as the country desperately needs. 3
Click here to read Ted Rall's full article entitled "The Actual Collusion".
In December 2017, amid news the Mueller probe could extend through 2018, Guardian reporter Luke Harding spoke with Aaron Maté of 'The Real News Network' about Russiagate and Harding's new book "Collusion: Secret Meetings, Dirty Money, and How Russia Helped Donald Trump Win". The encounter was an extraordinary one:
*
Mueller time is over, Russia-hate is here to stay
On July 24th Robert Mueller had one last chance to impress with his findings on Russiagate when delivered testimony in a hearing before Congress that would last more than seven hours. Afterwards there was a widespread feeling of deflation. Michael Graham of the Boston Herald nicely summed up the Democrat and other anti-Trump reaction:
Wednesday was a bad day for Democrats, because it was a bad day for Bob Mueller.

After weeks of breathless speculation from CNN panelists that the special counsel might leap to his feet, point a bony finger toward the White House and shout "J'Accuse!"… there were no bombshells in the testimony.

Instead, it was Mueller's performance that bombed.

"This is very, very painful," Obama's political strategist David Axelrod tweeted during the hearings.

Progressive Newsweek columnist Seth Abramson called him "a bit of a bumbler," and activist liberal attorney Laurence Tribe confessed, "Much as I hate to say it, this hearing was a disaster. Far from breathing life into his damning report, the tired Robert Mueller sucked the life out of it."

What was designed to be a devastating blow to the Trump presidency turned into a fiasco of fumbling and forgetfulness by Mueller. Before the hearings, Democratic sources described their strategy as "people don't read the book, they watch the movie." But Mueller refused to play the role of their leading man. He never read from the report a single time. 4
Scrambling around to salvage something from the wreckage, much of the subsequent mainstream attention switched to Mueller's failings and away from the altogether suspicious lack of substance that was evident from the very outset. But then, as Graham says, "If Mueller's not credible, neither is his investigation."
Click here to read the full article entitled "Dems need to find another strategy, the Mueller one flopped".
Also on July 24th, Marc Steiner of The Real News spoke with former FBI agent and whistleblower Coleen Rowley about Mueller's past incompetence and how the hearing had amounted to "Much Ado About Nothing":
Then, on August 4th, one of the foremost serious investigators into Russiagate, Aaron Maté of The Greyzone, spoke with Stephen F. Cohen, Professor Emeritus at New York University and Princeton University, whose latest book is War with Russia: From Putin and Ukraine to Trump and Russiagate.
They began by retracing the origins of Russiagate and moved on from there to discuss how the media frenzy has served to damage already strained US-Russian relations and intensify the new Cold War. Russiagate may be dead, but its spectre will continue haunt us, and that surely was the main point of constructing it:
*
In the World of Truth and Fact, Russiagate is Dead | Craig Murray
Douglas Adams famously suggested that the answer to life, the universe and everything is 42. In the world of the political elite, the answer is Russiagate. What has caused the electorate to turn on the political elite, to defeat Hillary and to rush to Brexit? Why, the evil Russians, of course, are behind it all.
It was the Russians who hacked the DNC and published Hillary's emails, thus causing her to lose the election because… the Russians, dammit, who cares what was in the emails? It was the Russians. It is the Russians who are behind Wikileaks, and Julian Assange is a Putin agent (as is that evil Craig Murray). It was the Russians who swayed the 1,300,000,000 dollar Presidential election campaign result with 100,000 dollars worth of Facebook advertising. It was the evil Russians who once did a dodgy trade deal with Aaron Banks then did something improbable with Cambridge Analytica that hypnotised people en masse via Facebook into supporting Brexit.
All of this is known to be true by every Blairite, every Clintonite, by the BBC, by CNN, by the Guardian, the New York Times and the Washington Post. "The Russians did it" is the article of faith for the political elite who cannot understand why the electorate rejected the triangulated "consensus" the elite constructed and sold to us, where the filthy rich get ever richer and the rest of us have falling incomes, low employment rights and scanty welfare benefits. You don't like that system? You have been hypnotised and misled by evil Russian trolls and hackers.
[Whether Trump and/or Brexit were worthy beneficiaries of the popular desire to express discontent is an entirely different argument and not one I address here].
Except virtually none of this is true. Mueller's inability to defend in person his deeply flawed report took a certain amount of steam out of the blame Russia campaign. But what should have killed off "Russiagate" forever is the judgement of Judge John G Koeltl of the Federal District Court of New York.
In a lawsuit brought by the Democratic National Committee against Russia and against Wikileaks, and against inter alia Donald Trump Jr, Jared Kushner, Paul Manafort and Julian Assange, for the first time the claims of collusion between Trump and Russia were subjected to actual scrutiny in a court of law. And Judge Koeltl concluded that, quite simply, the claims made as the basis of Russiagate are insufficient to even warrant a hearing.
The judgement is 81 pages long, but if you want to understand the truth about the entire "Russiagate" spin it is well worth reading it in full. Otherwise let me walk you through it.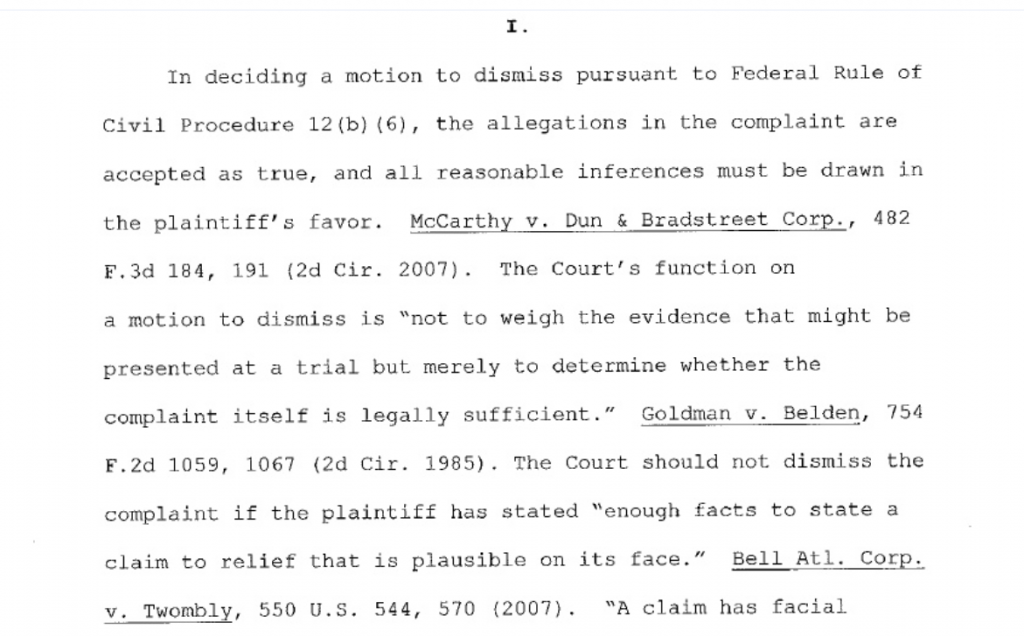 This is the crucial point about Koeltl's judgement. In considering dismissing a case at the outset in response to a motion to dismiss from the defence, the judge is obliged to give the plaintiff every benefit and to take the alleged facts described by the DNC as true. The stage of challenging and testing those facts has not been reached. The question Koeltl is answering is this. Accepting for the moment the DNC's facts as true, on the face of it, even if everything that the Democratic National Committee alleged happened, did indeed happen, is there the basis for a case? And his answer is a comprehensive no. Even the facts alleged to comprise the Russiagate narrative do not mount up to a plausible case.
The consequence of this procedure is of course that in this judgement Koeltl is accepting the DNC's "facts". The judgement is therefore written entirely on the assumption that the Russians did hack the DNC computers as alleged by the plaintiff (the Democratic National Committee), and that meetings and correspondence took place as the DNC alleged and their content was also what the DNC alleged. It is vital to understand in reading the document that Koeltl is not stating that he finds these "facts" to be true. Doubtless had the trial proceeded many of them would have been challenged by the defendants and their evidentiary basis tested in court. It is simply at this stage the only question Koeltl is answering is whether, assuming the facts alleged all to be true, there are grounds for trial.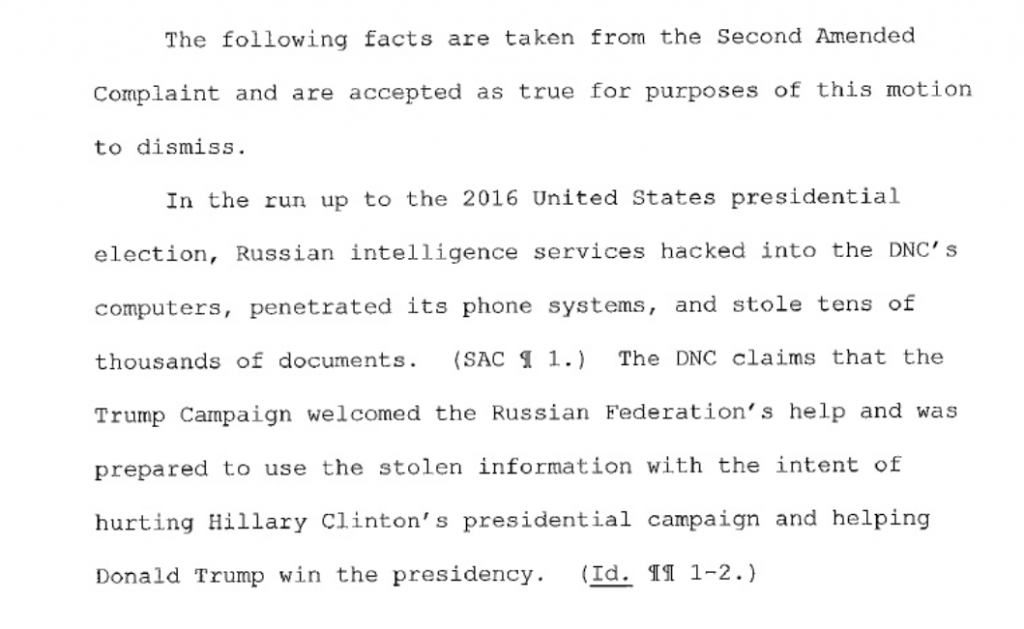 Judge Koeltl's subsequent dismissal of the Russiagate nonsense is a problem for the mainstream media and their favourite narrative. They have largely chosen to pretend it never happened, but when obliged to mention it have attempted to misrepresent this as the judge confirming that the Russians hacked the DNC. It very definitely and specifically is not that; the judge was obliged to rule on the procedural motion to dismiss on the basis of assuming the allegation to be true. Legal distinctions, even very plain ones like this, are perhaps difficult for the average cut and paste mainstream media stenographer to understand. But the widespread failure to report the meaning of Koeltl's judgement fairly is inexcusable.
The key finding is this. Even accepting the DNC's evidence at face value, the judge ruled that it provides no evidence of collusion between Russia, Wikileaks or any of the named parties to hack the DNC's computers. It is best expressed here in this dismissal of the charge that a property violation was committed, but in fact the same ruling by the judge that no evidence has been presented of any collusion for an illegal purpose, runs through the dismissal of each and every one of the varied charges put forward by the DNC as grounds for their suit.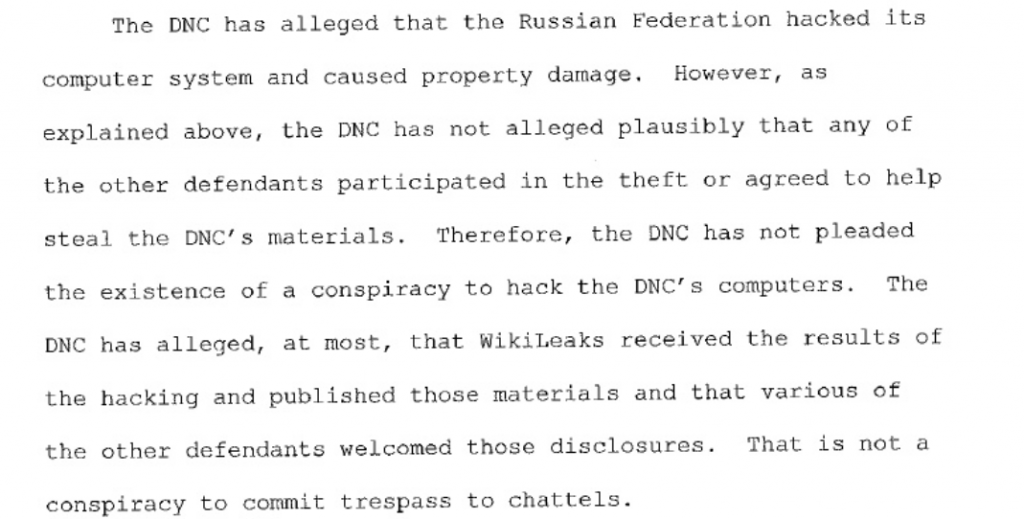 Judge Koeltl goes further and asserts that Wikileaks, as a news organisation, had every right to obtain and publish the emails in exercise of a fundamental First Amendment right. The judge also specifically notes that no evidence has been put forward by the DNC that shows any relationship between Russia and Wikileaks. Wikileaks, accepting the DNC's version of events, merely contacted the website that first leaked some of the emails, in order to ask to publish them.
Judge Koeltl also notes firmly that while various contacts are alleged by the DNC between individuals from Trump's campaign and individuals allegedly linked to the Russian government, no evidence at all has been put forward to show that the content of any of those meetings had anything to do with either Wikileaks or the DNC's emails.
In short, Koeltl dismissed the case entirely because simply no evidence has been produced of the existence of any collusion between Wikileaks, the Trump campaign and Russia. That does not mean that the evidence has been seen and is judged unconvincing. In a situation where the judge is duty bound to give credence to the plaintiff's evidence and not judge its probability, there simply was no evidence of collusion to which he could give credence. The entire Russia-Wikileaks-Trump fabrication is a total nonsense. But I don't suppose that fact will kill it off.
The major implication for the Assange extradition case of the Koeltl judgement is his robust and unequivocal statement of the obvious truth that Wikileaks is a news organisation and its right to publish documents, specifically including stolen documents, is protected by the First Amendment when those documents touch on the public interest.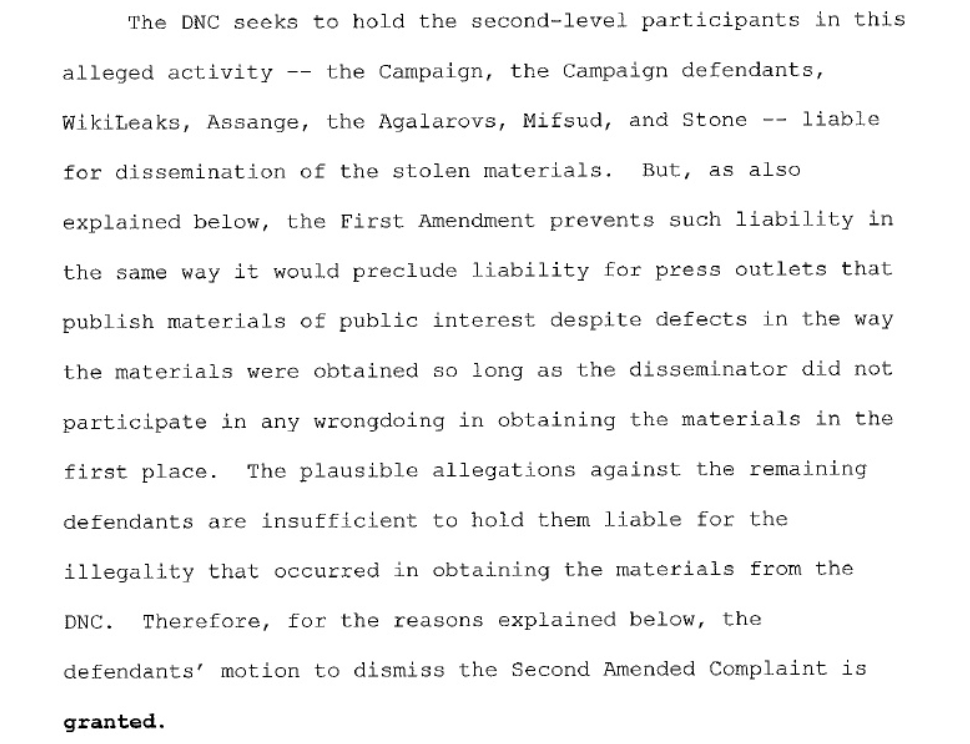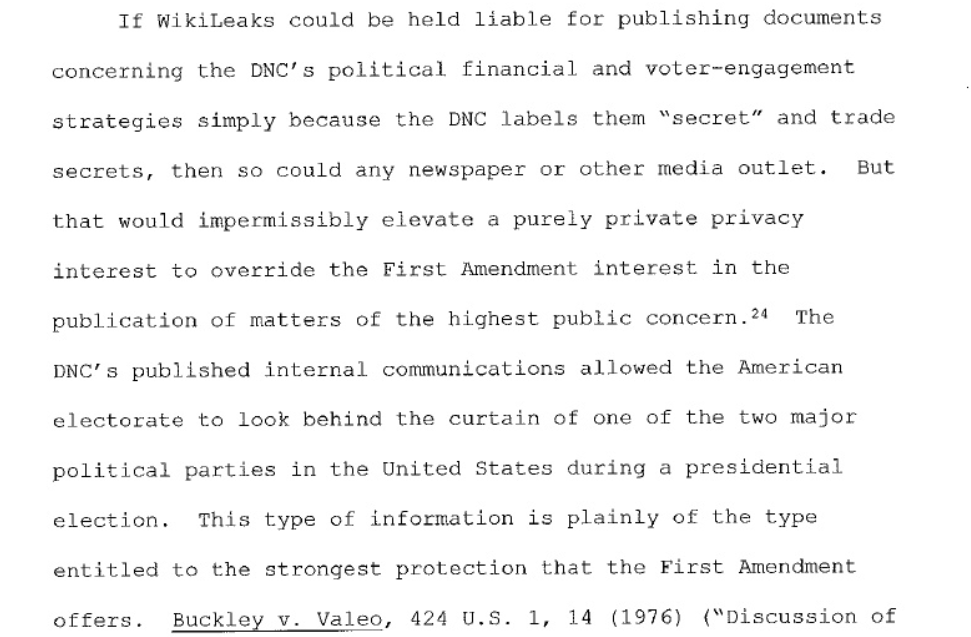 These arguments are certainly helpful to Assange in the extradition case. But it must be noted that the extradition request has been drafted to try to get round the law by alleging that Wikileaks were complicit in the actual theft of documents by Chelsea Manning. Judge Koeltl does not address this question as he was presented with no evidence that Wikileaks had contact with the "hackers" prior to their obtaining the documents, so the question did not arise before him. In the extradition request, the attempt is to argue that Assange encouraged and abetted Manning in obtaining the material. This is supposed to be a different argument.
In fact this attempt to undermine the First Amendment has no merit. Cultivation of an insider source is a normal part of journalistic activity, and encouraging an official to leak material in the public interest is an everyday occurrence in such cultivation. In the "Watergate" precedent, for example, the "Deep Throat" source, Mark Felt of the FBI, was cultivated and encouraged over a period by Woodward. In addition to which, Manning's access to the documents could not be characterised as "theft". Leaking of official secrets by an insider is a very different thing to a hack from outside.
And in conclusion, I should state emphatically that while Judge Koeltl was obliged to accept for the time being the allegation that the Russians had hacked the DNC as alleged, in fact this never happened. The emails came from a leak not a hack. The Mueller Inquiry's refusal to take evidence from the actual publisher of the leaks, Julian Assange, in itself discredits his report. Mueller should also have taken crucial evidence from Bill Binney, former Technical Director of the NSA, who has explained in detail why an outside hack was technically impossible based on the forensic evidence provided.
The other key point that proves Mueller's Inquiry was never a serious search for truth is that at no stage was any independent forensic independence taken from the DNC's servers, instead the word of the DNC's own security consultants was simply accepted as true. Finally no progress has been made – or is intended to be made – on the question of who killed Seth Rich, while the pretend police investigation has "lost" his laptop.
Though why anybody would believe Robert Mueller about anything is completely beyond me.
So there we have it. Russiagate as a theory is as completely exploded as the appalling Guardian front page lie published by Kath Viner and Luke Harding fabricating the "secret meetings" between Paul Manafort and Julian Assange in the Ecuadorean Embassy. But the political class and the mainstream media, both in the service of billionaires, have moved on to a stage where truth is irrelevant, and I do not doubt that Russiagate stories will thus persist. They are so useful for the finances of the armaments and security industries, and in keeping the population in fear and jingoist politicians in power.
Click here to read the same article entitled "In the World of Truth and Fact, Russiagate is Dead. In the world of the Political Establishment, it is Still the New 42" published by Craig Murray on August 4th.
*
Just a few of the many wobbly planks of Russiagate
Aside from the breathtaking absurdity of many of the accusations and the woeful lack of substantiating evidence, the outstanding feature of Russiagate has been its bewildering and almost overwhelming complexity. On the one hand, the story revolves around the dodgy intrigues of Trump himself and an array of characters "presented to us as Russian 'agents' or Trump-Kremlin 'intermediaries'", but who, as Aaron Maté reminded us in a piece published in The Nation magazine back in March, turned out to be nothing of the sort:
None of the lies that Trump aides or allies were caught telling pointed us toward the collusion that members of the media and political figures insisted they were hiding. None of the various pillars of Russiagate—the June 2016 Trump Tower meeting; the fanciful assertions of the Steele dossier; the anonymously sourced media claims, such as Trump campaign members' having "repeated contacts with senior Russian intelligence officials"—ever led us to damning evidence. And all of that is likely why Mueller never charged anyone with involvement in (or covering up) a Trump-Russia conspiracy. 5
While on the other hand, there are different strands of loosely related and similarly unproven charges that the Kremlin strove to "hack the election". Allegedly, they did this by means of spreading 'fake news' memes via a troll farm, by hacking email accounts at the DNC and publishing the contents through Wikileaks, and it is even alleged that Russia has quite literally attempted to hack the US elections. This last allegation revolved around 'evidence' provided in the altogether bizarre case of an NSA leaker called Reality Winner – a fittingly peculiar name for the central protagonist!
In September 2018, Jimmy Dore ran a report entitled "DHS Official admits that the claims of Russians hacking different states was, well, not accurate":
*
Reproduced below is a compilation drawn from earlier articles in which I delved into allegations of Russian hacking of DNC accounts and the purported "election meddling" by Putin's troll farms. The extracts are interspersed with relevant interviews and also included are extracts from articles by Whitney Webb and Craig Murray. Besides retracing the origins of the Russiagate debacle and reconstructing an extended narrative, I also hope to illustrate just how easy it was to avoid jumping aboard this insane runaway bandwagon.
In March, Aaron Maté gave an exclusive interview with 'acTVism Munich' speaking on the topic of "Everything you need to know about the Mueller investigation & Russiagate":
*
 'Russia hacked the election'
The following extract is from an extended post entitled "'fake news' is the new blackwhite" published Feb 20th 2018.
https://wallofcontroversy.wordpress.com/2018/02/20/fake-news-is-the-new-blackwhite/
Whenever Donald Trump barks "fake news" in avoidance of some nagging news reporter's questions it comes across as a tacit admission of guilt. Subsequently the brush off is indeed reported upon as a tacit admission of guilt. And doubtless, more than half the time, it was a tacit admission of guilt: Trump has a great deal to be guilty about. However, it does not automatically follow that even the vile and corrupt Trump is guilty in every case.
'Russiagate' has dominated the US news cycle for well over eighteen months in spite of the fact that after several investigations there has been an embarrassing failure to uncover substantiating evidence pointing to an actual Russian plot to "hack the election" as was so vigorously claimed. But the latest twist in the saga is arguably the lamest to date. It involves Robert Mueller's indictment of thirteen Russian nationals for purportedly creating sockpuppet accounts on behalf of Trump (or else disparaging him – presumably for added confusion!), as well as (still more bafflingly) bolstering the campaigns of progressives Bernie Sanders and Jill Stein in the 2016 election. Missing altogether are any claims that Trump knew anything at all about the alleged Russian meddling, or that in fact "Russia hacked the election" – the very pivot about which Russiagate started spinning. As even the Guardian admits in its wholly uncritical account of Mueller's findings which is excitedly titled "Putin's chef, a troll farm and Russia's plot to hijack US democracy":
The indictment does not allege that any American knowingly participated in Russian meddling, or that Trump campaign associates had more than "unwitting" contact with some who posed as Americans. Trump quickly claimed vindication, noting in a tweet that the interference efforts began in 2014 "long before I announced that I would run for president". He added: "The results of the election were not impacted. The Trump campaign did nothing wrong – no collusion!"
Nor does it have anything to say regarding the origins of 'Russiagate':
The indictment does not mention the hacking of Democratic emails, which then turned up on WikiLeaks. It does not mention the infamous Trump Tower meeting in June 2016. It does not mention the four Trump associates who are facing charges that range from money laundering to lying to the FBI about conversations with Russia's ambassador. America, and the world, is waiting for Mueller to join the dots. 6
I shall come back to Trump in a moment. But first please note how Mueller has been given a free pass by the media. This is the same Robert Mueller who was appointed FBI head by George W Bush literally one week prior to the September 11th attacks and who thereafter, as former FBI special agent and whistleblower Coleen Rowley points out at length, alongside then-Deputy Attorney General James Comey, "presided over post-9/11 cover-ups and secret abuses of the Constitution, enabled Bush-Cheney fabrications used to launch wrongful wars, and exhibited plain vanilla incompetence":
I wanted to believe Director Mueller when he expressed some regret in our personal meeting the night before we both testified to the Senate Judiciary Committee. He told me he was seeking improvements and that I should not hesitate to contact him if I ever witnessed a similar situation to what was behind the FBI's pre 9/11 failures.

A few months later, when it appeared he was acceding to Bush-Cheney's ginning up intelligence to launch the unjustified, counterproductive and illegal war on Iraq, I took Mueller up on his offer, emailing him my concerns in late February 2003. Mueller knew, for instance, that Vice President Dick Cheney's claims connecting 9/11 to Iraq were bogus yet he remained quiet. He also never responded to my email. 7
Click here to read Coleen Rowley's full article entitled "Russia-gate's Mythical 'Heroes'"
Jimmy Dore reflects on Rachel Maddow's reaction to the collapse of Russiagate – uploaded on March 25th:
*
Drilling down into 'Russiagate' to find the origins of 'fake news'
The following extract is a later section drawn from the same post entitled "'fake news' is the new blackwhite" published Feb 20th 2018.
https://wallofcontroversy.wordpress.com/2018/02/20/fake-news-is-the-new-blackwhite/
'Fake news' as a meme has befuddled millions. To paraphrase Orwell: like so many Newspeak words, this phrase has two mutually contradictory meanings. Used by the mainstream it represents a shield against deception. Used by an opponent, however, and it merely confirms the habit of impudently claiming that black is white, in contradiction of the plain facts.
Presumably for this reason, an oddly prevalent misapprehension has grown, especially amongst liberal-minded Trump opponents, that the term 'fake news' was coined by Donald Trump himself as a vain attempt to defend himself against regular attacks from the press corps. However, as soon as we retrace the breadcrumbs that lead back to 'Russiagate' reality becomes clearer.
'Fake news' was manufactured not by Trump, but by opponents. It arose from the ashes of the original 'Russiagate' scandal that had been concocted to divert attention from electoral rival Clinton in light of the leaks of campaign director John Podesta's emails.  After her defeat, however, 'Russiagate' quickly resurfaced to spare Democrat blushes and with it came this new meme 'fake news'.
[I then parsed a Yahoo! News story written by Michael Isikoff…]
The Obama administration today publicly accused the Russian government of cyberattacks against U.S. political organizations and prominent figures that are "intended to interfere with the U.S. election process."

The extraordinary move comes after months of disclosures stemming from the hacks of the Democratic National Committee and other groups — cyberattacks that the U.S. intelligence community is now "confident" were directed by the Russian government.
In other words, we find the origins to what would soon become 'Russiagate': a story transparently devoid of any substantiated facts at all and based solely on allegations in turn determined baseless by a range of independent experts (read earlier post) and then widely forgotten.
This had followed from a joint statement made by the office of the Director of National Intelligence and the Department of Homeland Security claiming:
"The U.S. Intelligence Community (USIC) is confident that the Russian Government directed the recent compromises of e-mails from US persons and institutions, including from US political organizations…

"These thefts and disclosures are intended to interfere with the US election process…

"Such activity is not new to Moscow — the Russians have used similar tactics and techniques across Europe and Eurasia, for example, to influence public opinion there. We believe, based on the scope and sensitivity of these efforts, that only Russia's senior-most officials could have authorized these activities."
This clumsy yet effective scapegoating of Russia quite deliberately switched the attention of our gullible and obedient press away prying any further into Clinton's emails, and there was more…
Earlier Friday, a group of former top national security officials and experts warned that Russian intelligence agents may "doctor" emails hacked from the Democratic National Committee and other political groups as part of a sophisticated "disinformation" campaign aimed at influencing the 2016 election.

The group, including former Homeland Security Secretary Michael Chertoff and former White House counterterrorism adviser Richard Clarke, urged the news media to be "cautious" about publishing such material lest they play into Russian hands.

"What is taking place in the United States follows a well-known Russian playbook: First leak compelling and truthful information to gain credibility. The next step: Release fake documents that look the same," the group said in a joint public statement.
Much more…
"The Russians aren't coming. They're already here," said Tara Sonenshine, a former undersecretary for public diplomacy under Clinton and one of the organizers of the joint statement.

The fear that more embarrassing emails may be coming is especially acute among Democratic operatives and loyalists, who have become convinced Russian President Vladimir Putin is more favorably disposed to Trump and doing what he can to assist his candidacy. And perhaps not surprisingly, most, if not all, of the 16 former officials and national security experts who signed the statement — including Chertoff, who served during the Bush administration — have endorsed Clinton.

Sonenshine insisted that the purpose of the letter was not to pressure the news media to refuse to publish any leaked emails. Instead, she said, it is only to inject a cautionary note into the review of such material given the Russian propensity to fabricate documents.

"You can't put out a red stop sign to journalism," she said. "But you can put up a yellow flag."

Sonenshine and another organizer of the letter, Ken Gude of the Center for American Progress, said there is evidence that the Russian intelligence service has fabricated or altered documents to further its political aims in Ukraine and elsewhere. And the joint statement warns that such actions appear to fit into a larger strategy of using "cyber tools" targeting Western democracies. Similar concerns about Russian "information warfare" were raised in a recent U.S. intelligence report, disclosed last week by Yahoo News, that cited the activities of Russian Internet trolls and the broadcasts of RT and Sputnik, two state-sponsored media outlets. 8
Click here to read the full Yahoo! News story entitled "U.S. accuses Russia of cyberattacks 'intended to interfere' with election".
Follow the link and still the list of allegations goes on…
Another tactic of the [Russian] trolls is to inject blatantly false stories into the media, forcing public officials in Europe and the U.S. to respond, according to Weiss and other experts. A New York Times Sunday Magazine piece last year documented how Russian trolls based in the St. Petersburg office had swamped Twitter with hundreds of messages about an explosion at a Louisiana chemical plant that never took place, setting up dozens of fake accounts and doctoring screenshots from CNN and Louisiana TV stations to make the pseudo-event seem real. (The trolls even created a fake Wikipedia page about the supposed explosion, which in turn linked to a phony YouTube video.) 9
From another Yahoo! News story by Michael Isikoff.
But still, September 2016 is prior to the full launch of the meme 'fake news' and so this story (like the ones quoted before) describes the 'injection' of "blatantly false stories" in an increasingly aggressive "information warfare" campaign with the 'spread' of "pro-Kremlin messages". The Cold War overtones are unmistakeable. We are faced with the deliberate corruption of our free and democratic society that is as insidious as any viral infection: a corruption that needs naming and shaming. Finally, then we come to the manufacturing of the buzzword 'fake news' and to the appearance of PropOrNot.
This shadowy 'group of experts' which insists on complete public anonymity first made the headlines with the release of 'a report' in November 2016. Dramatically, it claimed to have identified more than 200 websites that were agents of Russian propaganda. 'Fake news' was about to become a fully-fledged trope.
So here is the Washington Post providing an uncritical platform (the editor's note was added later) for the PropOrNot's neo-McCarthyite blacklist:
The flood of "fake news" this election season got support from a sophisticated Russian propaganda campaign that created and spread misleading articles online with the goal of punishing Democrat Hillary Clinton, helping Republican Donald Trump and undermining faith in American democracy, say independent researchers who tracked the operation.
It continues:
PropOrNot's monitoring report, which was provided to The Washington Post in advance of its public release, identifies more than 200 websites as routine peddlers of Russian propaganda during the election season, with combined audiences of at least 15 million Americans. On Facebook, PropOrNot estimates that stories planted or promoted by the disinformation campaign were viewed more than 213 million times. 10
Listed amongst these 'Russian agents' were WikiLeaks, Truthout, Black Agenda Report, Truthdig, Naked Capitalism, Antiwar.com, the Ron Paul Institute, Zerohedge, Corbett Report, Global Research and Counterpunch. In other words, pretty much anyone who's anyone in alternative news.
As Glen Greenwald and Ben Norton wrote in The Intercept:
This Post report was one of the most widely circulated political news articles on social media over the last 48 hours, with dozens, perhaps hundreds, of U.S. journalists and pundits with large platforms hailing it as an earth-shattering exposé. It was the most-read piece on the entire Post website on Friday after it was published.

Yet the article is rife with obviously reckless and unproven allegations, and fundamentally shaped by shoddy, slothful journalistic tactics. It was not surprising to learn that, as BuzzFeed's Sheera Frenkel noted, "a lot of reporters passed on this story." Its huge flaws are self-evident. But the Post gleefully ran with it and then promoted it aggressively, led by its Executive Editor Marty Baron:
Greenwald and Norton continue:
In his article, the Post's Timberg did not include a link to PropOrNot's website. If readers had the opportunity to visit the site, it would have become instantly apparent that this group of ostensible experts far more resembles amateur peddlers of primitive, shallow propagandistic clichés than serious, substantive analysis and expertise; that it has a blatant, demonstrable bias in promoting NATO's narrative about the world; and that it is engaging in extremely dubious McCarthyite tactics about a wide range of critics and dissenters. 11
I will not link here to the Washington Post article because I am disinclined to direct others to waste their time on execrable clickbait. However, for anyone who wishes to check the above quotes, the link is available as always in the footnotes.
Click here to read Greenwald's article in The Intercept.
James Corbett's 'Everything you wanted to know about Russiagate but weren't stupid enough to ask' in 3 minutes:
*
 "Russia hacked the election" and other fake news
The following extracts are from a post entitled "'Russia hacked the election' and other fake news – whatever happened to journalism?" published on Jan 17th 2017.
https://wallofcontroversy.wordpress.com/2017/01/17/russia-hacked-the-election-and-other-fake-news-whatever-happened-to-journalism/
When I posted the previous article, not for a moment did I anticipate this already stale (nearly six months old) and contrived accusation of Russian hacking might be reheated and making the headlines well into the new year. Nor could I have envisaged that in the interim no fewer than two 'intelligence reports' would be issued to serve as flimsy support for otherwise groundless claims. Two reports with extremely serious sounding titles and elaborate illustrations, but not a single shred of evidence between them. Although that last part comes as no surprise at all, of course.
But before considering these twin tissues, not of lies, but of unsupported assertions, it is helpful to first remind ourselves what is to be understood when we read that "Russia hacked the election". Because in spite of the seeming inference contained in those excitable words, the accusation falls far short of any literal suggestion that the Russians hacked into electronic voting machines or otherwise meddled directly in America's electoral process.
Instead, the fragile claim is only that 'the Kremlin' (read Putin) hacked into the Democratic National Committee and thereafter released evidence to wikileaks exposing, amongst other things, how DNC staffers were manipulating the primaries to ensure Clinton prevailed against Bernie Sanders. Thus the outrage might be neatly encapsulated as follows:
Back in July it was quite evident that this fantasy about dastardly Russian interference had been concocted in order to misdirect everyone from the incriminating substance of the emails as such. And up to a point the distraction worked wonderfully well, even if the leak still did result in the embarrassing and untimely resignation of DNC chairperson Debbie Wasserman Schultz. Indeed, as the election neared, this evidence-free story was quietly sidelined, since Clinton's victory had then appeared a nailed-on certainty.
But now, in the wake of Clinton's shock defeat, the same unfounded insinuations that provided such a convenient decoy, with Putin standing in as a readymade scapegoat, have been rehashed again. Promoted by a neo-con establishment suddenly desperate to play the Russia card once more, we witness a choreographed outcry from the likes of Brennan and McCain, and the frenzied release of these half-baked 'intelligence reports'.
*
Glenn Greenwald also made a recent appearance on BBC's Newsnight on Wednesday 11th [Jan]. He had been invited principally to discuss the latest revelations against the Kremlin in light of the release of memos purporting to show that Russia is in possession of compromising material on Trump – which is plausible but once again no credible evidence is being presented. The exchange of words he had with presenter Emily Maitlis was certainly memorable:
Here is a short extract (the transcription is mine):
Maitlis [from 1:20 min]: But hang on a sec, [this latest allegation] was taken seriously by the CIA – by the Central Intelligence Agency. Doesn't that elevate it above gossip?

Greenwald: Right, so the CIA is an agency that has repeatedly got caught lying in the past. It is designed to disseminate propaganda. And they're currently in open warfare with the person who was just elected President of the United States. They were behind Hillary Clinton's campaign. So I agree that once the CIA briefs the President and President-elect on this document it becomes newsworthy to report that fact, but the mere fact that the CIA tried to enshrine this document in a cloud of authenticity or credibility doesn't for me as a journalist convince me at all that the claims are true. I want to see evidence first that the claims are true.

Maitlis: Hang on a second – you're calling the CIA partisan. Are you basically suggesting that if Donald Trump then goes on to ignore everything that the CIA tells him that's no great loss to America?

Greenwald: No, I didn't say anything even remotely like that. What I said was that the CIA –

Maitlis [interrupting]: You said that the CIA was partisan – that it was pitted against the President-elect.

Greenwald: Well, that's absolutely true. The former head of the CIA, Michael Morell, went to the New York Times and endorsed Hillary Clinton. George Bush's CIA head, General [Michael] Hayden went to the Washington Post and did the same thing. They both accused Trump of being a recruit of Vladimir Putin.

Maitlis: So in that case whatever they tell him he would have to take with a pinch of salt because he would see them as a partisan organisation. Is that what you're essentially suggesting?

Greenwald: I would say that any rational human being with even minimal history of the United States and the CIA would take everything that the CIA says with a huge grain of salt. I would call it actually a dose of rational scepticism. Given how many times in the past that agency has lied and been in error. You know of course don't you that the Iraq War was started because that agency said Saddam Hussein had weapons of mass destruction and was in alliance with al-Qaeda. Something that turned out to be tragically untrue. So of course people would treat those claims sceptically.
*
On July 10th, Aaron Maté joined Lee Camp on his RT show 'Redacted Tonight' to discuss how the Russiagate allegations are losing credibility:
*
A glimpse behind the Russiagate smokescreen?
The following extract is from a post entitled "Russian hacking is a silly smokescreen, so what's behind it…?" published on Dec 14th 2016
https://wallofcontroversy.wordpress.com/2016/12/14/russian-hacking-is-a-silly-smokescreen-so-whats-behind-it/
This is one of the daftest stories I've heard in a long while, but since the Guardian, Washington Post and even President Obama are still trying to persuade us that this evidence-free allegation of Russian hacking is serious and worthy of the world's attention then here is definitive debunking courtesy of Veteran Intelligence Professionals for Sanity (VIPS), whose combined expertise includes William Binney and Ray McGovern. They write:
The bottom line is that the NSA would know where and how any "hacked" emails from the DNC, HRC or any other servers were routed through the network. This process can sometimes require a closer look into the routing to sort out intermediate clients, but in the end sender and recipient can be traced across the network.

The various ways in which usually anonymous spokespeople for U.S. intelligence agencies are equivocating – saying things like "our best guess" or "our opinion" or "our estimate" etc. – shows that the emails alleged to have been "hacked" cannot be traced across the network. Given NSA's extensive trace capability, we conclude that DNC and HRC servers alleged to have been hacked were, in fact, not hacked.

The evidence that should be there is absent; otherwise, it would surely be brought forward, since this could be done without any danger to sources and methods. Thus, we conclude that the emails were leaked by an insider – as was the case with Edward Snowden and Chelsea Manning. Such an insider could be anyone in a government department or agency with access to NSA databases, or perhaps someone within the DNC.
Concluding:
As for the comments to the media as to what the CIA believes, the reality is that CIA is almost totally dependent on NSA for ground truth in the communications arena. Thus, it remains something of a mystery why the media is being fed strange stories about hacking that have no basis in fact. In sum, given what we know of NSA's existing capabilities, it beggars belief that NSA would be unable to identify anyone – Russian or not – attempting to interfere in a U.S. election by hacking. 12
Click here to read the full and very detailed analysis.
Furthermore, Craig Murray has testified that he actually KNOWS who is behind the leak (and be assured that Murray is no friend of Putin):
Craig Murray, the former UK ambassador to Uzbekistan, who is a close associate of Assange, called the CIA claims "bullshit", adding: "They are absolutely making it up."

"I know who leaked them," Murray said. "I've met the person who leaked them, and they are certainly not Russian and it's an insider. It's a leak, not a hack; the two are different things. 13 [bold emphasis added]
The extract was taken from an article credited to "Damien Gayle and [ahem] agencies" (with éminence grise 'and agencies' printed appropriately in a faint grey) published by the Guardian and with Murray's statement buried deep within the paragraphs of spurious CIA hype. And that was that. Nobody has since cross-examined Murray's assertion or otherwise acknowledged his testimony and rather than following it up in any fashion, the mainstream media has simply ignored it altogether.
Murray fleshes out his thoughts in an article on his blog on Sunday 11th:
I have watched incredulous as the CIA's blatant lie has grown and grown as a media story – blatant because the CIA has made no attempt whatsoever to substantiate it. There is no Russian involvement in the leaks of emails showing Clinton's corruption. Yes this rubbish has been the lead today in the Washington Post in the US and the Guardian here, and was the lead item on the BBC main news. I suspect it is leading the American broadcasts also.

A little simple logic demolishes the CIA's claims. The CIA claim they "know the individuals" involved. Yet under Obama the USA has been absolutely ruthless in its persecution of whistleblowers, and its pursuit of foreign hackers through extradition. We are supposed to believe that in the most vital instance imaginable, an attempt by a foreign power to destabilise a US election, even though the CIA knows who the individuals are, nobody is going to be arrested or extradited, or (if in Russia) made subject to yet more banking and other restrictions against Russian individuals? Plainly it stinks. The anonymous source claims of "We know who it was, it was the Russians" are beneath contempt.

As Julian Assange has made crystal clear, the leaks did not come from the Russians. As I have explained countless times, they are not hacks, they are insider leaks – there is a major difference between the two. And it should be said again and again, that if Hillary Clinton had not connived with the DNC to fix the primary schedule to disadvantage Bernie, if she had not received advance notice of live debate questions to use against Bernie, if she had not accepted massive donations to the Clinton foundation and family members in return for foreign policy influence, if she had not failed to distance herself from some very weird and troubling people, then none of this would have happened.

The continued ability of the mainstream media to claim the leaks lost Clinton the election because of "Russia", while still never acknowledging the truths the leaks reveal, is Kafkaesque.
Click here to read Murray's full article.
*
Forget Russiagate, what about Israelgate?
The following extract is from a post entitled "forget 'Russiagate', why is no-one talking about 'Israelgate'…?" published on Sept 21st  2018.
https://wallofcontroversy.wordpress.com/2018/09/21/forget-russiagate-why-is-no-one-talking-about-israelgate/
Having trawled for evidence of "links and/or coordination between the Russian government and individuals associated with the campaign of President Donald Trump" as the Mueller investigation was tasked to do, it instead uncovered actual evidence of complicity with Israel. These uncomfortable revelations have since been swept under the carpet by the corporate media, but are discussed in detail elsewhere. For instance, as far back as last December Max Blumenthal was reporting for Alternet:
Seven months later, after three indictments that did little, if anything, to confirm the grand collusion narrative, Mueller had former National Security Council advisor Michael Flynn dragged before a federal court for lying to the FBI. The Russia probe had finally netted a big fish.

As the details of the Flynn indictment seeped out into the press, however, the bombshell was revealed as another dud. To the dismay of many Trump opponents, nothing in Flynn's rap sheet demonstrated collusion with Russia. Instead, the indictment undermined the Russiagate narrative while implicating another, much more inconvenient foreign power in a plot to meddle in American politics.
Blumenthal continues:
To be sure, Flynn indictment did contain a stunning revelation of collusion between Team Trump and a foreign state. But it was not the country that the national media has obsessed over for the past year.

Flynn was found by the FBI to have lobbied Kislyak to exercise Russia's veto against the passage of a United Nations security council resolution condemning the growth of Israel's illegal settlements. And he did so under orders from Jared Kushner, the presidential son-in-law and Middle East fixer, who was himself acting on behalf of Israeli Prime Minister Benjamin Netanyahu.

Thanks to Flynn's indictment, we now know that the Israeli prime minister was able to transform the Trump administration into his own personal vehicle for undermining Obama's lone effort to hold Israel accountable at the UN. A clearer example of a foreign power colluding with an American political operation against a sitting president has seldom, if ever, been exposed in such glaring fashion. 14
Click here to read Blumenthal's full article entitled "Michael Flynn's Indictment Exposes Trump Team's Collusion With Israel, Not Russia".
Around the same time, a journalistic investigation of Israeli meddling in American politics was also being quietly covered up. As a follow up to its damning report on the Israel Lobby's activities in Britain, Al Jazeera's Director of Investigative Journalism, Clayton Swisher, announced in October 2017 that the Qatari satellite channel had embedded a different undercover journalist (called "Tony") inside the US Israel lobby:
Swisher made the announcement soon after the UK's broadcast regulator dismissed all complaints against Al Jazeera's film The Lobby.

That documentary, broadcast in January 2017, exposed Israel's covert influence campaign in the UK's ruling Conservative and opposition Labour parties. The film revealed an Israeli embassy agent plotting with a British civil servant to "take down" a government minister seen as too critical of Israel.

Although Swisher promised the US film would come out "very soon," nearly five months later it has yet to be broadcast. 15
Click here to read more on the announcement at The Electronic Intifada.
Based on newly leaked footage from the banned documentary, The Electronic Intifada published a follow-up article last week [Sept 13th] that discloses the operation of (what should be called) 'troll farms' operating under the cover of "The Israel Project" (TIP) using pro-Israel sockpuppets to sway public opinion and disseminate propaganda on the social media platform Facebook:
The Israel Project, a major advocacy group based in Washington, is running a secret influence campaign on Facebook.

The video above, exclusive to The Electronic Intifada, shows the latest excerpts to leak from the documentary.

Earlier leaked footage published by The Electronic Intifada and the Grayzone Project has already revealed underhanded tactics by anti-Palestinian groups planned and executed in collusion with the Israeli government.

In the newest clips, David Hazony, the managing director of The Israel Project, is heard telling Al Jazeera's undercover reporter: "There are also things that we do that are completely off the radar. We work together with a lot of other organizations."

"We produce content that they then publish with their own name on it," Hazony adds.

A major part of the operation is the creation of a network of Facebook "communities" focused on history, the environment, world affairs and feminism that appear to have no connection to pro-Israel advocacy, but are used by The Israel Project to spread pro-Israel messaging.
Why is no-one talking about 'Israelgate'? The question in the title to this post is rhetorical, of course, but we might easily answer it anyway. Russiagate was the cover story for why the Clinton campaign bombed so badly and then afterwards successfully reworked into the pretext to close down "fake news" websites. Talking about Israelgate on the other hand… what would that achieve?
Click here to read the full article entitled "Censored film reveals The Israel Project's secret Facebook campaign.
*
On Monday 10th, The Real News interviewed Ali Abunimah and Max Blumenthal about censorship of the documentary. They spoke about leaked clips that show how the Israeli government was behind attacks on American pro-Palestinian activists and Black Lives Matter:
Ali Abunimah: We published on August 27th, the first leaked video from the film in which an official of The Israel Project names Adam Milstein, a pro-Israel financier based in California – real estate magnate who spent time in federal prison for tax evasion. In the film, Milstein is named as the funder of 'Canary Mission' a blacklist for pro-Palestine activists and for years now people have been trying to find out who is behind 'Canary Mission' other than a few snippets of information which came out this appears to be first major break in cracking who is behind this.

And what it also shows is that 'Canary Mission' is part of a much bigger effort, effectively orchestrated by the Israeli government, in which groups like the 'Israel on Campus Coalition' and 'The Foundation for Defense of Democracies' are acting as agents, or front groups, for the Israeli government, helping it to gather information on US citizens; to harass US citizens; and other activities – without being registered as foreign agents of the State of Israel. So this really I think explains why the Israel lobby put such intense pressure on Qatar and on Al Jazeera to censor the film. Because I think it reveals a lot of activity that they don't want revealed.

And what's ironic is that this film contains real evidence of foreign interference in American politics [and] in American civic life by a foreign state: orchestrated, funded and directed by a foreign state and it's got no attention. The censorship has gotten very little attention in the mainstream media. Meanwhile, as you know very well, the mainstream media and mainstream politicians continue to chase the shadows of 'Russiagate' and Russian interference, which until now have proven to be just shadows, as opposed to this really powerful evidence of Israeli interference.

[from 1:55 mins]
*
Winning friends and influencing people the Netanyahu way
Mr President, my dear friend Donald, you have shown consistently incredible support for Israel, for our right to self-defence. When we exercise that self-defence you have never flinched. You've always been there, including today, and I thank you.

Yesterday a rocket was fired from Gaza and deep inside Israel it hit a home north of Tel Aviv, it wounded seven including two small children, and miraculously no-one was hurt – no-one was killed. Israel will not tolerate this. I will not tolerate this. And as we speak, as I told you Mr President just now, Israel is responding forcefully to this wanton aggression.

I have a simple message to Israel's enemies: we will do whatever we must do to defend our people and defend our state. After this meeting I will return home ahead of schedule to lead the people of Israel and the soldiers of Israel, but before I go Mr President; it was so kind of you to invite me here, it was so important for me to come here to the White House and to thank you.

Mr President, over the years Israel has been blessed to have many friends who sat in the Oval Office, but Israel has never had a better friend than you. You show this time and again. You showed this when you withdrew from the disastrous nuclear deal with Iran. I remember in one of our first meetings you said "This is a horrible deal, I will leave it". You said it, you did it.

You showed it when you restored sanctions against a genocidal regime that seeks to destroy the one and only Jewish state. You said "I will restore those sanctions". You said it and you did it.

You showed that when you recognised Jerusalem as Israel's capital and moved the American embassy there – and gave us a tremendous ambassador. You said it, you did it.

And you showed it once again today, Mr President, with your official proclamation recognising Israel's sovereignty over the Golan Heights. Mr President, Ladies and Gentlemen, this is truly an historic day. 16
Address given by Israeli Prime Minister Benjamin Netanyahu during a White House visit on March 25th (shortly after the Mueller Report was submitted to Attorney General William Barr on March 22nd) as he thanked Donald Trump profusely before Trump signed a declaration in which America formally recognised Israel's illegal annexation of Golan Heights.
*
Whether Trump would entertain yet another Israeli request for unilateral recognition of illegally held territory — such as the West Bank — is a matter of debate. While it is known that Trump's largest political donor — Zionist billionaire Sheldon Adelson — was responsible for the Jerusalem move, it is not known if Adelson had a hand in Trump's recent decision to recognize Israeli sovereignty over the Golan Heights.

However, the Golan Heights decision seems to be a combination of an effort to boost Israeli Prime Minister Benjamin Netanyahu's chances of reelection in May as well as pressure from the U.S.-based oil company Genie Energy, which seeks to develop the large oil reserves in the Golan discovered in 2015. Genie Energy's Israeli subsidiary, Afek, was granted exclusive drilling rights in the Golan by Netanyahu soon after the oil's discovery and the company's board is stocked with powerful people, including Jacob Rothschild, Dick Cheney and Rupert Murdoch, among others.

Past statements from long-time Trump advisor, and current U.S. ambassador to Israel, David Friedman, suggest that Trump is likely to honor Smotrich's request if it is repeated by other Israeli politicians with pull in Washington or connections to Adelson. Soon after Trump won the 2016 election, Friedman claimed that Trump would support Israel's annexation of much of the West Bank and even the entire West Bank, if Israel "deemed it necessary." 17
Click here to read Whitney Webb's full article.
*
"The Steele Dossier or the Hitler Diaries Mark II" | Craig Murray, Jan 11th 2017
https://www.craigmurray.org.uk/archives/2017/01/hitler-diaries-mark-ii-hope-changed-mattress/
The mainstream media's extreme enthusiasm for the Hitler Diaries shows their rush to embrace any forgery if it is big and astonishing enough. For the Guardian to lead with such an obvious forgery as the Trump "commercial intelligence reports" is the final evidence of the demise of that newspaper's journalistic values.
We are now told that the reports were written by Mr Christopher Steele, an ex-MI6 man, for Orbis Business Intelligence. Here are a short list of six impossible things we are asked to believe before breakfast:
1) Vladimir Putin had a five year (later stated as eight year) plan to run Donald Trump as a "Manchurian candidate" for President and Trump was an active and knowing partner in Putin's scheme.
2) Hillary Clinton is so stupid and unaware that she held compromising conversations over telephone lines whilst in Russia itself.
3) Trump's lawyer/adviser Mr Cohen was so stupid he held meetings in Prague with the hacker/groups themselves in person to arrange payment, along with senior officials of the Russian security services. The NSA, CIA and FBI are so incompetent they did not monitor this meeting, and somehow the NSA failed to pick up on the electronic and telephone communications involved in organising it. Therefore Mr Cohen was never questioned over this alleged and improbable serious criminal activity.
4) A private company had minute by minute intelligence on the Manchurian Candidate scheme and all the indictable illegal activity that was going on, which the CIA/NSA/GCHQ/MI6 did not have, despite their specific tasking and enormous technical, staff and financial resources amounting between them to over 150,000 staff and the availability of hundreds of billons of dollars to do nothing but this.
5) A private western company is able to run a state level intelligence operation in Russia for years, continually interviewing senior security sources and people personally close to Putin, without being caught by the Russian security services – despite the fact the latter are brilliant enough to install a Manchurian candidate as President of the USA. This private western company can for example secretly interview staff in top Moscow hotels – which they themselves say are Russian security service controlled – without the staff being too scared to speak to them or ending up dead. They can continually pump Putin's friends for information and get it.
6) Donald Trump's real interest is his vast financial commitment in China, and he has little investment in Russia, according to the reports. Yet he spent the entire election campaign advocating closer ties with Russia and demonising and antagonising China.
Michael Cohen has now stated he has never been to Prague in his life. If that is true the extremely weak credibility of the entire forgery collapses in total. What is more, contrary to the claims of the Guardian and Washington Post that the material is "unverifiable", the veracity of it could be tested extremely easily by the most basic journalism, ie asking Mr Cohen who has produced his passport. The editors of the Washington Post and the Guardian are guilty of pushing as blazing front page news the most blatant forgery to serve their own political ends, without carrying out the absolutely basic journalistic checks which would easily prove the forgery. Those editors must resign.
The Guardian has published a hagiography in which it clarifies he cannot travel to Russia himself and that he depends on second party contacts to interview third parties. It also confirms that much of the "information" is bought. Contacts who sell you information will of course invent the kind of thing you want to hear to increase their income. That was the fundamental problem with much of the intelligence on Iraqi WMD. Highly paid contacts, through also paid third parties, were inventing intelligence to sell.
There is of course an extra level of venial inaccuracy here because unlike an MI6 officer, Steele himself was then flogging the information for cash. Nobody in the mainstream media has asked the most important question of all. What was the charlatan Christopher Steele paid for this dossier?
As forgeries go, this is really not in the least convincing. It was very obviously not written seriatim on the dates stated but forged as a collection and with hindsight. I might add I do not include the golden showers among the impossible aspects. I have no idea if it is true and neither do I care. Given Trump's wealth and history, I think we can say with confidence that he has indulged whatever his sexual preferences might be all over the world and not just in Russia. It seems most improbable he would succumb to blackmail over it and not brazen it out. I suppose it could be taken as the sole example of trickledown theory actually working.
*
"Muellergate and the discreet lies of the Bourgeoisie" | Craig Murray, April 1st 2019
https://www.craigmurray.org.uk/archives/2019/04/muellergate-and-the-discreet-lies-of-the-bourgeoisie/
In general, since the Mueller report confirmed that $50 million worth of investigation had been unable to uncover any evidence of Russiagate collusion, the media has been astonishingly unrepentant about the absolute rubbish they have been churning out for years.
Harding and the Guardian's story about Manafort repeatedly calling on Assange in the Ecuador Embassy is one of the most blatant and malicious fabrications in modern media history. It has been widely ridiculed, no evidence of any kind has ever been produced to substantiate it, and the story has been repeatedly edited on the Guardian website to introduce further qualifications and acknowledgements of dubious attribution, not present as originally published. But still neither Editor Katherine Viner nor author Luke Harding has either retracted or apologised, something which calls the fundamental honesty of both into question.
Manafort is now in prison, because as with many others interviewed, the Mueller investigation found he had been involved in several incidences of wrongdoing. Right up until Mueller finalised his report, media articles and broadcasts repeatedly, again and again and again every single day, presented these convictions as proving that there had been collusion with Russia. The media very seldom pointed out that none of the convictions related to collusion. In fact for the most part they related to totally extraneous events, like unrelated tax frauds or Trump's hush-money to (very All-American) prostitutes. The "Russians" that Manafort was convicted of lobbying for without declaration, were Ukrainian and the offences occurred ten years ago and had no connection to Trump of any kind. Rather similarly the lies of which Roger Stone stands accused relate to his invention, for personal gain, of a non-existent relationship with Wikileaks.
The truth is that, if proper and detailed investigation were done into any group of wealthy politicos in Washington, numerous crimes would be uncovered, especially in the fields of tax and lobbying. Rich political operatives are very sleazy. This is hardly news, and if those around Clinton had been investigated there would be just as many convictions and of similar kinds. it is a pity there is not more of this type of work, all the time. But the Russophobic motive behind the Mueller Inquiry was not forwarded by any of the evidence obtained. […]
Robert Mueller repeats the assertion from the US security services that it was Russian hackers who obtained the DNC emails and passed them on to Wikileaks. I am telling you from my personal knowledge that this is not true.
Neither Mueller's team, not the FBI, nor the NSA, nor any US Intelligence agency, has ever carried out any forensic analysis on the DNC's servers. The DNC consistently refused to make them available. The allegation against Russia is based purely on information from the DNC's own consultants, Crowdstrike.
William Binney, former Technical Director of the NSA (America's US$40 billion a year communications intercept organisation), has proven beyond argument that it is a technical impossibility for the DNC emails to have been transmitted by an external hack – they were rather downloaded locally, probably on to a memory stick. Binney's analysis is fully endorsed by former NSA systems expert Ed Loomis. There simply are no two people on the planet more technically qualified to make this judgement. Yet, astonishingly, Mueller refused to call Binney or Loomis (or me) to testify. Compare this, for example, with his calling to testify my friend Randy Credico, who had no involvement whatsoever in the matter, but Mueller's team hoped to finger as a Trump/Assange link.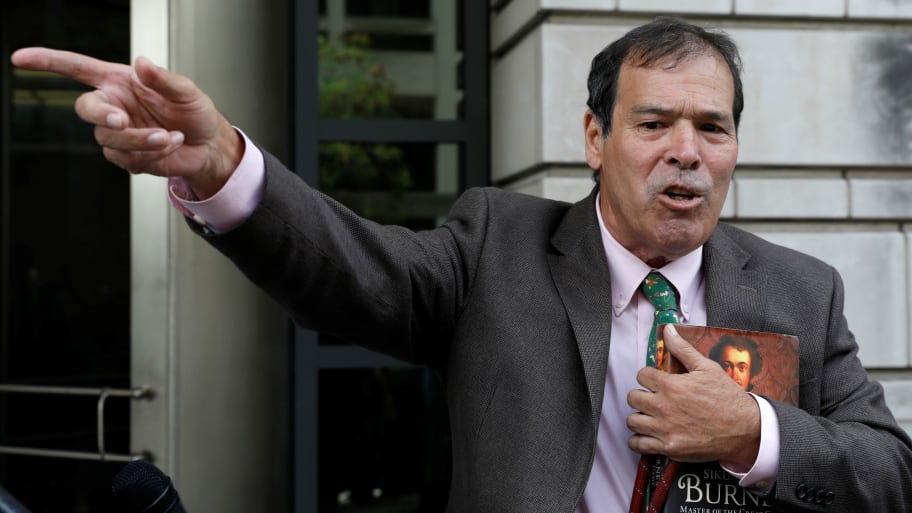 The DNC servers have never been examined by intelligence agencies, law enforcement or by Mueller's team. Binney and Loomis have written that it is impossible this was an external hack. Wikileaks have consistently stressed no state actor was involved. No evidence whatsoever has been produced of the transfer of the material from the "Russians" to Wikileaks. Wikileaks Vault 7 release of CIA documents shows that the planting of false Russian hacking "fingerprints" is an established CIA practice. Yet none of this is reflected at all by Mueller nor by the mainstream media.
"Collusion" may be dead, but the "Russiagate" false narrative limps on.
*
1 From an article entitled "The Actual Collusion" written by Ted Rall, published in Counterpunch on March 28, 2019. https://www.counterpunch.org/2019/03/28/the-actual-collusion/
2 From an article entitled "The Press Will Learn Nothing From the Russiagate Fiasco" written by Matt Tiabbi, published in Rolling Stone magazine on April 23, 2019. https://www.rollingstone.com/politics/politics-features/russiagate-fiasco-taibbi-news-media-826246/ 
3 Ibid.
4 From an article entitled "Dems need to find another strategy, the Mueller one flopped" written by Michael Graham, published in the Boston Herald on July 24, 2019. https://www.bostonherald.com/2019/07/24/dems-need-to-find-another-strategy-the-mueller-one-flopped/ 
5 From an article entitled "RIP, Russiagate" written by Aaron Maté, published in The Nation magazine on March 26, 2019. https://www.thenation.com/article/rip-russiagate/
6 From an article entitled "Putin's chef, a troll farm and Russia's plot to hijack US democracy" written by David Smith, published in the Guardian on February 17, 2018. https://www.theguardian.com/us-news/2018/feb/17/putins-chef-a-troll-farm-and-russias-plot-to-hijack-us-democracy
7 From an article entitled "Russia-gate's Mythical 'Heroes'" written by Coleen Rowley, published in Consortium News on June 6, 2017. https://consortiumnews.com/2017/06/06/russia-gates-mythical-heroes/
8 From an article entitled "U.S. accuses Russia of cyberattacks 'intended to interfere' with election" written by Michael Isikoff, published in Yahoo! News on October 7, 2016. https://www.yahoo.com/news/u-s-accuses-russia-of-cyberattacks-intended-to-interfere-with-election-214628799.html
9 From an article entitled "Russia steps up trolling attacks on the West, U.S. intel report finds" written by Michael Isikoff, published in Yahoo! News on September 28, 2016. https://www.yahoo.com/news/russia-steps-up-trolling-attacks-on-the-west-u-s-intel-report-finds-203421008.html?soc_src=mail&soc_trk=ma
10 From an article entitled "Russian propaganda effort helped to spread 'fake news' during election, experts say" written by Craig Timberg, published in the Washington Post on November 24, 2016. https://www.washingtonpost.com/business/economy/russian-propaganda-effort-helped-spread-fake-news-during-election-experts-say/2016/11/24/793903b6-8a40-4ca9-b712-716af66098fe_story.html?utm_term=.a1008a7fedcf
11 From an article entitled "Washington Post Disgracefully Promotes a McCarthyite Blacklist From a New, Hidden, and Very Shady Group" written by Glen Greenwald and Ben Norton, published in The Intercept on November 26, 2016. https://theintercept.com/2016/11/26/washington-post-disgracefully-promotes-a-mccarthyite-blacklist-from-a-new-hidden-and-very-shady-group/
12 From an article entitled "US Intel Vets Dispute Russia Hacking Claims" published by consortiumnews.com on December 12, 2016. https://consortiumnews.com/2016/12/12/us-intel-vets-dispute-russia-hacking-claims/
13 From an article entitled "CIA concludes Russia interfered to help Trump win election, say reports" written by Damien Gayle and agencies, published in the Guardian on December 10, 2016. https://www.theguardian.com/us-news/2016/dec/10/cia-concludes-russia-interfered-to-help-trump-win-election-report?CMP=share_btn_tw
14 From an article entitled "Michael Flynn's Indictment Exposes Trump Team's Collusion With Israel, Not Russia" written by Max Blumenthal, published in Alternet on Decmeber 5, 2017. https://www.alternet.org/grayzone-project/flynn-indictment-exposes-collusion-israel
15 From an article entitled "What's in Al Jazeera's undercover film on US Israel lobby?" written by Asa Winstanley, published in The Electronic Intifada on March 5, 2018. https://electronicintifada.net/content/whats-al-jazeeras-undercover-film-us-israel-lobby/23496
16 The transcript is mine. Footage of the statement is available here: https://edition.cnn.com/videos/politics/2019/03/25/netanyahu-trump-israel-golan-heights-declaration-sot-ip-vpx.cnn
17 From an article entitled "After Trump's Golan Heights Announcement, Israeli Politicians Now Pushing for US Recognition of West Bank as 'Israeli'" written by Whitney Webb, published in Mint Press News on March 25, 2019. https://www.mintpressnews.com/after-trumps-golan-heights-announcement-israeli-politicians-now-pushing-for-us-recognition-of-west-bank-as-israeli/256510/