There's always a new way
A better way that's not been tried before

— Ben Okri 1
This leadership contest is a battle for the soul of the Labour Party, we hear – repeatedly. Often enough that it has become something of a cliché. But that doesn't make it any less true. It simply means we tend to stop thinking about the deep and inherent truth of it.
Here's another cliché: it's about a movement, not a man (a slogan better associated with Bernie Sanders' campaign although more fitting in Corbyn's case). Corbyn, after all, is actively committed to the building of a movement, fully aware that without massive popular support, the core policies he advocates would be both too radical to institute and could not possibly endure.
But then Corbyn is an instinctive democrat. So he recognises something others on the left habitually forget. That socialism and democracy must travel hand in hand as equal partners (for without democracy, socialism is rapidly debased and sinks to be as oppressive as any system it challenges). Fortunately – and here is the crux – social justice and genuine equality are what the majority would unfailingly choose if clearly presented with such an option, and if only because social justice and greater equality serve the self-interest of the majority.
Orwell put this perfectly:
"Socialism is such elementary common sense that I am sometimes amazed that it has not established itself already."
Since, as he goes on to point out:
"The world is a raft sailing through space with, potentially, plenty of provisions for everybody; the idea that we must all cooperate and see to it that everyone does his fair share of the work and gets his fair share of the provisions seems so blatantly obvious that one would say that no one could possibly fail to accept it unless he had some corrupt motive for clinging to the present system." 2
So here's a third and final thought – perhaps it can become a cliché too (certainly it is not original). That those who today stop at nothing to stop Corbyn are ultimately intent on stopping us all. Denying the vast majority of us basic rights, a modicum of social justice, a functioning NHS, pensions for all, and set solidly against any levelling up of what is now grotesque inequality. Okay, that's too long to be a cliché – so reduce it; sloganise its kernel of blazingly obvious truth.
*
Corbyn, like Syriza in Greece and Podemos in Spain, is part of the new popular resistance that is rising up from the ruins of neoliberalism and globalization to fight the international banking system and American imperialism.
wrote American journalist and political commentator Chris Hedges in an article entitled "where is our Jeremy Corbyn?" published shortly after his leadership victory last Summer.
Hedge's subtext is that Bernie Sanders is no Corbyn – and Hedges is correct, of course. Sanders capitulation to Clinton was the final proof, if proof was needed. However, Syriza and Podemos are no Corbyn either. Sadly, and in different ways, the wheels have now come off both these alternatives. Of the serious contenders then, Corbyn is the last man (currently) standing – and the only one who has a tested record.
Hedges also astutely foresaw today's lamentable situation almost precisely a year ago – this is what he wrote then:
Corbyn's ascent to the head of the Labour Party has already triggered a backlash against him by the forces of the neoliberal political order. These forces are determined to prevent him from becoming prime minister. The entrenched elites within his own party—a number of whom have already resigned from party leadership positions in protest of Corbyn's election—will seek to do to him what the Democratic establishment did in 1972 to George McGovern after he won the party's nomination. The rhetoric of fear has already begun. Prime Minister David Cameron on Sunday tweeted: "The Labour Party is now a threat to our national security, our economic security and your family's security." This battle will be ugly. 3
Ugly is the word!
Here is Corbyn delivering a recent speech [August 21st] to a 4,000-strong crowd packed inside Ruach City Church, Kilburn in London – his central theme is real democracy: giving power back to the people…
*
Style over substance
"Politics is showbusiness for ugly people" — Jay Leno 4
Owen Smith isn't Superman, but he's borrowing his poses.

The Labour leadership contender almost certainly can't fly, and can't boast of X-ray vision.

But he's been snapped adjusting his glasses in the same fashion as the Man Of Steel's alter ego, Clark Kent.

And this being the age of the internet, the iconic pose has not been overlooked. 5
So oozes a puff piece written by Mikey Smith (presumably no relation) and published by the shamelessly sycophantic Mirror at the beginning of Smith's already faltering campaign for Labour leadership back in mid July.
For the record, here is another superhero lookalike with the same iconic pose…
Which is the trouble with politics that obsesses over synthetic charisma and spin. Not only that these are extremely shallow attributes, but that the public has grown weary of them. We see through the sophistry and are turned off by the plastic presentation. Like Austin Powers, Smith's act is dated and outmoded, but worse still, it lacks any modicum of charm.
*
Normality v. Reality
"Human salvation lies in the hands of the creatively maladjusted." — Martin Luther King 6
Owen Smith's ineffective charm offensive is one side of former Pfizer-mans latest rebranding exercise. The other side is more revealing: that Owen Smith is 'normal'!
We know this because he said so, over and over again, during a Sky News interview. The offhanded inference being, of course, that Corbyn is not as 'normal' as he is. But what does Smith even mean with his claims to be 'normal' (besides presumably not being "a lunatic")?
Here is a closer analysis of Smith's Sky News performance: a study of the dormant ratiocination betrayed line by line in his overwrought protestation of normalcy:
*
In this post-ideological age, Corbyn stands out as exceptional on many counts. Although the quality that singularly distinguishes him from political rivals is simply his sincerity. That he holds principles and values we do not need to test him on. In fact no-one ever seriously challenges his good faith – his voting record alone attests to honest dependability.
We know, for instance, that Corbyn opposes the wars. He opposed the war in Afghanistan, the invasion of Iraq, the war in Libya, opposes airstrikes in Syria and Yemen, and served as chair of the Stop the War Coalition (2011—15). He is against Trident too.
Likewise, we know that he actively supports refugees including the two million living in Palestinian camps on the West Bank and inside the Gaza Strip and three million other displaced Palestinians living in camps in Syria, Lebanon and Jordan. 7 He is a patron of the Palestine Solidarity Campaign.
Equally we know that Corbyn is fiercely anti-austerity. That he is pro-workers' rights, union rights, women's right, LGBT rights, and human rights in general. That he is a staunch advocate of a fairer and more caring society with well-funded public sector services, universal welfare (though he says he prefers the less loaded term "social security") and free healthcare provision for all. And we know that Corbyn is a committed environmentalist. Indeed, it is a delightful revelation to hear any modern politician who speaks so freely and so frankly on all these issues. But then, sincerity comes easily when you have integrity, as does remaining truthful for those who live in accordance with their own stated beliefs.
Tony Benn once explained how he divided politicians into one of two camps: weathercocks and signposts:
 "The signposts say this is the way you should go. You don't have to follow them but if you come back in ten years' time the signpost is still there. The weathercock hasn't got an opinion until they've looked at the polls, talked to the focus groups, and discussed it with the spin doctors. I have no time for weathercocks, I'm a signpost man"
Benn was certainly a signpost. Corbyn is too. So how about Owen Smith and the PLP 'rebels' who back him…?
Smith says he is as passionate as Corbyn when it comes to all the important matters: housing, education, welfare, NHS. He's a progressive, and always was anti-austerity and the rest. The main difference, he says, is that Corbyn is 'unelectable'. That's right – as any PR man will tell you – if you just repeat something often enough, it becomes true.
Smith hopes we will overlook how under Corbyn's leadership Labour now enjoys the largest membership of any political party in Europe. And that at Corbyn's rallies thousands regularly turn out to cheer. Smith does well if he manages to corral a few dozen onlookers (even with an ice-cream van parked nearby). No-one is excited by Smith: not even his supporters.
But then Smith's copycat routine lacks the very thing that actually counts: authenticity. He is not the real deal. Corbyn is. And Corbyn's authenticity is the fundamental reason why the focus of political debate in Britain is steadily swinging back again. Why anti-austerity, pro-public services rhetoric is becoming de rigueur. After less than a year as leader, constantly hobbled by those inside the party (very much including shadow cabinet colleagues like Smith), Corbyn has dragged the debate around regardless, and Owen Smith's campaign inadvertently serves as further proof that Corbyn is winning. After all, imitation is the sincerest form of flattery.
Meanwhile, the PLP's Blairite inner circle knows that as the desire for real change grows and with it distrust in the established political class, their unstinting efforts to undermine Corbyn are failing, because he is indeed electable. This keeps them awake at night.
For as hopeless as Smith is, he was the best challenger they could muster. The rest of the 170+ 'rebels' have mostly preferred to keep their heads down for obvious reasons. Smith is more reckless and, even as politicians go, morbidly ambitious: a character flaw that totally clouds his judgment. He believes his own spin. Meanwhile, the only other challenger to step forward was sillier even than Smith. Angela Eagle was evidently advised to step aside again asap. Both have very likely ruined their political careers for good.
Here is an audio clip from BBC Radio Stoke covering Jeremy Corbyn's 1000-strong rally in Stoke-on-Trent on Thursday [September 1st] which includes an interview comprised of typically inane questions:
*
Ultimately, this fight – possibly to the death given how the embedded Blairite entryists are so willing to sacrifice the party they hijacked two decades ago – pits the prevailing politics of style and spin against the long abandoned politics of content and real change. Hence the relentless mudslinging. Having nothing alternative to say, but with the might of the media behind them, slurs and innuendo is all Corbyn's opponents can offer. Negative campaigning is all they've got.
This works up to a point (and sadly always will) but their stocks of ammunition are gradually being exhausted. Which is one reason the attacks have suddenly intensified – this challenge from Smith, though utterly inept (more in a moment), is certainly a blitzkrieg operation. They want to win quickly, not necessarily in this ballot, but in the hope of spoiling Corbyn's long-term chances, especially as, following the grand slam in the party's recent NEC vote, his supporters now look set to dig in. So the stage is set for act 2, scene 1. As for how many acts will follow? This we can only guess.
Smith says that he will heal the party, but again literally nobody believes him. Likewise, when he parrots the refrain that Corbyn is 'unelectable', he trusts that few will be able to spot the irony. Yet even while the media keeps its hounds at bay, he still manages to make gaffe after gaffe. For a man with such a relatively low-level of public exposure (basically unknown to most people just two months ago), his track record is mind-bogglingly incompetent. His latest one so cringeworthy that it might have been gabbled forth as the lewd punch-line to the crassest of David Brent's unguarded ejaculations:
Not that uncontrolled outbursts of casual sexism are anything new to Smith's repertoire. In May 2010, literally days after first entering parliament after a narrow victory in the Labour safe seat of Pontypridd, he found himself apologising for publishing the following remark:
"Surely, the Liberals will file for divorce as soon as the bruises start to show through the make-up?"
Feeling the heat after making such a thoughtless and insensitive comparison between the relations within the newly-formed coalition government and domestic abuse, Smith afterwards 'apologised' with a big wavering 'if', writing:
"I apologise if anyone has been offended by the metaphorical reference in this article, which I will now be editing." 8
So does anyone seriously imagine Smith would survive long once the press have stopped comparing him to Clark Kent and marked him down rather more perceptively as just another "Welsh windbag" (with the majority of Labour party members nodding sorrowfully in accord)?
Surely, no matter how rigged – and this vote is enormously rigged, as we know – Smith will be defeated by the end of this bitter and ridiculous leadership challenge.
As Aaron Bastani of 'Novara Media' sums up in the video below "Smith's candidacy is a farce…":
*
A new dream of politics
"Politics is the art of the possible" — Otto von Bismarck 9
If politics is the art of the possible, as Bismarck once said, then what does this mean? Well, it all depends on where you decide to place the emphasis. Bismarck, who was famed for his realpolitik, would have placed the emphasis on 'possible'. What is possible becomes, according to this idea, the prime constraint. And Bismarck's conviction is today's orthodoxy.
Others, however, may prefer to place the emphasis earlier, on the word 'art' instead. The constraint then falls not solely on practicability, but on the collective imagining of how a better future can be made possible. A politics grounded no longer in mere expediency – although there is a great deal to be said for pragmatism, of course – but held in check by values and moral principles, whilst elevated by human creativity.
*
On the day Corbyn was elected leader of the Labour Party, he shunned the journalists and ignored the cameras and headed off instead to speak about some of the people who had inspired him. He said "The most authentic thing about us is our capacity to create, to overcome, to endure, to transform, to love." These words were in fact stolen from Nigerian novelist and poet Ben Okri. Afterwards, Okri repaid the compliment with a poem dedicated to Corbyn, entitled "A New Dream of Politics".
Then in July, Corbyn and Okri – who met sometime later – decided to stage a joint event at the Royal Festival Hall. United by a desire to make our world a kinder, fairer place, they spent a leisurely hour exploring a range of subjects encompassing history, world affairs and literature along with the personal journeys that made them who they are. A curious mix of readings, conversations and word games: they let politics take a backseat to the art of the possible – as it should:
*
Additional: worst example of BBC bias yet?
On Friday night [Sept 2nd] BBC's flagship political show Newsnight closed as follows:
Emily Maitlis: In the week that JK Rowling went to war with the Corbynistas on Twitter over who should lead the Labour Party. Getting into a scrap with one of the country's most influential authors probably isn't a good idea though, as we discovered when Warner Brothers gave us a sneak peak of the next Harry Potter movie.
Given that the party is in the midst of a leadership campaign, I raise two points.
Firstly, is "Corbynistas" acceptable language for a publicly funded organisation with a commitment to maintain impartiality? Has the BBC ever used the term "Blairite" in an equivalent manner during this leadership campaign or on any earlier occasion?
Secondly, although the BBC will defend itself on the grounds that this is a joke, it has already been harshly criticised by former chair of the BBC Trust, Sir Michael Lyons, who said there had been "some quite extraordinary attacks on the elected leader of the Labour party".
Click here to read a Guardian article published on May 12th entitled "BBC may have shown bias against Corbyn, says former trust chair."
More recently, the BBC was declared guilty of "marked and persistent imbalance" in a report released by the researchers from the Media Reform Coalition and Birkbeck, University of London, which found that "almost twice as much unchallenged airtime was given to people criticising Mr Corbyn than his allies on the BBC".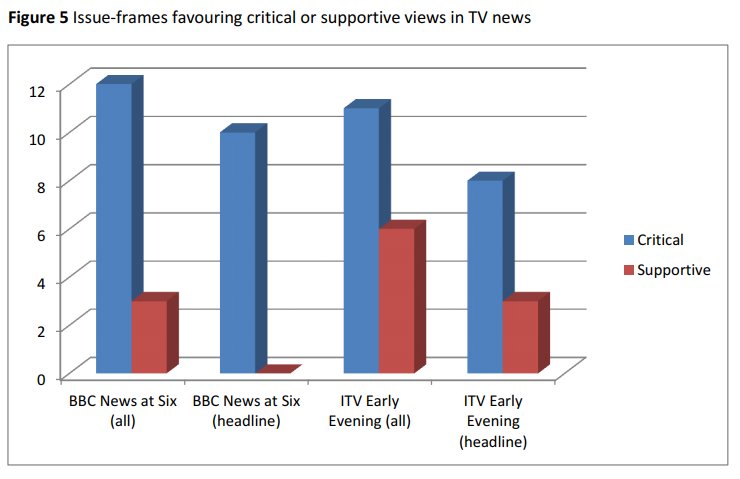 Click here to read an Independent article published on July 30th entitled "Media 'persistently' biased against Jeremy Corbyn, academic study finds"
Given that the BBC is already under suspicion of bias, how does it now see fit to portray Corbyn as, in effect (and regardless of context), the Prince of Darkness?
*
Update:
On September 1st, Labour Shadow Chancellor John McDonnell spoke at Cardiff City Hall, and offered a candid and entertaining blow-by-blow account of the PLP coup against Corbyn. (Unfortunately the audio is quite poor throughout and so I advise turning the treble down and the bass up):
*
Final couplet from Ben Okri's poem "A New Dream of Politics" which he dedicated to Jeremy Corbyn. https://www.theguardian.com/commentisfree/2015/oct/12/ben-okri-politics-poem-jeremy-corbyn
2 Extract taken from The Road to Wigan Pier, Part 2, Chapter 11, written by George Orwell, published in 1937.
3 From an article entitled "Where Is Our Jeremy Corbyn?" written by Chris Hedges, published in Truthdig on September 13, 2015. http://www.truthdig.com/report/item/where_is_our_jeremy_corbyn_20150913
4 Quote often attributed to American comedian and TV host, Jay Leno, although perhaps first used by Clinton-Gore strategist Paul Begala. http://voices.washingtonpost.com/reliable-source/2010/12/who_says_washington_is_hollywo.html
5 From an article entitled "Owen Smith posed for this picture and now the internet is convinced he's Superman" written by Mikey Smith published in The Mirror on July 27, 2016. http://www.mirror.co.uk/news/uk-news/owen-smith-posed-picture-now-8508455
6 From Strength to Love, Ch. 2 "Transformed nonconformist", written by Martin Luther King, Jr., published in 1963. http://kingencyclopedia.stanford.edu/encyclopedia/encyclopedia/enc_strength_to_love_1963/
Palestine refugees are defined as "persons whose normal place of residence was Palestine during the period 1 June 1946 to 15 May 1948, and who lost both home and means of livelihood as a result of the 1948 conflict."

UNRWA services are available to all those living in its area of operations who meet this definition, who are registered with the Agency and who need assistance. The descendants of Palestine refugee males, including adopted children, are also eligible for registration. When the Agency began operations in 1950, it was responding to the needs of about 750,000 Palestine refugees. Today, some 5 million Palestine refugees are eligible for UNRWA services.

Nearly one-third of the registered Palestine refugees, more than 1.5 million individuals, live in 58 recognized Palestine refugee camps in Jordan, Lebanon, the Syrian Arab Republic, the Gaza Strip and the West Bank, including East Jerusalem.
From the United Nations Relief and Works Agency for Palestine Refugees (UNRWA) official website. http://www.unrwa.org/palestine-refugees
8 From an article entitled "MP Owen Smith sorry for domestic violence comment" published by BBC news on May 25, 2010. http://www.bbc.co.uk/news/10156864
9 Die Politik ist die Lehre vom Möglichen. (Politics is the art of the possible) — Otto von Bismarck
From an interview (August 11, 1867) with Friedrich Meyer von Waldeck of the St. Petersburgische Zeitung: Aus den Erinnerungen eines russischen Publicisten. 2. Ein Stündchen beim Kanzler des norddeutschen Bundes. In: Die Gartenlaube (1876). Reprinted in Fürst Bismarck: neue Tischgespräche und Interviews, Vol. 1, p. 248.