The image above is a screenshot of the wikipedia entry for "moral victory" as it appears at present. As you can see, presented as examples of "the opposite of a Pyrrhic victory" it lists just three: The Alamo, the Battle of Thermopylae and the United Kingdom 2017 General Election!
Jeremy Corbyn speaking at the #ToriesOut post-election rally organised by the People's Assembly:
*
Before reading on, I encourage readers to reflect on a short but detailed article by independent journalist Jonathan Cook entitled "The facts proving Corbyn's election triumph" in which he scrutinises Corbyn's results compared with those of his predecessors. Based on the evidence, he writes:
He won many more votes than Ed Miliband, Gordon Brown and Neil Kinnock, who were among those that, sometimes noisily, opposed his leadership of the party. They lost their elections. […]

In short, Corbyn has proved himself the most popular Labour leader with the electorate in more than 40 years, apart from Blair's landslide victory in 1997.
And concludes:
Here is a graph that offers another measure of the extent of Corbyn's achievement last night.
It shows that he has just won the largest increase in the share of the Labour vote over the party's previous general election performance since Clement Attlee in 1945. In short, he's turned around the electoral fortunes of the Labour party more than any other party leader in 70 years.

And unlike Blair, he's done it without making back-room deals with big business to eviscerate his party's economic and social programmes.
Click here to read Jonathan Cook's full article.
*
A tale of two leaders
When May called the snap General Election on April 18th, she and her Conservative Party were riding high in the polls with a twenty point lead. In office for just nine months, she had been hastily crowned Prime Minister after Cameron fell on his sword in the wake of his own humiliating EU referendum defeat, but quite wisely afterwards had kept a mostly low profile. In this way, and with her oft-repeated pledge to honour the pro-Brexit result, May cultivated the appearance of reliability and toughness – she was Thatcher 2.0 but with a more daring wardrobe.
"Brexit means Brexit" is almost as nebulous as it is defiant, but the Tory's tiresome mantra was also serving May's purposes well. Her image as a "bloody difficult woman" given an extra boost thanks to Jean-Claude Junker's odd cameo at Downing Street right on cue as the campaign got underway: their reportedly "frosty dinner" doing little to dent the popular belief that May was a safe pair of hands.
In short, the Tories were bound to win last month's General Election and everyone was simply waiting to find out how historic their historic landslide would finally be. Indeed, given the dire circumstances, some on the left openly expressed the opinion that Corbyn ought to have blocked her opportunistic move by rallying support against the Commons' vote, even if this meant giving the Tories a free pass until 2020. (The horns of Corbyn's dilemma clearly point to inherent shortcomings in our new Fixed-Term Parliaments Act – five-year terms that are prescheduled up until the moment any government decrees otherwise.)
On the other hand, May's call for a needless election did open up a small chink in her otherwise shining armour. For having repeatedly assured the nation she would do no such thing, this act was literally the only moment she'd dropped her guard since becoming PM.
Her campaign underway, May now resolved to basically disappear from sight. Shirking the TV debates, placing unprecedented restraints on press access, and avoiding all but the most fleeting encounters with the hoi polloi, her strategy was one of total control. Although this quiet contempt for democracy was not going to pass unnoticed.
By contrast, the Labour Party was forced into the campaign when already in complete disarray. Seldom mentioned, the polls had in fact narrowed considerably twelve months earlier during the run up to the referendum vote, and also immediately after Cameron's defeat (see above), yet the Blairites wasted no time undermining Corbyn on the grounds of his lacklustre performance stumping for the "remain" campaign. Since it suited their purpose, they simply ignored what the polls were actually telling them, and seized on this flimsiest of excuses to stir the pot a whole lot more in the hope of finally deposing the leadership.
Former leader Neil Kinnock was perhaps first up, delivering what the Guardian soon afterwards reported as "a remarkable speech" to the Parliamentary Labour Party (PLP).
(Strictly in private) Kinnock said this:
I quote one person, just one, out of hundreds in Cardiff three weeks ago. Well, he complained about Jeremy and I said, 'Honestly, his heart's in the right place, he wants to help people, he wants to help people like you.' He's a working-class guy, a fitter on what remains of the docks. And he said: 'I know he's saying it, because he thinks we're easy. We're not bloody easy. We're not listening, especially since he's weird.'

Now that is unfortunate. But you know. Everybody in this room knows, canvassing in the Welsh elections, in the Scottish elections, in the local elections, in the referendum – you know that is what you're getting from people who yearn to vote Labour but are inhibited by the fact that Jeremy is still our leader.
Reprinted in full, Kinnock's "remarkable speech" is really just a tub-thumping (quite literally) rant. But then Kinnock didn't need to try too hard because he was preaching to the converted, one of whom evidently saw fit to leak the recording of this beer hall putsch to the press:
PLP meetings are private, but Kinnock's speech was recorded by someone in the room and it was passed to Ben Ferguson, a freelance filmmaker who recently made a fly-on-the-wall documentary about Corbyn for Vice News 1
Neil Kinnock is famously unelectable, of course, so I suppose we ought to marvel at the sheer brass neck of the man. His "we're all right" Sheffield debacle was the single most excruciating misjudgement made by any Labour leader since Jim Callaghan's "Waiting at the Church" moment of hubris.
However, Lord Kinnock has certainly done all right – at least for himself – since those formative hiccoughs: appointed to the European Commission in 1995, then rapidly promoted to Vice-President in 1999, and awarded a life peerage in 2005. Wife Glenys ploughed a similar furrow, becoming an MEP in 1994 and receiving her own life peerage in 2009, whilst son, Stephen, a current Labour MP and another uninhibited Corbyn critic, is married to Helle Thorning-Schmidt, a former MEP herself before becoming Danish PM. The Kinnocks have built a tidy little empire for themselves.
Although a year ago, the self-serving Kinnocks took time off from feathering their own nests to help spearhead the growing PLP demands for Corbyn's resignation. Popularity within the rank and file of the membership (who have twice elected Corbyn leader of course) must not be put ahead of party unity, "electability" and that kind of thing – to paraphrase his Lordship, this time speaking to Andrew Marr on the BBC:
Meanwhile, in light of the PLP's motion of no confidence in Corbyn (more below), son Stephen penned the following rationalisation for the relentless backstabbing and published it as an opinion piece also in the Guardian:
The referendum campaign was a sorry affair and it's clear that it was not the Labour party's finest hour. Every pro-Remain member will be feeling the same deep sense of disappointment and regret that I am feeling this weekend, as we have failed, collectively, to save the UK from a reckless leap into the unknown, and we fear it is the people we came into politics to represent who will be hurt first and worst.

Looking back, it's clear that once the Scottish, Welsh and local elections were out of the way on 6 May [2016], then we should have treated the period through to 23 June as if it were the short campaign period leading up to a general election. Judged against that benchmark, it is equally clear that our leader fought a lacklustre and half-hearted campaign. He spoke at a total of 10 rallies between 6 May and polling day, whereas the party leader would normally expect to achieve that level of activity in a week, when in full campaigning mode.

We must, therefore, have a full and frank discussion when the parliamentary Labour party meets on Monday, to look at what went wrong, and what we should learn. Our leader must be held accountable for the failure of the "Labour In For Britain" campaign, as must we all.
Following which, Kinnock Jr. takes aim at Corbyn's purported lack of skill as a future Brexit negotiator, which is curious given that no members of the opposition have ever been invited to the talks:
There is no doubt that Jeremy is a great campaigner, but this is not a time for campaigners. This is a time for hard-headed negotiators. And it is also a time for people who have more than a passing knowledge of, and interest in, the EU. […]

We may have no say over who the Tories send to the negotiating table, but we do have a say about who Labour sends. Jeremy Corbyn is a seasoned and highly effective campaigner, and he was elected to lead our party on the basis of a thumping mandate. But that was then and this is now.

Now should not be about the past. The British people have spoken, the decision is made, and we must look forward. British politics is going to be dominated by these Brexit negotiations for the foreseeable future. It is vital that Labour has a seat at the top table, and critical that we have a leader who has the right experience and skills for the task at hand.

And it is for that reason that I am supporting this motion of no confidence. 2
Titled "Jeremy Corbyn is a great campaigner – but we need a hard-headed negotiator", Kinnock might have borrowed ammunition for his snide hit piece directly from the arsenals of Tory HQ. He's just not "strong and stable enough"… a claim that belies the truth if we listen to the judgement instead of Conservative MP and current Brexit Secretary David Davis. Together with Corbyn, Davis had negotiated the release of the last British prisoner, Shaker Aamer, from Guantánamo, and shortly after Corbyn was voted party leader, Davis was interviewed on Sky News. This is what he said:
"I think that the odds of our winning the next election after yesterday are higher, but I don't think it's an open and shut case by any means. I think complacency would be absolutely the daftest thing to go in for now…
You've just had Frank Field on, talking about how Jeremy in other circumstances is able to work with other people… he is very polite, very courteous, listens to arguments. So we want to be a bit careful. We certainly don't want to go in for ad hominem attacks – that would be a disaster."
But the Tory attacks could wait. During the notorious post-referendum 'chicken coup', no less than 44 frontbench Labour MPs resigned their positions in as many hours.3 Alongside Stephen Kinnock, leading lights of this suicidal insurrection included Deputy Leader Tom Watson, Angela Eagle, about-to-be leadership challenger Owen Smith, and then-Shadow Foreign Secretary Hilary Benn – reluctantly sacked by Corbyn before he had chance to resign. Each of the above publicly declared their loss of confidence in the leadership: a transparently lame excuse given how the self-same "rebels" had shown no loyalty whatsoever during any earlier stage of Corbyn's brief tenure.
When the PLP balloted for a vote of no confidence a few hours later, it was passed by a truly astounding 172–40: but it remained a vote which as Corbyn correctly asserted had "no constitutional legitimacy". Nevertheless, the stage was set, and for the next three months the party tore into itself as it entered the throes of a hugely divisive and unwarranted leadership election.
Inevitably, this infighting took its toll. Labour support tumbled in the polls, as did support for Corbyn's leadership. Unsurprisingly, salt was liberally rubbed into these same gaping and self-inflicted wounds by both the Tories and the media alike, who cultivated the opinion already expressed by 80% of Labour MPs, that Corbyn – freshly re-elected as party leader – was in fact "unelectable".
Ken Loach interviewed on BBC Radio 5 shortly after the General Election: "Just think, if the MPs had been arguing for those policies for two years, if they hadn't been feeding stories to the press, if you hadn't had Peter Mandelson being quoted saying 'I get up every morning to undermine him,' and interviewed on that agenda on a number of occasions. Just think if he'd had that support – I think he would have won."
Click here to watch a montage put together by Channel 4 News featuring senior Labour MPs (including Stephen Kinnock again) who publicly excoriated Jeremy Corbyn as party leader.
Update:
For some reason the interview featuring Ken Loach has been taken down, so here's an earlier one broadcast on BBC news:
*
Even with the general election campaign underway, prominent Blairites and faux progressive commentators continued to put the knife into Corbyn. On May 5th, on the back of disappointing local and mayoral election results, Jonathan Freedland wrote this:
What more evidence do they need? What more proof do the Labour leadership and its supporters require? This was not an opinion poll. This was not a judgment delivered by the hated mainstream media. This was the verdict of the electorate, expressed through the ballot box, and it could scarcely have been clearer – or more damning.

The headline figure is a projected national share of 27%, the worst recorded by an opposition since the BBC started making such calculations in 1981. The Tory lead of 11 percentage points is larger than the one Margaret Thatcher enjoyed as she headed into the elections of 1983 or 1987, when she won triple-figure landslides.
"Why has this happened?" barked a furious Freedland, answering to his own smug satisfaction:
The good news for Labour is that what I saw in the focus groups were people unimpressed by the Tories, desperate for an opposition and itching to vote Labour again if only Corbyn would get out of the way. It suggests a new leader could take the fight to Theresa May very rapidly. The bad news is that once people have broken a lifelong Labour habit – and shattered a taboo by voting Tory – they may never come back.
According to Freedland, it was just wrongheaded of "the Corbynistas" to try to blame disloyal MPs or, heaven forfend, the "metropolitan pundits who [they] can slam as red Tories" for what he described hyperbolically as "the disaster" and "this meltdown":
Blaming others won't do. Instead, how refreshing it would be, just this once, if Corbyn and McDonnell put their hands up and took even a small measure of responsibility for this calamitous result. 4
And a month on, after it transpires that news of the Labour Party meltdown was exaggerated, has Freedland eaten his words? Well, here's what he wrote on June 10th:
[P]oliticians and pollsters alike did not see this coming. But nor did most pundits – including me. I opposed Jeremy Corbyn when he first stood for the Labour leadership in 2015, and thereafter, and I did so on two grounds. First, on principle: I was troubled by his foreign policy worldview, with its indulgence of assorted authoritarian regimes, and by what I perceived as his willingness to look past antisemitism on the left. But more immediate was an assessment of his basic electability. I wanted the Tories gone, and simply did not believe Labour could pose a serious electoral threat under Corbyn.

My principled objections have not faded, but Thursday's results make clear that on the electability issue, I was wrong. 5
Freedland's "principled objections" are in fact bogus (read earlier posts here and here) and his apology is long overdue. Surely the big question, however, is why anyone still takes the opinions of liberal gatekeepers like Freedland at all seriously. In the space of a month he had managed to eloquently flip-flop from "Jeremy Corbyn is to blame for this meltdown" to "Corbyn successfully framed voting Labour as the only way to say enough is enough" and "He's rewritten the rules." Hallelujah! (I suppose.)
So please allow me to briefly digress, because today's media, so narcissistically in love with its own reflection, has become the very definition of an echo chamber: newspaper headlines are a mainstay of TV debate and what is broadcast on TV and radio then siphons back into the newspapers. Additionally, there is increasing reliance on so-called vox pops: phoney snapshots of public opinion, meticulously edited into tidy bundles of required thought. Cheap to produce, they maintain the delusion that media is representative of what people like you and me actually think. In reality, of course, ordinary Joes and Joannas are commandeered to provide off-beam refractions simply to bolster a prefabricated message: Obama is cool; May is serious; Trump is an idiot; and Corbyn is hopeless.
For months on end, the mention of Corbyn elicited titters from the commentariat alongside the required level of derision from the (assiduously selected) 'man on the street'. Likewise, without fail, each week an audience member on the BBC Question Time would prime the panel with one of those tired old questions about his "unelectability" or the purported "lack of any effective opposition". Thus, Corbyn was roasted on all sides: by media hacks and politicians from every camp, including nominally his own colleagues.
But then, with the election called, this changed. Legal requirements would ensure some better measure of balance in the debate. Thus, with the playing field abruptly if only partially levelled (our right-wing newspapers are free from such constraints), Corbyn got the chance he'd been waiting for: able at last to make the case for a fairer and more caring society and not to be instantly drowned out by the clamour of critics.
*
Project Fear
"Hope always wins over fear" – John McDonnell (post-election interview 6)
"I am a treat" my friend said as I pointed out the large black billboard ahead. His unconscious was momentarily getting the better of him and suggestively reworking the slogan to ensure it was functioning as ads generally do: as promotions for a product. But instead, this image, one I had walked past daily for almost a week, with its Big Sister portrait of May – former Home Secretary behind the Snooper's Charter – sternly peering out like a stony-hearted headmistress, was issuing the country an exceedingly stark but fair warning.
Put together by anti-austerity campaign group the People's Assembly, its message was bleak yet factual and accurate. It branded May a threat to our hospitals, our schools, our job security, our pensions and our peace and security. And who could deny any of it?
Sam Fairbairn, People's Assembly National Secretary described the poster as a response to the Tories' "manifesto of misery", adding "she is a threat to everything we rely on from cradle to grave":
"The crisis in the NHS was created by the Conservative government and they're doing nothing to address it. She's snatching free school lunches off infants while her plans to restructure our education system will leave schools without proper funding. University students are being strapped with lifelong debt." 7
In fact this portent of doom had only recently replaced another. The face of Donald Trump and around it the words "Advertising works… look what it did for me", but now with a toothbrush moustache inked above those all-too familiar pouting, foul-mouthed lips. Soon afterwards the same billboard had been further subverted when someone had the wherewithal to scrub over 'advertising' and substitute a far more appropriate four-lettered word: 'HATE' in block capitals. Yes, I mused philosophically, as I passed under it each day… hate does indeed 'work' in a political sense.
In our own election hate had mostly remained on the backburner. Instead, the campaign was framed about Brexit, and with emphasis not on immigration this time around. Instead it was supposedly all about leadership. About "strong and stable" government. The hate could wait…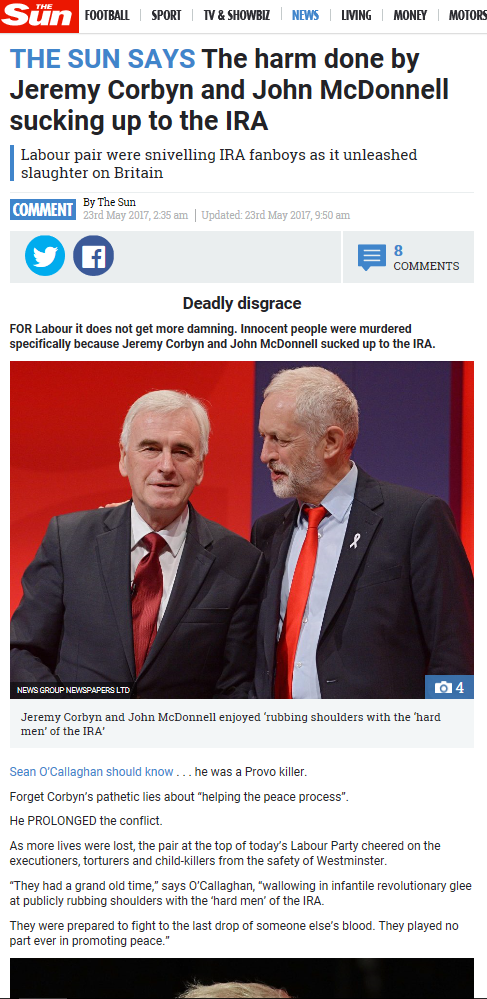 The Sun has since issued a statement to the effect that this headline was not released immediately after the Manchester atrocity but shortly before it occurred. Evidently its editor did not, however, find the conscience to remove it or issue an apology for it remaining published online. Nor did The Sun and other press outlets refrain from issuing follow-up smears against Corbyn, McDonnell and Diane Abbott in the wake of the London Bridge attacks. In fact, on the eve of the vote, The Sun ran with the absolutely disgusting headline "Jezza's Jihadi Comrades" while the Daily Mail devoted no less than 13 pages to pillorying those same "Apologists for Terror":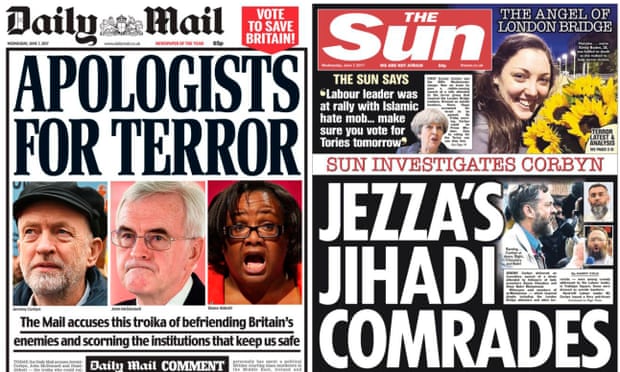 Did the hate work? Below is a screenshot of The Independent on the morning after the London Bridge attacks – the polls were again narrowing and rather rapidly:
Also take a close look at the graph above and see how the convergence between the Labour and Conservative polling slows directly after the Manchester atrocity on May 22nd. Given that campaigning was suspended this is hardly surprising. Nor is it surprising that in a state of shock and heightened anxiety, voters will tend to be more inclined to support an incumbent government or, still more, to turn toward the party most traditionally trusted on law and order. Yet the surge for Labour was only partially held back, and the pollsters were found wanting all over again – except for the exit poll, that is.
There was also the honourable exception of polling company Survation who had bravely forecast a hung parliament and were ridiculed for sticking to their guns…
*
The real unelectables
The night before the election, with the polls which had certainly tightened still remaining wildly divergent, I decided to check out the odds at the bookies, given how bookies obviously have a vested interest in getting their numbers right. And a Tory majority then remained odds on, with many punters betting on who might be the next Labour leader. Although May's position had become shaky too, the smart money was very much backing an increased Tory majority with gains of up to a hundred seats. My heart sank, just as it did immediately upon hearing May's election announcement. Like many Labour supporters, I was still braced for a trouncing.
Most polls are unreliable, but exit polls are different. They have a special legitimacy and have in some cases been applied as a standard of verification for elections across the world.
Two years ago the exit poll had been a shattering blow. In the weeks leading up to the vote the opinion polls consistently pointed to a hung parliament, whereas the exit poll had quite correctly forecast a Tory majority. On this occasion I was anticipating the worst. Given the unbridgeable six point gap (and an enormous spread of polls between 1% and 15%) combined with the traditional last minute shift in favour of the Conservatives (the shy Tories emerging from their closets), damage limitation was all any Labour supporter could conceivably wish for.
"And what we're saying is, the Conservatives are the largest party", David Dimbleby announced to the nation shortly after the polls closed at ten, continuing "but note they don't have an overall majority at this stage…" soon afterwards conceding, "we'll be hung, drawn and quartered" if our exit polls are wrong. Although defeated, Corbyn's many supporters, myself included, were tasting something closer to victory:
Not only the Tories, but every other mainland political party were about to be humiliated in their own special way. Ukip were rather predictably annihilated. Yet to think how a mere four months earlier, so many pundits had been licking their lips at the prospect of leader Paul Nuttall stealing Stoke-on-Trent Central in a by-election, and running Labour and Corbyn out of town. Now Nuttall was ruined instead.
Meanwhile, the Lib Dems whose entire campaign was devoted to their bizarre since unrealisable promise of an EU referendum rerun, gained a measly four seats to prop up the meagre eight they already held. Former leader Nick Clegg who had helped the Tories remain in power during the miserable days of the Con-Dem Coalition lost his seat just up the road from me in Sheffield Hallam; like many across the country, I cheered his just demise. A few hours later, hopeless leader Tim Farron did the honourable thing.
In my own constituency of Sheffield Central, former leader of the Greens, Natalie Bennett, came to contest what is a comparatively safe Labour seat, rather than more profitably fighting her corner in a Conservative marginal – so much for forming a "progressive alliance" against the government. Once again, justice was served and Bennett lost, finishing an embarrassing third behind the Tories, with incumbent Paul Blomfield swept back into parliament with a hugely increased majority now approaching 28,000.
North of the border, the political landscape was being even more dramatically reshaped. After the Brexit vote, the SNP had been calling for a new independence referendum – a replay of that "once in a lifetime decision" barely more than two years on. But this divisive move soon became an albatross, and as the SNP tried to backslide on their promises and downplay calls for Indyref2, the Scottish Conservatives no less opportunistically cranked up the pro-unionist rhetoric (a flavour of things to come). It proved a winning tactic with many disaffected Scottish voters.
Even so, not all the angry Scots were turning back to the Conservative and Unionist Party. Studiously under-reported in the media, a great many were evidently returning to Corbyn's Labour too – Labour regaining six of the seats lost during their humiliating wipe-out in 2015. Either way, the outcome had been a disastrous one for the SNP, losing more than a third of their seats as the vote collapsed by over 13%. By the end of the night, the SNP's leader in Westminster Angus Robertson lost his seat in Moray, and, most memorably, Scotland's former First Minister and long-time talismanic party leader Alex Salmond was defeated in Banff & Buchan. More cheers! (I speak for myself obviously.)
Then we must come to the forlorn figure of Theresa May. Has any winner of any general election ever appeared so dejected? She would try to paint some gloss on it later, naturally enough, but there is simply no convincing way to disguise the fact that her anticipated triumph had crumbled to unmitigated disaster. Indeed, only one leader would be able to claim any sort of victory on the night: the "unelectable" Jeremy Corbyn. The rest of the field, slipping backwards in their different manners, were evidently just too electable by far! Astonishingly, May and her Conservative government were left clinging to power only by the tassels of an orange sash. 8
*
 'Theresa May and the Holy Grail': having lost her majority, and with complicated Brexit negotiations and fields of wheat on her doorstep, Theresa May is determined to 'get on with the job of government' (and to seek the Holy Grail). Click here to watch the original upload at Australia's ABC.
*
A moral victory
A week prior to the general election I had a dream and woke with a vision of Jeremy Corbyn walking into Downing Street as Prime Minister. The dream genuinely happened, but then dreams are rarely prognostic. Instead, the Tories clung on as the main party of government, which is the very best they can say for themselves. May's re-election was the very epitome of a Pyrrhic victory.
Instead of the envisaged landslide, her government is suddenly in retreat, and clinging to power by its political fingertips, made all the grubbier by that desperate £1.5 billion deal with the political arm of Ulster's loyalist paramilitaries. How long this weak and wobbly 'coalition of chaos' can hobble along together is anyone's guess.
Regarding my dream again, it obviously owed much to my own psychological investment in the election. Like many thousands of others who had never before been actively involved in campaigning, for six weeks I was out and about leafleting, running street stalls, and door-to-door canvassing. I remain very much committed to the cause. Although the Tories won the battle, suddenly they are losing the war: Corbyn may yet walk into Downing Street…
More speculatively then, the dream seems to me prophetic in a truer sense of the word: that intuitively I was picking up on quite seismic upheavals that were very hard to comprehend, or even to register, during my various interactions on the doorstep. Thus, routinely faced with antipathy and aversion toward Corbyn's leadership, a common reaction coming from many one-time Labour voters, it became easy to overlook the surge in Labour support from less expected quarters.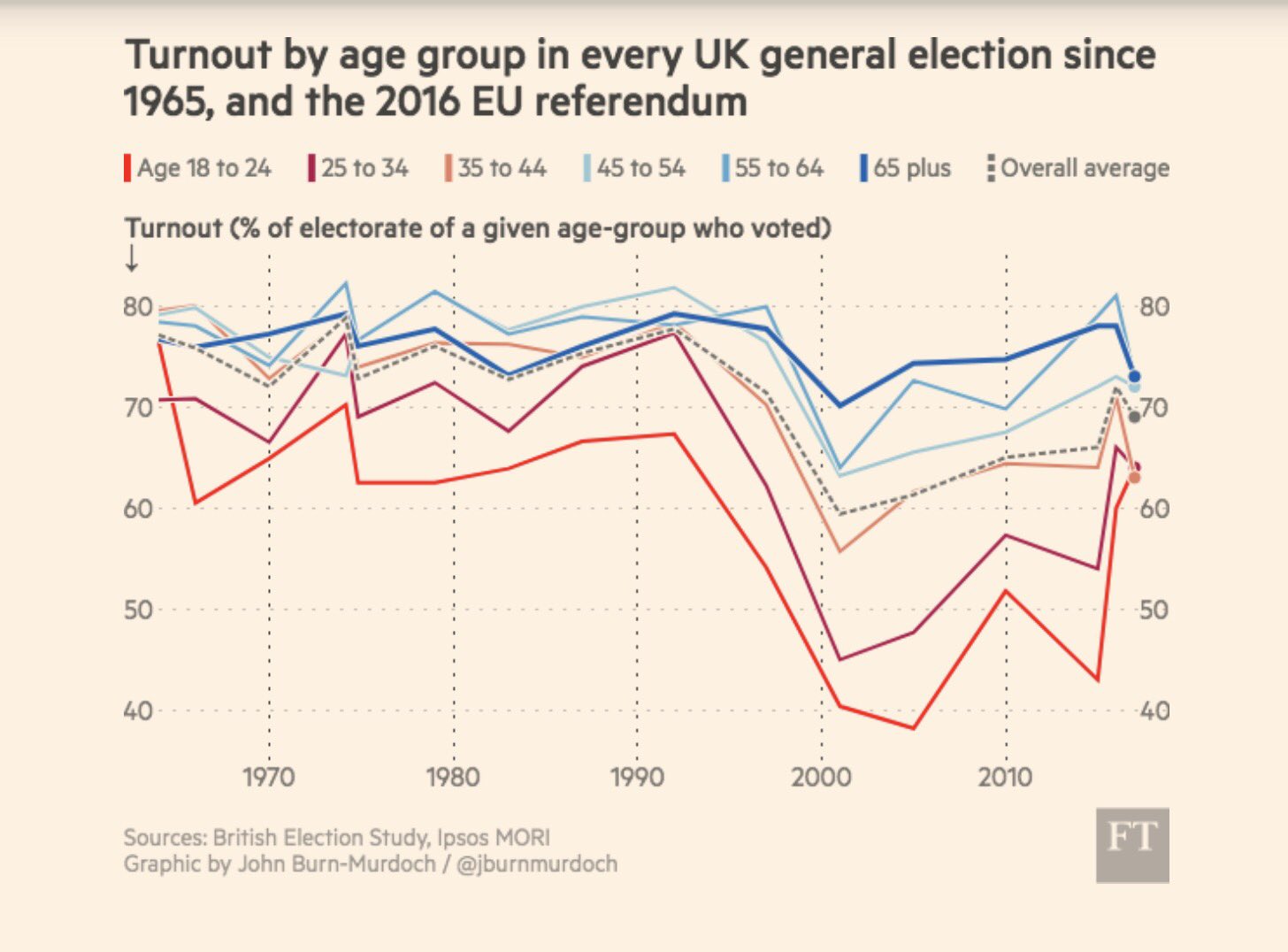 This groundswell, as we now know, involved more than just an increased turnout of first-time voters, since it mostly comprised disaffected Lib Dems, wavering Greens, and, more interestingly, some half of former Ukip supporters, plus thousands returning from the SNP, and most surprising of all, a significant proportion of affluent middle-class who are traditionally Conservative supporters. In short, my dream had detected a sea change taking place in our society; shifts in outlook that Corbyn and others in the Labour leadership were directly responding to.
Very skilfully, they had steered the whole debate away from Brexit (May's original pretext for calling the election) and away from personality too (May's team had embarked on a presidential-style campaign) by redirecting attention firmly back on to policy instead. In the manner of a musical maestro who responds to applause from his audience by holding up the score, Corbyn consistently drew the public gaze back to Labour's bold and very thoughtfully composed manifesto: "For the many, not the few". A manifesto launched not once but twice – funny that! Fully-costed, anti-austerity populism; this was certainly a masterstroke.
Corbyn and McDonnell survived the election against all the odds, and having thus achieved a result beyond common expectation, they have managed to reunite the party behind a commitment to democratic socialist policies. These policies have become Labour's main strength again. So although Corbyn didn't win the vote, the Labour manifesto actually did, and as a direct consequence, temporarily at least, it has produced a measureable shift leftwards in the mythical 'centre ground' of politics. Those of us determined to say "enough is enough" now have a place to turn and a leader they can get behind.
Jeremy Corbyn gives an impromptu but impassioned speech to the 'Left Field' fringe event at this year's Glastonbury Festival:
*
Update:
The latest poll of polls (Friday 7th) now puts Labour eight points ahead of the Tories with a record high of 46%. Meanwhile in Scotland, the poll puts Labour ahead of the SNP by 36% to 31%:
*
1 From an article entitled "Secret recording of Kinnock's anti-Corbyn speech to MPs – in full" written by Andrew Sparrow and Harrison Jones, published in the Guardian on July 8, 2016. https://www.theguardian.com/politics/2016/jul/08/secret-recording-neil-kinnock-jeremy-corbyn-step-down-speech-to-mps-in-full
2 From an article entitled "Jeremy Corbyn is a great campaigner – but we need a hard-headed negotiator" written by Stephen Kinnock, published in the Guardian on June 25, 2016. https://www.theguardian.com/commentisfree/2016/jun/25/jeremy-corbyn-leadership-challenge-no-confidence-motion
Remember those few days in June when Labour MPs couldn't stop resigning? That long Sunday after the country had voted for Brexit, when every time you turned on the radio another shadow cabinet minister had stood down, calling for Jeremy Corbyn to do likewise? Or the next day, when the only thing you wanted to quit was the non-stop news, just for a few hours, but there was Angela Eagle in tears at her own resignation? Before June, the mass resignation of 44 frontbench politicians in as many hours, all citing a loss of confidence in their leader, would have led to said leader being turfed out of office. But we didn't count on Corbyn.
From an article entitled "The fate of the MPs who plotted a coup against Corbyn" written by Jane Merrick, published in the Guardian on December 20, 2016. https://www.theguardian.com/politics/2016/dec/20/mps-plotted-coup-jeremy-corbyn-coup-where-are-they-now
4 From an article entitled "No more excuses: Jeremy Corbyn is to blame for this meltdown" written by Jonathan Freedland, published in the Guardian on May 5, 2017. https://www.theguardian.com/commentisfree/2017/may/05/jeremy-corbyn-blame-meltdown-labour-leader
5 From an article entitled "Jeremy Corbyn didn't win – but he has rewritten all the rules" written by Jonathan Freedland, published in the Guardian on June 10, 2017. https://www.theguardian.com/commentisfree/2017/jun/10/jeremy-corbyn-general-election–labour-rewrites-rules
6 Shadow Chancellor John McDonnell and financial journalist Paul Mason discuss the election result with the Artist Taxi Driver (viewer discretion advised):
7 From an article entitled "Theresa May branded a 'threat' to peace, hospitals and schools in nationwide billboard campaign" written by Dan Bloom, published in the Daily Mirror on May 22, 2017. http://www.mirror.co.uk/news/politics/theresa-branded-threat-peace-hospitals-10474044
8 Quip stolen from George Galloway.