Activist and academic Sai Englert explains why "anti-Zionism is not the same as anti-Semitism":
Unfortunately, today anti-Zionism is often conflated with anti-Semitism. It should however be clear that they have nothing to do with one another. The first rejects the idea of an ethnic or religiously supremacist state in Palestine. The second hates Jewish people for being Jewish. But conflating anti-Zionism with anti-Semitism makes a series of assumptions that should never be acceptable.

Firstly, that all Jews are Zionists or that Zionists speak for all Jews. This is a deeply racist idea that assumes that an entire group of people can be essentialised under one ideological banner. Nothing could be further from the truth. Israel does not represent the views of all Jews. Many Jews around the world are anti-Zionists for religious and or political reasons, while others might simply know very little about it and not have an opinion.

Secondly, that all Zionists are Jews. Again, nothing could be further from the truth. For example there are many Christian Zionists, especially in the United States, while many politicians and political parties across the West are Zionists. This has nothing to do with Judaism, but with foreign policy and the close alliances that their countries have with Israel.

Finally, the conflation between the two ideas often assumes that Zionism only affects Jewish people. This approach, often repeated in current debates, erases the fact that the primary victims of the Zionist movement, have been and continue to be, the Palestinian people. Their rejection of Zionism, their demands for equal rights, and their desire to be able to return to their homes from which they were expelled has nothing to do with Judaism or Jews in any way. Instead, it has everything to do with their opposition to the settler-colonial project which continues to dispossess and oppress them in their own lands.

Anti-Zionism is therefore, before anything else, a form of solidarity with the demands of a colonised people that continues to struggle for its freedom. There is a simple but powerful principle that states that no-one is free until we are all free. In that sense the struggle against anti-Semitism and the struggle against Zionism are one and the same. They are both struggles against oppression, against racism, and ethnic supremacy – in a word against injustice. In the words of the old slogan: "Anti-semitism is a crime: anti-Zionism, a duty."

[from 3:00 mins]
*
The spurious conflation of antisemitism with anti-Zionism is an issue I have discussed at length in a number of previous posts. I have also presented considerable evidence to show how the so-called "new antisemitism" is a tried and tested formula used by Israel and the Israel lobby to discredit opponents. The introductory passage quoted above from Sai Englert makes the stronger case that the struggle against anti-Semitism and the struggle against Zionism are in fact one and the same.
Additionally, let me remind readers of a statement made by Shulamit Aloni, leading Israeli civil rights activist and former Knesset member who headed the Meretz Party, which ought to settle this matter once and for all. In reply to the question "Often when there is dissent expressed in the United States against policies of the Israeli government, people here are called antisemitic: what is your response?" she said:
Well, it's a trick. We always use it. When from Europe somebody's criticising Israel then we bring up the Holocaust. When in this country [America] someone is criticising Israel then they are anti-Semitic… It's very easy to blame people who criticise certain acts of the Israeli government as antisemitic and to bring up the Holocaust and the suffering of the Jewish people and that justifies everything we do to the Palestinian people.
Click here to read a full transcript and to watch the interview on the Democracy Now! website. [The extract above begins at 51 mins in]
Today we are in the midst of a political witch hunt. The targets are generally left-wing and, importantly, all have been outspoken opponents against the establishment or else vocally critical of the official narrative whether on Israel or Western foreign policy more broadly. Many are also ardent supporters of Labour Party leader Jeremy Corbyn, who is himself an outspoken critic of Israel's crimes against the Palestinians.
It is unnecessary to constantly repeat or reinforce the view that this is a witch hunt, so here instead my wish is to direct attention to three recent occurances of this new McCarthyism. Two of the cases, those of Pete Willsman and George Galloway, have received widespread mainstream attention and both resulted in immediate disciplinary action being taken. In a third instance, the case of Professor Piers Robinson, formerly at the University of Sheffield, no formal disciplinary action was taken but it is likely that Robinson resigned his seat in order to escape an escalating campaign of victimisation. To begin, however, I wish to consider the rather strange and overlooked case of Labour MP, Siobhain McDonagh, whose comparable and arguably worse transgressions were not placed under any close scrutiny by either the mainstream media or the Labour Party, since it is vital to show the double standards now in operation.
Woody Allen as neurotic comedian Alvy Singer speaking to his close friend Rob (Tony Roberts) about what he sees as the rising incidents of antisemitism he has been encountering in Allen's award-winning comedy "Annie Hall" (1977):
*
Siobhain McDonagh
During an interview on BBC Radio 4's Today programme in March, Siobhain McDonagh, Labour MP for Mitcham and Morden, when answering a straightforward question about whether the party was taking the issue of antisemitism seriously, said:
"I'm not sure that some people in the Labour Party can because it's very much part of their politics – of hard left politics – to be against capitalists, and to see Jewish people as the financers of capital."
Digging the hole still deeper, interviewer John Humphrys then reinforced her assertion with this altogether jaw-dropping follow-up question: "In other words, to be anti-capitalist you have to be antisemitic?"
To which McDonagh replied emphatically:
"Yes, not everybody, but absolutely there's a certain strand of it and these people are not Labour, have never been Labour, but we now find them in our party".  1
Unsurprisingly, the corporate media paid little attention to the deeply offensive nature of this portion of the Humphrys-McDonagh interview. Their implicit acknowledgement of the antisemitic trope that "Jewish people control capitialism" did not result in either the veteran BBC presenter or Labour MP being subjected to opprobrium, and no disciplinary hearings followed. In fact, although broadcast on Radio 4's flagship political show, this bizarre outburst was only picked up by the remotest corners of the alternative media. The newspaper with the largest circulation to raise the matter was The Morning Star, which afterwards spoke with leaders of two Jewish organisations and reported on the incident as follows:
Jewish Voice for Labour's Mike Cushman told the Star McDonagh owed party members an apology.

"McDonagh seems to be suggesting that all or many Labour Party members believe that banks are controlled by Jews, classic Protocols of the Elders of Zion territory," he said.

"She draws the conclusion that, therefore, Labour's critique of the financial casino activities that almost crashed the world economy is motivated by anti-semitism.

"She attacks conspiracy theorists by launching a bizarre conspiracy of her own.

"She owes the tens and hundreds of thousands of party members who are campaigning for effective oversight of the banks a speedy and humble apology.

"Fighting for a fairer society and against inequality and austerity is not a symptom of anti-semitism. McDonagh cannot be allowed to silence criticism of capitalism within a socialist party."

The Jewish Socialist Group's David Rosenberg said Ms McDonagh and Mr Humphreys' [sic] comments "made it very clear who is stereotyping the Jewish community."

"Apart from this disgusting stereotyping," Mr Rosenberg wrote on Facebook today, "both McDonagh and Humphreys should be ashamed of themselves for their slur on everyone who is fighting poverty, austerity, homelessness, zero-hours contracts in capitalist Tory Britain as anti-semites.

"The Jew=capitalists formula will also be interesting news for the Jews I know who are unemployed, struggling pensioners and single mothers, ordinary workers, secretaries, cab drivers, teachers, social workers, NHS staff." 2
*
Peter Willsman
Pete Willsman is a member of the Labour Party's National Executive Committee (NEC). He was elected in 2016 as one of six candidates backed by pro-Corbyn activist group Momentum.
A year ago, recordings of an NEC meeting emerged in which Willsman accused some in the Jewish community of being "Trump fanatics" and also challenged an accusation of "severe and widespread antisemitism" in the Labour Party:
Some at the time, including the right-wing Board of Deputies of British Jews, called for his expulsion, whilst others including Jewish Voice for Labour and Chris Williamson MP stood firmly in support. General Secretary of the Labour Party, Jennie Formby, accepted a formal apology and cautioned Willsman to refrain from making similar comments in future.
In May, another secret recording emerged made in January by Israeli-American author and journalist Tuvia Tenenbom of an informal conversation in which Willsman is heard to say:
"It's almost certain who is behind all this antisemitism against Jeremy. Almost certainly it was the Israeli embassy.

"They caught somebody in the Labour Party. It turns out they were an agent in the Israeli Embassy. My guess would be, they are the ones whipping it all up." 3

[I cannot find any audio clip uploads]
Willsman was, of course, referring to the evidence disclosed by the excellent Al Jazeera investigative series The Lobby, a four-part series I have covered in detail in an earlier post. The claim he makes is therefore firmly substantiated and yet in spite of making a factual point Willsman has been suspended to face a disciplinary hearing:
Nothing Pete Willsman said in these comments is anti-Semitic. He does, however, point to some uncomfortable truths exposed by the excellent Al Jazeera documentary The Lobby, which has been so willfully ignored by the mainstream media. The documentary reveals a systematic effort by the Israeli embassy to infiltrate the Labour Party and highlights the efforts by the Israeli Ministry of Strategic Affairs to label critics of Israeli human rights abuses as anti-Semitic.
The statement published by Labour Against the Witch hunt (LAW) continues:
This should be the subject of an overdue investigation rather than Pete Willsman's role in drawing our attention to it. It is an outrage that Labour Party members are being disciplined for correctly stating that much of the anti-Semitism crisis has been manufactured, while anti-Corbyn MPs like Margaret Hodge, Louise Ellman and Tom Watson insult, disrupt, make bogus accusations and work hand in glove with the capitalist media – with no repercussions coming their way. Those making false charges ought to face disciplinary action and should be held accountable for their actions. 4
Click here to read the full post entitled "Reinstate Pete Willsman!" published by Labour Against the Witch hunt on June 2nd.
Provided in an update, the same post also draws attention to background of Tuvia Tenenbom, "the man who secretly recorded Peter Willsman and leaked the audio to the press just as the latest coup against Jeremy Corbyn is hotting up":
Watch the short clip below and then judge for yourself if this really is a "journalist" whose sound recording guy happened to have left the microphone on… or if this does not look like somebody who might organise a sting operation against the most outspoken Corbyn supporter on Labour's NEC… kind of proving Pete's point about "interference".
*
Piers Robinson
As Professor of Politics, Society and Political Journalism at the University of Sheffield, Piers Robinson came to wider attention after he publicly undertook the deconstruction of the Western propaganda narrative surrounding the "war on terror" and the conflict in Syria.
Robinson is currently a co-Director of the Organisation for Propaganda Studies working alongside Professor Mark Crispin Miller (NY University) and Professor David Miller (University of Bristol). Other members of the Advisory Board include Noam Chomsky, John Pilger and Mark Curtis. He is also a founding member of the Working Group on Syria, Propaganda and Media which recently released the leaked OPCW FFM assessment that discredits the Douma gas attack allegations and calls into question the impartiality of the OPCW. (Please read this earlier post.)
On April 17th, Piers Robinson left the University of Sheffield (UoS) under a cloud, having been castigated, like Pete Willsman and Chris Williamson before him, for "'undermining' anti-Semitism allegations within the Labour Party":
His exit comes shortly after Forge Press' investigation into his online behaviour in April, however Robinson insists he received no criticism or pressure to leave from the University of Sheffield.
Under the subheading "Exit follows probe into professor's online behaviour", the same piece published by the UoS Students Union in-house journal Forge Press, continues:
Forge Press revealed a series of shared posts on Robinson's social media accounts questioning the validity of widespread claims of anti-Semitism in the Labour Party.

One post shared by senior academic Robinson decried such claims as "a smear campaign" and another, an article by left-leaning website The Canary, reduced the allegations to a project of the "establishment". […]

Robinson, also the co-director of the Organisation for Propaganda Studies, denied the accusations. He said: "I do not believe there is no anti-semitism in the Labour Party. I do believe that the problem has been exaggerated for political purposes."
According to the same piece, Robinson is also guilty of signing a petition calling for the suspension of Chris Williamson to be lifted:
Forge Press' investigation found that Robinson was sharing posts on his own social media accounts, and signed a petition in defence of suspended Labour MP Chris Williamson, which claimed that anti-Semitism allegations in Labour were "being used as a weapon to silence those who speak out against injustice". 5
I am a fellow signatory to the same change.org petition calling for Williamson's suspension to be lifted and have already linked to it in a previous article.
Click here to add your own name.
Forge Press has to my knowledge received just one reply to their article reporting on Robinson's resignation, which as yet they have declined to publish.
Here is a screenshot showing MY comment:
Still "awaiting moderation" after nearly two months, it reads:
Congratulations. Another nail in the coffin of free speech! Has the UoS Students Union ever heard of McCarthyism? If this is the level of university debate then I fear we are already doomed.
*
George Galloway
As Liverpool fans celebrated another European Cup final victory, George Galloway tweeted the following:
Congratulations to the great people of #Liverpool to the memory of the socialist miner #BillShankley to the fallen #96 to those who fought for justice for them and to the Liverpool dockers. No #Israel flags on the Cup!
Fourth fifths is a paean to the city of Liverpool, including a commemoration of the football club's first great manager, Bill Shankley, and of the horrific tragedy at Hillsborough that cost 96 innocent lives. Galloway might have ended there and in my opinion he should have. The extra six words were intended to incite, and given the current climate, his gesture is an extremely crass one. But, we have entered a new age when insensitivity alone is enough to cost you your job.
TalkRADIO which is owned by Murdoch's News Corp made the quick and easy decision (since Galloway has evidently been under pressure for some time) to sack him. Afterwards, Galloway defended himself pointing out that a section of Tottenham fans had been flying the Israel flag and thereby showing affiliation to a "racist state".
On the following Tuesday, Galloway was invited on to Good Morning Britain where he was harangued by the snarling and foul-mouthed Alan Sugar:
On the show Lord Sugar, the former owner of Tottenham, claimed erroneously:
"I did not see and I have never seen an Israeli flag flown – there were no Israeli flags with the fans." [8:10 mins]
So let's set the record straight on this central point. Firstly I watched the game live on TV and I was supporting Tottenham. One of the first items I saw at the Tottenham end was an Israel flag. It was something I even remarked upon to my family. And although it is remarkably difficult to find captured images searchable on Google (as Galloway recommends) of Israel flags flown at the European Cup final, it is easy to find evidence of Tottenham fans flying the same flag on many other occasions.
The image below is from a Telegraph article published on the eve of the European Cup semi-final match (just a few weeks earlier) between Tottenham Hotspur and Ajax. Although the picture shows Ajax fans, the caption reads "Fans of both Ajax and Spurs regularly fly the Israeli flag at matches":
And beneath is an image of Spurs fans taken from a Guardian report (read more below):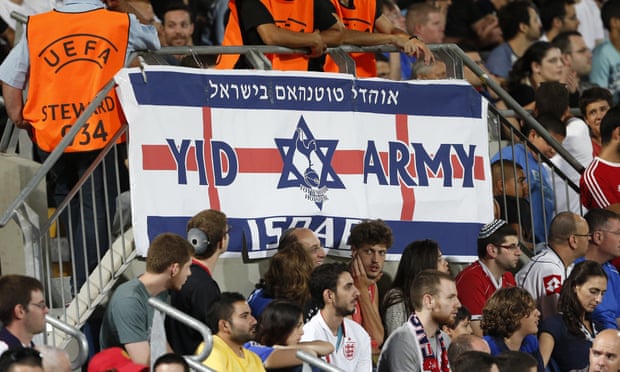 There is no secret about this, or the well known fact that some Spurs and Ajax fans call themselves the "Yid Army" and "Super Jews" respectively. In 2013, the English FA actually tried to put a stop to it, issuing a warning on the reasonable grounds that "Yid" is a term of racist abuse:
In early September, the FA warned Tottenham fans that using the term "Yid," an insult to Jews, could lead to criminal prosecution or a stadium ban, and this week the Metropolitan Police announced that it could get fans arrested. But judging from fan behavior during the soccer match against Chelsea on Sept. 28, the FA's warning has gone unheeded.
From an article published by Spiegel Online, which points out that:
But neither the "Spurs" nor Ajax are Jewish clubs, and their number of Jewish fans is not particularly high. So why the Jewish symbolism? 6
More recently, the World Jewish Congress and the Board of Deputies of British Jews jointly condemned Spurs' fans for using the nickname "Yids":
"We would also ask Tottenham Hotspur to take a stand against the use of 'Yid Army', 'Yid' and 'Yiddos' by their fans. Such a long overdue action is important to kick antisemitism off the pitch and create a welcoming environment for all." 7
From a Guardian article published January this year.
To reiterate, I do not defend George Galloway's judgement in tweeting what he did, but nor do I defend Tottenham fans who bring the flag of Israel to matches. Because the butt of Galloway's abuse are the fans who choose to wrap themselves in a symbol of apartheid and there is no fault in drawing attention to this.
Finally, in order to remind ourselves of the first rumblings of the current pro-Israel witch hunt, it is worthshile reviewing a scandalous episode of BBC1's Question Time broadcast in February 2015 in which George Galloway was clearly set up to be grilled by a staunchily pro-Israel audience and panel. I was so deeply shocked by this "show trial by television" that I spent the rest of the night writing a post about it. These were my concluding remarks written four years ago:
Galloway is a politician [at the time he was Leader of the Respect Party and MP for Bradford West] and so it is entirely proper that his opinions and actions are closely scrutinised. As I say, you are absolutely at liberty to detest Galloway, but the issue here is what on earth had led the BBC to consider it justifiable for him (or anyone else for that matter) to be publicly tried in such a fashion?

This was, in my view, an unedifying spectacle, and one that presents us with a terrifying indication of how narrowly restricted real freedom of speech is becoming. These are scary times, and it was not without reason that as I finished watching earlier, I felt shaken.

We know perfectly well where true racism always leads, and so it is our duty to ask with unflinching honesty, who is really inciting racial division and stirring up hatred? In last night's so-called discussion, I say it certainly wasn't Galloway. I go further, and say that for all of his faults, Galloway cannot be justly accused of racism. He is not a bigot. And shame on the BBC for ever orchestrating such a disgusting piece of inflammatory propaganda.

To judge for yourself (if you didn't watch earlier) then click here to see the whole show on BBC iplayer. [And now I must sleep]
Click here to read my earlier post entitled "show trial by television: Galloway was set up by BBC to be accused".
*
Final thoughts
Watching a recent youtube upload by Novara Media, I became so incensed that I felt compelled to comment. This is what I wrote [with links added]:
You're doing it again. On and on and on again just perpetuating this media manufactured smear about antisemitism. Talking about the Israel lobby isn't safe ground, you say. Who cares. It exists and it has been exposed very actively undermining Jeremy Corbyn. But you don't want us to talk about it. Why not? Instead of giving credence to a blatant smear campaign, you could instead be directing viewers to Al Jazeera's investigative series. So I refer you again to Norman Finkelstein. Listen to him. He understands how this works. Even the son of two Holocaust survivors was not immune to these tactics. Speaking up for the Palestinian cause ultimately cost him his job.

He will tell you that every time Corbyn capitulates, his enemies will simply turn his contrition into an admission of guilt. His every apology picked up and hurled back as a new weapon, readymade to beat him and his base with. That's how we've ended up with staunch anti-racist Jackie Walker and now Chris Williamson suspended – to name but two entirely innocent victims of Labour's McCarthyite purge. It's a witch hunt, and the only way to bring an end to a witch hunt is to call it out. Sorry – your analysis is really excellent in most regards – but your cowardice over this issue deeply troubles me.
And this was the response:
I stand by this and all of my previous statements. The rightful stance to the new McCarthyism as with every witch hunt, and aside from our own refusal to bow, is that we make a commitment to speak out and act in solidarity with all of the victims.
Woody Allen as the titular 'front' for blacklisted writers, Howard Prince, making his final speech when called upon to testify before the House Un-American Activities Committee (HUAC) Warning: strong language.
*
Update:
George Galloway has since issued an extended statement on Youtube in which he apologies for the tweet and also discusses the background details and most specifically the central role played by Ofcom in his sacking by TalkRADIO and the cancellation of his political phone-in programme, The Mother of All Talk Shows (TMOATS). He also takes the opportunity to announce a new platform for TMOATS which will be relaunched on Sunday 16th:
On June 26th Galloway was welcomed as the guest on The Jimmy Dore Show. He again discussed the significant role Ofcom played in the cancellation of TMOATS and talked more broadly about his own participation in the struggle to end apartheid in South Africa that was spearheaded by Jewish anti-racist activists, as well as his continuing anti-racist commitment to fighting the apartheid system in Israel:
*
Addendum: Reinstate Jackie Walker!
 "If they accuse anybody of antisemitism, it's basically as bad as kind of accusing somebody of being a paedophile or a murderer. And it's really hard to come back from that." — Jackie Walker, long-standing anti-racist campaigner and former Vice Chair of Momentum. 8
Sign the letter the Guardian refused to print:
The Guardian has refused to print this letter signed by almost 400 people within 48 hours of Jackie's expulsion (including Noam Chomsky, Guardian cartoonist Steve Bell, Alexei Sayle and Ken Livingstone). It deems the issue "sensitive" and "controversial". We believe the real controversy is that hundreds of good socialists and anti-Zionists like Jackie Walker have been investigated, suspended and expelled. This witch-hunt against Jeremy Corbyn and his supporters must stop!

Dear Sir/Madam,

The decision of the Labour Party to expel Jackie Walker for '"prejudicial and grossly detrimental behaviour" is both unfair and dishonest. Jackie was suspended over two years ago because of accusations of anti-Semitism yet her expulsion was for 'misconduct'. [Labour expels Jackie Walker for leaked antisemitism remarks, March 27th]

Jackie's original remarks, such as "not having heard a definition of anti-Semitism I can work with", were obviously not anti-Semitic. Jackie's real offence was being an anti-Zionist. Because of the difficulty of making a charge of anti-Semitism stick, Jackie's alleged offence was changed to the subjective catch-all one of 'misconduct'.

If anyone is guilty of misconduct it is those in Labour Friends of Israel who defended Israel's murder of over 200 unarmed demonstrators in Gaza over the past year. False accusations of 'anti-Semitism' are the Zionists' only method of defending the Israeli state.

Jackie's expulsion is an attack on free speech. Rather than defend the world's only apartheid state Israel's supporters in the Labour Party cry 'anti-Semitism'.

Over the past two years Jackie has been the victim of numerous attacks on social media which have questioned her Jewishness and talked about lynching and burning her. Not only has the Labour Party failed to defend her but it included some of this vile material within the dossier used to expel her, such as alleging she is "a white woman in dreadlocks".

The expulsion of Jackie Walker is a matter of shame and we demand her immediate reinstatement.

Yours faithfully,

1.                       Noam Chomsky
2.                       Ken Livingstone
3.                       Miriam Margolyes
4.                       Alexei Sayle
5.                       Asa Winstanley
6.                       Steve Bell
7.                       Tony Greenstein
8.                       Jonathan Cook
9.                       Prof. Haim Bresheeth
10.                   Professor Dr Marco Chiesa
11.                   Prof. James Dickins
12.                   Prof. Yosefa Loshitzky
13.                   Prof. Wade Mansell
14.                   Prof. Dr. Willie van Peer
15.                   Prof Megan Povey
16.                   Prof. Chris Knight
17.                   Prof. Stephen Wagg
18.                   Kate Adams
19.                   Philip Adams
20.                   Alison Aiken

And hundreds more…
*
1 Quotes are drawn from an article entitled "Labour MP Siobhain McDonagh: 'to be anti-capitalism is to be anti-semitic" published by Nye Bevan News on March 4, 2019. https://nyebevannews.co.uk/labour-mp-siobhain-mcdonagh-to-be-anti-capitalism-is-to-be-anti-semitic/ 
2 From an article entitled "Left-wing Jewish groups condemn McDonagh for appearing to suggest Jewish people control capitalism", written by Ben Cowles, published in The Morning Star on March 4, 2019. https://morningstaronline.co.uk/article/b/left-wing-jewish-groups-condemn-mcdonagh-for-appearing-to-suggest-jewish-people-control-capitalism
3 From an article entitled "Labour's Pete Willsman suspended after ranting the 'Israel embassy' is manufacturing party's antisemitism crisis" published in The Jewish Chronicle on May 31, 2019. https://www.thejc.com/news/uk-news/labour-s-pete-willsman-recorded-ranting-the-israeli-embassy-is-fuelling-antisemitism-crisis-1.484944
4 From a post entitled "Reinstate Pete Willsman!" published by Labour Against the Witch hunt on June 2, 2019. http://www.labouragainstthewitchhunt.org/our-positions/reinstate-pete-willsman/
5 From an article entitled "Sheffield University 'conspiracy theory' professor quits" written by Ewan Somerville, published in Forge Press on April 17, 2019. http://forgetoday.com/2019/04/17/sheffield-university-professor-piers-robinson-syria-war-assad-conspiracy-chris-williamson-anti-semitism/ 
6 From an article entitled "Football Teams' 'Jewish Identities Questioned" written by Hendrik Buchheister, published in Spiegel Online on October 4, 2013. https://www.spiegel.de/international/europe/football-why-tottenham-and-ajax-fans-have-a-jewish-identity-a-926095.html
7 From an article entitled "World Jewish Congress condemns Tottenham fans' use of 'Yids' nickname" written by Ed Aarons, published in the Guardian on January 4, 2019. https://www.theguardian.com/football/2019/jan/04/world-jewish-congress-condemns-tottenham-fans-use-of-yids-nickname
8 Quote from Al Jazeera Investigations – The Lobby Part 2: The Training Session at 19:10  mins and 21:20 mins