Whistleblower and former UK ambassador to Uzbekistan, Craig Murray, has recently published a sequence of articles challenging official claims surrounding the attempted murder of Russian double agent Sergei Skripal.
*
Update:
It appears necessary to insert the following update in order to dismiss repeated corporate media claims that Craig Murray's original article has been debunked by, as Murray puts it: "a lengthy twitter thread by a Blairite and chemist called Clyde Davies in which they [MSM journalists] all say I am 'owned' and my article disproven."
But before coming directly to Murray's response, copied below is one part of the same Twitter stream that is receiving rather scant coverage – it involves Davies' reply to a question from Kevin Smyth: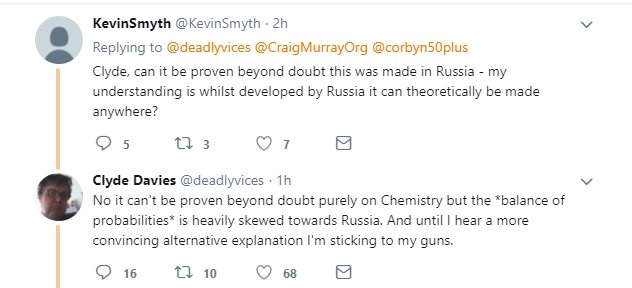 As Murray says in summary:
So what does Davies tell us in this article delivered by twitter which "demolishes" my article.

1) Davies acknowledges that until recently Porton Down and OPCW doubted the physical existence of "novichoks". He says they have now changed their minds. [Porton Down has indeed undergone a remarkable change of mind in the last week , but the OPCW has yet to see the evidence].
2) Davis states that chemists can tell if a compound corresponds to one of the "novichoks" described by Mirzyanov, but Davis specifically accepts that does not prove Russian manufacture.
3) Davis nevertheless states strongly it is Russia because he believes Russia has form and motive.

Nothing here can remotely be said to be conclusive. The question that puzzles me, is why are so many mainstream media journalists gleefully seizing on this series of tweets as a destruction of the need for sceptical inquiry? A possible answer:

1) Davies by claiming credentials as a chemist conforms to the corporate media urge for an appeal to authority. He validates the government line and he is a chemist. He can throw in the names of chemicals and molecular diagrams. That kind of thing impresses journalists. That he explicitly admits the chemistry cannot prove Russia did it, is apparently irrelevant.
2) Davies thus provides a smokescreen of respectability by which they can continue to advance their careers by cutting and pasting the government line without question.

In fact, all of Davies' "chemistry" in this exchange sets out to prove something which was never disputed – that chemists are able to identify whether or not a substance is one of the "novichok" compounds described by Mirzyanov. But as he published the formulae two decades ago, and has been living in the USA, and as the US dismantled and studied the Nukus plant, and as Porton Down had never seen any evidence the Russians actually succeeded in synthesising "novichoks, this in no way adds up to evidence of Russian manufacture. As Davies, to his credit, finally acknowledged [in the Twitter feed copied above] when confronted by an interlocutor for whom he did not have automatic hatred.
Click here to read Craig Murray's full response published on Thursday 15th.
*
Further updates:
The following extracts are drawn from a follow-up posted by Craig Murray on Friday 16th:
I have now received confirmation from a well placed FCO source that Porton Down scientists are not able to identify the nerve gas as being of Russian manufacture, and have been resentful of the pressure being placed on them to do so. Porton Down would only sign up to the formulation "of a type developed by Russia" after a rather difficult meeting where this was agreed as a compromise formulation.

The Russians were allegedly researching, in the "Novichok" programme a generation of nerve agents which could be produced from commercially available precursors such as insecticides and fertilisers. This substance is a "novichok" in that sense. It is of that type. Just as I am typing on a laptop of a type developed by the United States, though this one was made in China.

To anybody with a Whitehall background this has been obvious for several days. The government has never said the nerve agent was made in Russia, or that it can only be made in Russia. The exact formulation "of a type developed by Russia" was used by Theresa May in parliament, used by the UK at the UN Security Council, used by Boris Johnson on the BBC yesterday and, most tellingly of all, "of a type developed by Russia" is the precise phrase used in the joint communique issued by the UK, USA, France and Germany yesterday:

"This use of a military-grade nerve agent, of a type developed by Russia, constitutes the first offensive use of a nerve agent in Europe since the Second World War."

When the same extremely careful phrasing is never deviated from, you know it is the result of a very delicate Whitehall compromise. My FCO source, like me, remembers the extreme pressure put on FCO staff and other civil servants to sign off the dirty dossier on Iraqi WMD, some of which pressure I recount in my memoir Murder in Samarkand. She volunteered the comparison to what is happening now, particularly at Porton Down, with no prompting from me.
Click here to read Craig Murray's full article entitled "Of a Type Developed By Liars".
*
On April 6th, Craig Murray uploaded a copy of an extended interview with Sky News' shrill and patronising newscaster Kay Burley. Sky News subsequently refused to post the interview online so Murray instead posted it on his own site. It is embedded below:
Click here to watch the interview on Craig Murray's blog and to read a related twitter stream and comments.
*
My original post continues below…
On Tuesday 13th, Murray wrote:
The same people who assured you that Saddam Hussein had WMD's now assure you Russian "novochok" nerve agents are being wielded by Vladimir Putin to attack people on British soil. As with the Iraqi WMD dossier, it is essential to comb the evidence very finely. A vital missing word from Theresa May's statement yesterday was "only". She did not state that the nerve agent used was manufactured ONLY by Russia. She rather stated this group of nerve agents had been "developed by" Russia. Antibiotics were first developed by a Scotsman, but that is not evidence that all antibiotics are today administered by Scots.
Yesterday, Murray followed up with a very tightly argued and fully referenced explanation for why official claims that the chemical agent 'Novichok' used against Sergei Skripal could only have been manufactured in Russia are bogus.
I have reproduced his article in full below (between asterisks).
*
As recently as 2016 Dr Robin Black, Head of the Detection Laboratory at the UK's only chemical weapons facility at Porton Down, a former colleague of Dr David Kelly, published in an extremely prestigious scientific journal that the evidence for the existence of Novichoks was scant and their composition unknown.
In recent years, there has been much speculation that a fourth generation of nerve agents, 'Novichoks' (newcomer), was developed in Russia, beginning in the 1970s as part of the 'Foliant' programme, with the aim of finding agents that would compromise defensive countermeasures. Information on these compounds has been sparse in the public domain, mostly originating from a dissident Russian military chemist, Vil Mirzayanov. No independent confirmation of the structures or the properties of such compounds has been published. (Black, 2016)

Robin Black. (2016) Development, Historical Use and Properties of Chemical Warfare Agents. Royal Society of Chemistry
Yet now, the British Government is claiming to be able instantly to identify a substance which its only biological weapons research centre has never seen before and was unsure of its existence. Worse, it claims to be able not only to identify it, but to pinpoint its origin. Given Dr Black's publication, it is plain that claim cannot be true.
The world's international chemical weapons experts share Dr Black's opinion. The Organisation for the Prohibition of Chemical Weapons (OPCW) is a UN body based in the Hague. In 2013 this was the report of its Scientific Advisory Board, which included US, French, German and Russian government representatives and on which Dr Black was the UK representative:
[The SAB] emphasised that the definition of toxic chemicals in the Convention would cover all potential candidate chemicals that might be utilised as chemical weapons. Regarding new toxic chemicals not listed in the Annex on Chemicals but which may nevertheless pose a risk to the Convention, the SAB makes reference to "Novichoks". The name "Novichok" is used in a publication of a former Soviet scientist who reported investigating a new class of nerve agents suitable for use as binary chemical weapons. The SAB states that it has insufficient information to comment on the existence or properties of "Novichoks". (OPCW, 2013)

OPCW: Report of the Scientific Advisory Board on developments in science and technology for the Third Review Conference 27 March 2013
Indeed the OPCW was so sceptical of the viability of "novichoks" that it decided – with US and UK agreement – not to add them nor their alleged precursors to its banned list. In short, the scientific community broadly accepts Mirzayanov was working on "novichoks" but doubts he succeeded.
Given that the OPCW has taken the view the evidence for the existence of "Novichoks" is dubious, if the UK actually has a sample of one it is extremely important the UK presents that sample to the OPCW. Indeed the UK has a binding treaty obligation to present that sample to OPCW. Russa has – unreported by the corporate media – entered a demand at the OPCW that Britain submit a sample of the Salisbury material for international analysis.
Yet Britain refuses to submit it to the OPCW.
Why?
A second part of May's accusation is that "Novichoks" could only be made in certain military installations. But that is also demonstrably untrue. If they exist at all, Novichoks were allegedly designed to be able to be made at bench level in any commercial chemical facility – that was a major point of them. The only real evidence for the existence of Novichoks was the testimony of the ex-Soviet scientist Mizayanov. And this is what Mirzayanov actually wrote.
One should be mindful that the chemical components or precursors of A-232 or its binary version novichok-5 are ordinary organophosphates that can be made at commercial chemical companies that manufacture such products as fertilizers and pesticides.

Vil S. Mirzayanov, "Dismantling the Soviet/Russian Chemical Weapons Complex: An Insider's View," in Amy E. Smithson, Dr. Vil S. Mirzayanov, Gen Roland Lajoie, and Michael Krepon, Chemical Weapons Disarmament in Russia: Problems and Prospects, Stimson Report No. 17, October 1995, p. 21.
It is a scientific impossibility for Porton Down to have been able to test for Russian novichoks if they have never possessed a Russian sample to compare them to. They can analyse a sample as conforming to a Mirzayanov formula, but as he published those to the world twenty years ago, that is no proof of Russian origin. If Porton Down can synthesise it, so can many others, not just the Russians.
And finally – Mirzayanov is an Uzbek name and the novichok programme, assuming it existed, was in the Soviet Union but far away from modern Russia, at Nukus in modern Uzbekistan. I have visited the Nukus chemical weapons site myself. It was dismantled and made safe and all the stocks destroyed and the equipment removed by the American government, as I recall finishing while I was Ambassador there. There has in fact never been any evidence that any "novichok" ever existed in Russia itself.
To summarise:
1) Porton Down has acknowledged in publications it has never seen any Russian "novichoks". The UK government has absolutely no "fingerprint" information such as impurities that can safely attribute this substance to Russia.
2) Until now, neither Porton Down nor the world's experts at the Organisation for the Prevention of Chemical Weapons (OPCW) were convinced "Novichoks" even exist.
3) The UK is refusing to provide a sample to the OPCW.
4) "Novichoks" were specifically designed to be able to be manufactured from common ingredients on any scientific bench. The Americans dismantled and studied the facility that allegedly developed them. It is completely untrue only the Russians could make them, if anybody can.
5) The "Novichok" programme was in Uzbekistan not in Russia. Its legacy was inherited by the Americans during their alliance with Karimov, not by the Russians.
With a great many thanks to sources who cannot be named at this moment.
*
Click here to read the same article entitled "The Novichok Story Is Indeed Another Iraqi WMD Scam" on Craig Murray's blog.
And here to read Murray's post from Tuesday in which he also assessed Skripal's links to Orbis Intelligence, Christopher Steele and 'Russiagate'. Here is an extended extract:
There is no doubt that Skripal was feeding secrets to MI6 at the time that Christopher Steele was an MI6 officer in Moscow, and at the the time that Pablo Miller, another member of Orbis Intelligence, was also an MI6 officer in Russia and directly recruiting agents. It is widely reported on the web and in US media that it was Miller who first recruited Skripal. My own ex-MI6 sources tell me that is not quite true as Skripal was "walk-in", but that Miller certainly was involved in running Skripal for a while. Sadly Pablo Miller's LinkedIn profile has recently been deleted, but it is again widely alleged on the web that it showed him as a consultant for Orbis Intelligence and a consultant to the FCO and – wait for it – with an address in Salisbury. If anyone can recover that Linkedin entry do get in touch, though British Government agencies will have been active in the internet scrubbing.

It was of course Christopher Steele and Orbis Intelligence who produced for the Clinton camp the sensationalist dossier on Trump links with Russia – including the story of Trump paying to be urinated on by Russian prostitutes – that is a key part of the "Russiagate" affair gripping the US political classes. The extraordinary thing about this is that the Orbis dossier is obvious nonsense which anybody with a professional background can completely demolish, as I did here. Steele's motive was, like Skripal's in selling his secrets, cash pure and simple. Steele is a charlatan who knocked up a series of allegations that are either wildly improbable, or would need a high level source access he could not possibly get in today's Russia, or both. He told the Democrats what they wish to hear and his audience – who had and still have no motivation to look at it critically – paid him highly for it.

I do not know for certain that Pablo Miller helped knock together the Steele dossier on Trump, but it seems very probable given he also served for MI6 in Russia and was working for Orbis. And it seems to me even more probable that Sergei Skripal contributed to the Orbis Intelligence dossier on Trump. Steele and Miller cannot go into Russia and run sources any more, and never would have had access as good as their dossier claims, even in their MI6 days. The dossier was knocked up for huge wodges of cash from whatever they could cobble together. Who better to lend a little corroborative verisimilitude in these circumstances than their old source Skripal?
Click here for further analysis of technical doubts over the origins of the Novichok nerve agent used in the Salisbury poisonings in an briefing note published by Professors Paul McKeigue and Piers Robinson.
*
Additional: Why should we believe them this time around?
The following is from a Stop the War Coalition (STWC) newsletter received on Friday 16th:
Coming at a time when tensions between Russia and the West are already high, the government's reheated Cold War rhetoric targeting Russia is extremely dangerous.  ​The hysteria generated underlines the importance of anti-war arguments and organisation. ​​We have recently launched a campaign to propose anti-war resolutions in trade unions, trades councils, student unions, Labour Party and other party branches. The attacks on Jeremy Corbyn for his characteristically considered response to the appalling Salisbury attack  ​make this project even more urgent.​
While many have made comparisons to the Cold War, more recent events spring to mind – as Corbyn pointed out in his article in yesterday's Guardian:
"In my years in parliament I have seen clear thinking in an international crisis overwhelmed by emotion and hasty judgments too many times. Flawed intelligence and dodgy dossiers led to the calamity of the Iraq invasion. There was overwhelming bipartisan support for attacking Libya, but it proved to be wrong. A universal repugnance at the 9/11 attacks led to a war on Afghanistan that continues to this day, while terrorism has spread across the globe."
The video above includes extracts from Corbyn's questions in The Commons along with analysis provided by Professor Emeritus of Russian Studies at New York University and Princeton, Stephen Cohen.
As Stop the War Vice Chair, Chris Nineham, points out 'it​ is not just the refusal to wait for facts that is so alarming, but the hyped-up, confrontational nature of the response'. Illustrating the dangers of the present situation, a recently published US army study ominously titled, 'Is the Next Global Conflict Imminent?', suggests NATO expansion is a key driver of tension with Russia.
If you want to strengthen the ​anti-war movement​ in your workplace, Trade Union ​or party ​branch make sure you raise our Spring 2018 motion at your next meeting.
Please let us know at office@stopwar.org.uk if you can raise the resolution and, if possible, affiliate your branch to Stop the War.