Update: Please note that the original article begins after the asterisk
On the same day I posted the article below, Médecins Sans Frontières/Doctors Without Borders (MSF) issued the following public statement:
The medical humanitarian organisation Médecins Sans Frontières/Doctors Without Borders (MSF) has today announced that it will no longer accept funds from the European Union and Member States, in opposition to their damaging deterrence policies and continued attempts to push people and their suffering away from European shores.

This decision will take effect immediately and will apply to MSF's projects worldwide.
Continuing:
"For months MSF has spoken out about a shameful European response focused on deterrence rather than providing people with the assistance and protection they need," said Jerome Oberreit, International Secretary General of MSF. "The EU-Turkey deal goes one step further and has placed the very concept of 'refugee' and the protection it offers in danger."

Last week the European Commission unveiled a new proposal to replicate the EU-Turkey logic across more than 16 countries in Africa and the Middle East.

These deals would impose trade and development aid sanctions on countries that do not stem migration to Europe or facilitate forcible returns, rewarding those that do. Among these potential partners are Somalia, Eritrea, Sudan and Afghanistan – four of the top ten* refugee generating countries. [bold emphasis added]
Click here to read MSF's full statement.
*
"The wind tears down our tents. Whenever there's a storm, it blows our tents down," said Mohammad, a 21-year-old man who fled Syria's war. "This is how we live. Since when do people in modern Europe live like this? They put us in camps without decent food. We just sit around. We count the days. It's a slow death."

Mohammad says he is willing to risk his life by taking a ride in a refrigerated truck to Britain. "Maybe I'll die, but I'm dying here anyway," he said.
This comes from an article published by Médecins Sans Frontières (MSF) on February 25th. The same piece continues:
Now, with heightened tension in the Calais area, many asylum seekers believe that "the UK is closed". It used to cost £5,000 to £6,000, but now, perhaps because of heightened security, it costs at least £10,000. Many people don't have that much, and they are giving up.

But there are few options open to people living a life in limbo. They wonder whether the fact that the authorities fingerprint people who agree to live in the containers might affect a future request for asylum in Britain.

People are also reticent about moving to the containers because they know they won't feel free there – it is surrounded by a fence, and its residence live under constant surveillance, with rule upon rule marring their daily lives. The authorities have installed new toilets and running water there, but people want to be able to cook, and the fact that they need to register every time they return from the outside world makes it harder to move freely. Visitors, also, are not allowed.

"Look at that. It reminds me of a film I saw back in Sudan about the Nazi detention camps during World War II," said Omar, a 22-year-old asylum seeker from Darfur. 1
So how did we come to this? Mud-drenched, rat-infested shanty towns only a hundred and fifty miles outside Paris – and closer to London. Places like "the Jungle" where 'people of colour', most often fleeing from conflicts initiated by western governments, rather than finding salvation are subjected instead to nonstop harassment by French state and local authorities:
Migrants flee war, repression or living conditions they believe are unacceptable. Their situation in the North of France represents France's own part in the failure of European policies to welcome refugees; policies that rely on insecurity and the haggling between states as much as they rely on the building of physical and virtual walls to keep migrants at Europe's borders.

Following the example of most European leaders and heads of states, France's leaders today are ready to sacrifice and mistreat millions of lives in the vain hope of dissuading future asylum seekers. In Calais, this policy is fanning tensions just as it reinforces perceptions of an increasingly inhospitable France. 2
While the French goal is seemingly to push 'the problem' (as they see it) over to Britain, the British, in return, are eager to maintain the status quo – although in fact both governments are in cahoots:
"The French would love to pull out of the arrangement. We'll be telling people, 'if we leave the EU the Jungle camp in Calais will move to Folkestone'. That's not something people want" – senior Downing Street source 3
This was first reported by The Telegraph in an article published on February 8th. It surrounds the government's claim, subsequently expanded upon by Cameron in a press conference, that France may seize on the opportunity presented by a Brexit to renege on the current bilateral Le Touquet treaty that was signed between the UK and France in 2003 to allow the UK to conduct border controls on the French mainland:
The Prime Minister is to argue that a Brexit would also leave Britain vulnerable to terror attacks and that migrant camps will spring up across the South East of England.
However, fewer than usual were convinced by Cameron's fevered bout of xenophobic scaremongering, and so the same article continues:
[Fellow Tory and Former Defence Secretary] Liam Fox told the World at One that David Cameron's claim that leaving the EU could lead to the formation of "Jungle" camps in southern England is a "complete red herring" and "utterly untrue".

"First of all, the treaty is nothing to do with the EU. This is a treaty that was signed between two sovereign governments because it was in both our interests to have this. And it's not right to misquote the French interior minister, in fact if I tell you his exact words on 20th October last year, he said 'calling for the border with the English to be opened is not a reasonable solution.

"It would send a signal to people smugglers and would lead migrants to come in far greater numbers. A humanitarian disaster would ensue, it is a foolhardy path and one the government will not pursue'. So the French government have already ruled this out. 4
Click here to read the full article in The Telegraph.
Of course, the "migrant crisis" (as the media prefers to call it) has many fronts, and relatively few people actually make it as far as Calais. The vast majority instead find themselves held up in rudimentary encampments close to the ports in Italy and Greece where they first landed, or else trapped by newly erected fences as they attempt to trek northwards. Greece, in particular, is the land where many of the victims of our wars (less than 50% are Syrian, others come from Afghanistan, Iraq and elsewhere including Africa 5) are now forced to shelter.
More recently, we have seen the EU horse-trading with Turkey to swap Syrian "migrants" on a one-for-one basis. The deal, which is almost certainly illegal 6, will do little to remedy the situation and only serve to heighten the suffering of the victims. And yet this refugee crisis can be easily summed up in one image: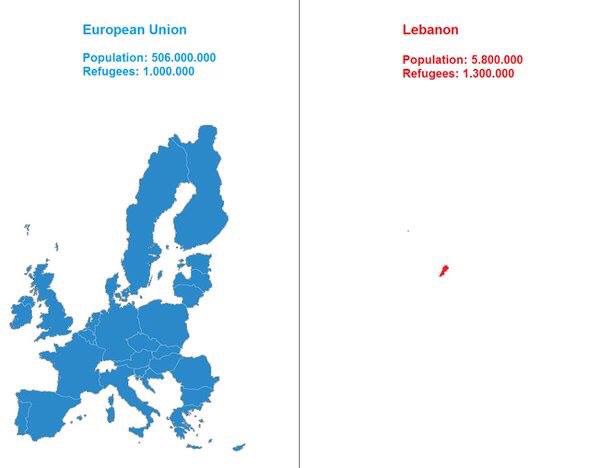 In other words, the crisis is not just an outcome of unprecedented (if avoidable) circumstances, but a catastrophic consequence of institutional failure to present a workable plan of action or organise a timely and commensurate response. A measure not only of incompetence, but of how disunited the EU now is. Merkel says come and then don't come, Cameron responds not in my backyard, and although the Greek government has stayed resolute in its commitment to offer humanitarian assistance, East European partners instead slam the door shut.
Moreover, by supplying minimal assistance and practically no aid for what quickly became a second crisis for Greece, this sustained inaction has exacerbated the pre-existing financial crisis which was more dynamically of the EU's making. Would it be cynical to conclude that Greece is being punished all over again?
Back in June 2012, non-executive chairman of Goldman Sachs International, former chairman of BP, former EU Commissioner and current UN's Special Representative of the Secretary-General for International Migration, Peter Sutherland, was cross-examined by a House of Lords EU home affairs sub-committee investigating global migration. Sutherland, also a member of the Bilderberg steering committee, recommended that the EU should "do its best to undermine" the "homogeneity" of its member states. 7
In arguing for greater immigration, Sutherland feigns an internationalist standpoint and presents a case he knows will to appeal to progressives and those on the political left. However, it is a grave mistake to think that Sutherland is an internationalist when in reality he is a globalist. So his desire to "undermine" the "homogeneity" of member states conceals the deeper desire which is to abolish them altogether. To supplant national sovereignty with supranational governance, and in the process hollow out democracy and replace it with overarching technocracy.
To those like Sutherland, the so-called "migrant crisis" therefore represents another prime opportunity. Fresh grounds to empower EU institutions and to give them greater sway over national governments. Sutherland and likeminded globalists are keenly aware that our road to hell is paved with good intentions: good intentions they are happy to exploit.
*
Incidentally, for those who remain sceptical that this is actually how the Eurogarchs operate then I direct you to consider the views of British economist Bernard Connolly, who worked for many years inside the European Commission as head of the unit responsible for the European Monetary System and monetary policies. Connolly was sacked by the Commission in 1995 over disagreements about the Exchange Rate Mechanism in the lead up to the introduction of the single currency (criticisms expressed in his book The Rotten Heart of Europe: The Dirty War for Europe's Money).
Afterwards, Connolly became global strategist at Banque AIG (the Paris-based financial arm of AIG) and it was during his eleven year stint working at AIG when in May 2008 he produced a document entitled "Europe – Driver or Driven?" The opening question of which addresses "What Europe Wants?" to which Connolly supplies the answer in the form of four bullet points:
To use global issues as excuses to extend its power:
environmental issues: increase control over member countries; advance idea of global governance

terrorism: use excuse for greater control over police and judicial issues; increase extent of surveillance

global financial crisis: kill two birds (free market; Anglo-Saxon economies) with one stone (Europe-wide regulator; attempts at global financial governance)

EMU: create a crisis to force introduction of "European economic government" 8
Here is Bernard Connolly speaking about the moral degeneracy at the heart of the European project:
And here is Connolly giving a more recent interview with Merryn Somerset Webb of MoneyWeek and explaining at greater length why he believes Britain should exit the EU:
*
Additional: The horrific plight of refugees in Turkish camps
Last month, Germany's Angela Merkel urged EU support for Turkish refugee camps, saying her country intends providing its own.

She praised Turkey for "not only…provid(ing) a safe haven for millions of refugees, but also…provid(ing) them with opportunities and perspectives" – an outrageous perversion of truth.

Her photo-op with former Turkish prime minister Ahmet Davutoglu was willful staged deception, covering up regime crimes against humanity against defenseless, largely Syrian, refugees.

European Council president Donald Tusk called "Turkey…the best example for the whole world for how we should treat refugees. Nobody should lecture Turkey on what to do."
Amnesty International accused EU officials of ignoring horrific abuses refugees receive in Turkey – facilities more like concentration camps than safe havens, hellholes of mistreatment.

Turkish media reported about 30 boys, aged 8–14, were raped or sexually abused by a Nizip refugee camp worker – the country's so-called model facility Merkel and Tusk were shown during their visit last month.

What they were allowed to see was polar opposite reality, an illusory snapshot unrelated to horrors refugees face. Opposition Republican People's Party (CHP) lawmaker Elif Dogan Turkman called child abuse in the camp the tip of the iceberg.
writes independent journalist and activist Steve Lendman in an article published on May 24th. (Please note that all links to related articles have been added.)
Lendman continues:
BirGun newspaper journalist Erik Acarer broke the story of mass rapes at Nizip by one camp worker identified only as "EE." He was indicted and faces longterm imprisonment if convicted.

How many others like him remain to be outed perhaps in all Turkish camps?

On May 24, Fars News reported on Turkish refugee camps "turned into centers for raping children and selling refugees' body organs."

BirGun's Ankara correspondent Yashar Idan reported on mass rapes and sexual abuse at Nizip, organs of a number of refugees sold for profit.

Ankara knows what's going on in its "model" Nizip camp, yet does virtually nothing to stop it, EE's indictment an exception proving the rule.

The Prime Ministry Disaster and Emergency Management Authority (AFAD) in charge of refugee camps turns a blind eye to rape and other crimes against defenseless refugees.

Brussels has no interest in protecting their rights, just keeping as many as possible out of Europe.
Click here to read Lendman's full article entitled "Turkish Refugee Camps: Unsafe Havens, Children Raped, Organs Sold".
*
1 From an article entitled "France: Refugees face 'sow death' in Calais' Jungle" published by Médecins Sans Frontières (MSF) on February 25, 2016. http://www.msf.org/article/france-refugees-face-%E2%80%98slow-death%E2%80%99-calais-jungle
2 From an article entitled "The Calais "Jungle" today: France's shame" written by Anne Chatelain, who was Deputy Programme Manager, MSF migration Projects and Michaël Neuman, the Director of Studies at MSF – Crash, published by Glasgow Refugee Asylum and Migration Network (GRAMNet) on January 30, 2016. https://gramnet.wordpress.com/2016/01/30/the-calais-jungle-today-frances-shame/ 
The same article was originally published in French Slate Magazine on December 4, 2015 and is accessible here. It was translated into English by Teresa Piacentini. The original text read:
Les migrants fuient la guerre, la répression ou des conditions de vie qu'ils jugent inacceptables. Leur situation dans le Nord de la France n'est que la part hexagonale de l'échec des politiques européennes d'accueil des réfugiés, qui misent sur la précarité, sur le marchandage entre États comme sur l'érection de murs, physiques ou virtuels, pour maintenir les migrants aux frontières de l'Europe.

Aujourd'hui, les dirigeants français sont, à l'instar de la majorité des chefs d'États et de gouvernements de l'Union européenne, prêts à sacrifier et à maltraiter des milliers de vies dans le vain espoir de dissuader les futurs candidats à l'exil. À Calais même, cette politique accroît les tensions comme elle renforce la perception d'une France toujours plus inhospitalière.
Note that: MSF – Crash (The Centre de reflexion sur l'action et les savoirs humanitaires) was created by Médecins Sans Frontières in 1999. Its objective is to encourage debate and critical reflexion on the humanitarian practices of the association.
3 First reported in an article entitled "Britain 'faces influx of 50,000 asylum seekers' if it leaves the European Union" written by Peter Dominiczak and Michael Wilkinson, published in The Telegraph on February 8, 2016. http://www.telegraph.co.uk/news/newstopics/eureferendum/12145781/David-Cameron-warns-of-migrant-camps-in-southern-England-if-Brexit-vote.html
"This is a complete red herring, it is utterly untrue that the French are considering it, it would not lead to a major change and it's a great pity that those who want to remain in the European Union are not making the case for project Europe, for supranational control that they presumably believe in and they are engaging in what I think are ridiculous scaremongering tactics.

"It is a treaty, which is signed between two sovereign nations who happen to be in the European Union at the time, but it was signed because it was in both countries' interest.
Ibid.
6 https://www.amnesty.org/en/press-releases/2016/04/turkey-illegal-mass-returns-of-syrian-refugees-expose-fatal-flaws-in-eu-turkey-deal/ 
7 From an article entitled "EU should 'undermine national homogeneity' says UN migration chief" written by Brian Wheeler, published by BBC news on June 21, 2012. http://www.bbc.co.uk/news/uk-politics-18519395
8 From a report entitled "Europe – Driver or Driven?" written by Bernard Connolly, published by Banque AIG for ACI Congress on May 30, 2008. https://www.scribd.com/doc/271676558/Bernard-Connolly-Europe#fullscreen