"The broad and vague nature of the allegations against Julian Assange, and of the offences listed in the indictment, are troubling, as many of them concern activities at the core of investigative journalism in Europe and beyond. Consequently, allowing Julian Assange's extradition on this basis would have a chilling effect on media freedom, and could ultimately hamper the press in performing its task as purveyor of information and public watchdog in democratic societies."
— Dunja Mijatović, Commissioner for Human Rights for the Council of Europe.
"Will the Prime Minister agree with the Parliamentary report that's going to the Council of Europe that this extradition should be opposed and the rights of journalists and whistleblowers upheld for the good of all of us?"
— Jeremy Corbyn, Leader of the Opposition in response to Prime Minister Boris Johnson in the House of Commons.
"I think this is one of the most important and significant political trials of this generation, in fact, longer. I think it is the Dreyfus case of our age, the way in which a person is being persecuted for political reasons for simply exposing the truth of what went on in relation to recent wars."
— John McDonnell, Shadow Chancellor.
"When we speak about dictatorships, we call this brainwashing: the conquest of minds. It is a truth we rarely apply to our own societies, regardless of the trail of blood that leads back to us and which never dries.
WikiLeaks has exposed this. That is why Assange is in a maximum security prison in London facing concocted political charges in America, and why he has shamed so many of those paid to keep the record straight. Watch these journalists now look for cover as it dawns on them that the American fascists who have come for Assange may come for them, not least those on the Guardian who collaborated with WikiLeaks and won prizes and secured lucrative book and Hollywood deals based on his work, before turning on him."
— John Pilger from a recent article entitled Julian Assange Must Be Freed, Not Betrayed.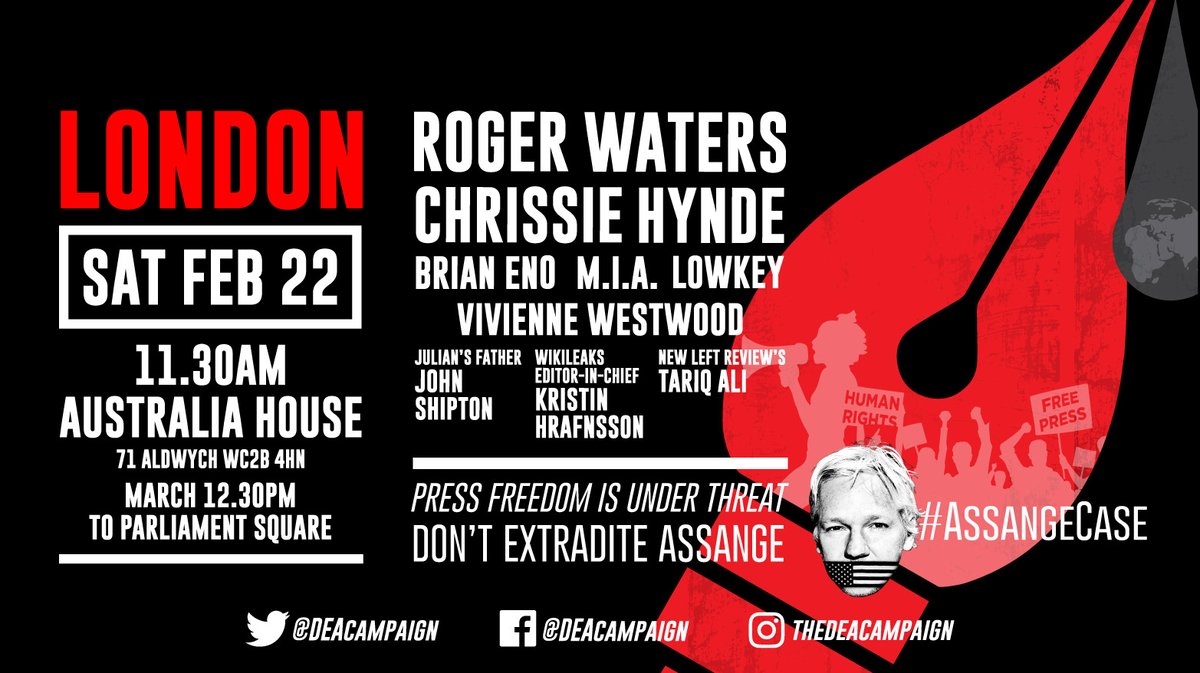 *
Australian citizen Julian Assange's extradition hearing is set to start at Belmarsh Prison, London, on Monday 24th February.
The United States government wants to extradite the journalist and whistleblower to face charges under the Espionage Act for conspiracy to receive, obtain and disclose classified information. Much of the prosecution's case relates to files released that exposed crimes committed by the US in its wars in Iraq and Afghanistan, and which Australia was, and is, a willing participant.
Below is a list of the protests being organised in Australia, USA and Britain.
Friday 21st February
Darwin: Parliament House, 11am
Melbourne: State Library, 6.30pm
Saturday 22nd February
London: Australia House, 71 Aldwych WC2B 4HN at11:30am, march 12:30pm to Parliament Square
Sunday 23rd February
Perth: US Consulate, 3pm
1st Week of Assange's Hearing: Monday 24th February
Australia
Adelaide: Parliament steps, 5pm
Brisbane: British Consulate, 100 Eagle Street, 12pm
Hobart: Parliament Lawns, 12.30pm
Nowra: 59 Junction St (Cnr Berry Street), 12pm
Melbourne: British Consulate, 10am-5pm
Sydney: Martin Place Amphitheatre, 12pm
USA
New York City: Global Protest at the UK Consulate in NYC to mark the beginning of Julian Assange's full extradition hearing on February 24th.
Britain
HMP Belmarsh: Protest in front of Belmarsh Prison each day of Julian Assange's extradition hearing, February 24-28th
Protests commence at 9:30am
HMP Belmarsh
4 Belmarsh Road
Thameshead,
London SE28 OHA
For a list of the global events visit FreeAssangeGlobalProtest on Facebook.
Click here to find upcoming events on the Defend Wikileaks website.
And here for further information and resources from DontExtraditeAssange.com