The recent European elections in Britain were never supposed to happen. The deadline had passed – twice. Understood in this context, it was inevitable, therefore, that the contest would be fought as a second EU referendum. The Lib Dems admitted as much in their election pamphlet; something they afterwards tried to downplay (along with the fact that they had branded both Labour and Tories as pro-Brexit choices):
The outcome of this second vote was another close tie and more or less along the lines of the first referendum. Overall the pro-Brexit parties narrowly defeated the anti-Brexit parties, something apparent to anyone with an impartial eye and hard to disguise although some media outlets did indeed contrive to gloss over this inconvenient fact:
Both sides claimed victory, of course, when what was largely overlooked was the exceedingly low turnout. The turnout was low in part simply because European elections have low turnouts – this applies to electorates across the continent and is rather indicative of a deep democratic failing of the EU.
Leaving these matters aside, the actual result across the various regions and nations of UK should not have surprised anyone very much but mostly proves how remarkably few have actually changed their minds at all about Brexit. Instead, opinions have become entrenched.
My own stance is unchanged and remains the same as I outlined in a sequence of articles posted in the weeks leading up the referendum (here is the first). Now as then, I advocate for Britain to leave the EU – and if Northern Ireland wishes to remain and rejoin a united Ireland then this too should be settled with a border poll.
Disconcertingly, my own standpoint is at odds with the position held by most of my friends, although allied broadly with my family. Indeed, as with the indyref in Scotland, a generational political decision has sadly cost friendships and divided families. Some of my own friends look upon the prospect of any form of Brexit with total dread and thus regard my own stance on the scale of deeply regrettable to unforgiveable. As emigrants to countries inside the EU, three of my closest friends are understandably upset by the potential long-term repercussions of Brexit. In this regard, of course, both the British government and the EU were at liberty to issue unilateral pledges to uphold the rights of migrant citizens from the start of the process, but chose instead to hold back assurances, using the fear of repatriation as a bargaining chip. Playing politics in this way is deplorable, but I suppose it was to be expected.
Other friends and colleagues who do not live so directly under the same shadow cast by Brexit are concerned for different although understandable and perfectly legitimate reasons too. None of us knows if or how badly the economy could be hit. Nor can we be certain of knock-on effects either in Britain or abroad. On the eve of the referendum, we all had the same concerns which the doom-mongers did their best to ramp up. Chancellor George Osbourne had promised an emergency budget the next day, but afterwards resigned instead. Those who voted leave mostly didn't believe him, and tend not to believe the naysayers today. On the other hand, those who still desire to remain take the threat more seriously. This is actually just another measure of how entrenched positions have become.
Just a year prior to the referendum, as 'the Troika' of the European Commission, the ECB and the IMF ganged up to apply neoliberal 'shock therapy' to Greece and the rest of "the PIGS", with the imposition of "austerity" cuts to public services and demands for the privatisation of state assets, progressives and even a few liberals had been tweeting (quite correctly) "This is a coup". During that period, political columnist for the Guardian, Owen Jones, wrote the following in an article entitled "The left must put Britain's EU withdrawal on the agenda":
Other treaties and directives enforce free market policies based on privatisation and marketisation of our public services and utilities. David Cameron is now proposing a renegotiation that will strip away many of the remaining "good bits" of the EU, particularly opting out of employment protection rules. Yet he depends on the left to campaign for and support his new package, which will be to stay in an increasingly pro-corporate EU shorn of pro-worker trappings. Can we honestly endorse that?
Continuing:
Let's just be honest about our fears. We fear that we will inadvertently line up with the xenophobes and the immigrant-bashing nationalists, and a "no" result will be seen as their vindication, unleashing a carnival of Ukippery. Hostility to the EU is seen as the preserve of the hard right, and not the sort of thing progressives should entertain. And that is why – if indeed much of the left decides on Lexit – it must run its own separate campaign and try and win ownership of the issue.

Such a campaign would focus on building a new Britain, one of workers' rights, a genuine living wage, public ownership, industrial activism and tax justice. Such a populist campaign could help the left reconnect with working-class communities it lost touch with long ago. My fear otherwise is a repetition of the Scottish referendum: but this time, instead of the progressive SNP as the beneficiaries, with Ukip mopping up in working-class communities as big businesses issue chilling threats about the risks of voting the wrong way. Without a prominent Left Out campaign, Ukip could displace Labour right across northern England. That would be the real vindication of Ukippery.
And concluding:
Lexit may be seen as a betrayal of solidarity with the left in the EU: Syriza and Podemos in Spain are trying to change the institution, after all, not leave it. Syriza's experience illustrates just how forlorn that cause is. But in any case, the threat of Brexit would help them. Germany has little incentive to change tack: it benefits enormously from the current arrangements. If its behaviour is seen to be causing the break-up of the EU, it will strengthen the hand of those opposing the status quo. The case for Lexit grows ever stronger, and – at the very least – more of us need to start dipping our toes in the water. 1
Click here to read Owen Jones' full article published in July 2015.
But Owen Jones was never one for consistency, and soon he was backing the remain campaign: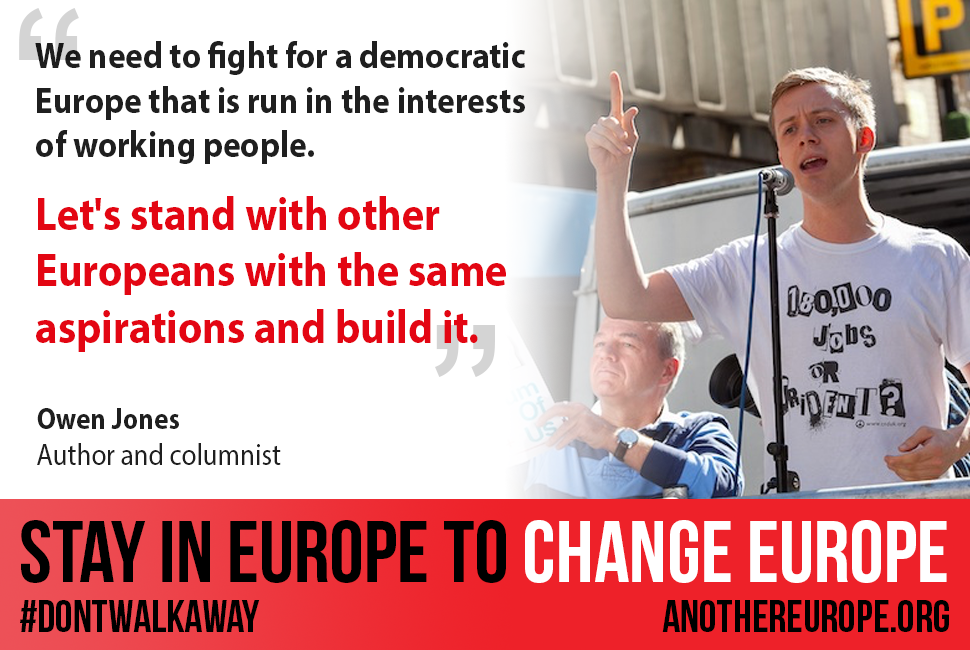 And saying this instead – a forecast that has to some extent been vindicated:
Having ditched Lexit in order to jump aboard the 'Remain and Reform' bandwagon, Owen Jones then correctly foretells the coup against Corbyn (it wasn't difficult) and also envisions Johnson as Prime Minister surrounded by a gaggle of maniacal right-wingers. However none of this had been the inevitable outcome of a referendum vote to leave. In fact, an awful lot of water passed under the bridge in the interim period before Johnson managed to regain any momentum. It was a period when the left needed to consolidate behind Corbyn, especially in the aftermath of the extraordinary reversal during the 2017 General Election, but instead, Jones and other prominent leftists actually drove a wedge between themselves and the traditional Labour base. By January 2018, Jones was writing:
If only Brexit would go away. It sucks the political oxygen away from the issues we should all be discussing: like low wages, insecure jobs and the housing crisis. It is a rallying cry for a noxious alliance of anti-immigrant demagogues and regulation-stripping free marketeers. The bigotry, xenophobia and racism stirred up by the official leave campaigns injected an ugliness into British politics which never dissipated, and left hate crimes surging. And, frankly, Brexit is just mind-numbingly, painfully, excruciatingly dull. So yes, if there was a big red button to make it all just go away, I'd enthusiastically push it. 2
Click here to read Owen Jones' full article entitled "I don't like Brexit – I just don't see how it can be stopped".
Owen Jones is all-too typical of today's left. Such inconsistency on the EU would be understandable, but for his spinelessness and abject lack of coherence. One minute he is throwing up his hands and reminding us (correctly) "just how forlorn" the cause of trying to reform the EU is, whilst urging fellow progressives that "the threat of Brexit would help them" (meaning the disadvantaged countries of Europe) and in the next breath he's saying that he has been persuaded "to stand together to reform and change the EU" because "another Europe is possible".
So let us cast our minds back further. Back to the 70s and early 80s when we find that the most radical voices, with Tony Benn, Peter Shaw, Barbara Castle, and Michael Foot very much in the vanguard, were likewise the most serious and committed Eurosceptics in British politics*, whereas the Europhiles tended to look and sound more like this:
Jeremy Corbyn is another on the left of his party who has never been a friend of the EU. Until very recently the same was true of John McDonnell. Relentless attacks of every kind – most effectively the media-led weaponisation of claims of antisemitism – have weakened Labour's leadership and Corbyn especially. He has also been forced into submission by the pro-EU allegiance of the PLP and leaders of the trade union movement, as well as by grassroots Labour Party membership.
Many of Corbyn's staunchest supporters – those who have backed him to the hilt on every other major issue – take a diametrically opposed stance on the EU, and few in his base dwell upon the cause of Corbyn's single-issue divergence, preferring to gloss over the underlying problems with the European project. Nor do many ask, as one of the guests did on BBC's election night programme, regarding the bright, shiny Euro-mobile backdrop:
"It's a little like your lovely picture. You see all the smaller baubles and you know what they represent – France, Germany, Ireland, Spain – but then there's the much larger blue ball with its ring of stars, and you wonder what does that represent?" (I am paraphrasing but hopefully you get the point)
In fact the better question perhaps is not what does the central hub represent, but whom does it represent? For evidently it does not represent the people of Greece or the other PIGS, or most of the rest of the European population. Instead it works for corporate interests – and again I refer you to an excellent investigative documentary called The Brussels Business.
Moreover, would a purely internationalist collaboration have much need for its own flag and anthem, unless the agenda was for outright unification? Arguably, a fully federalised United States of Europe is a grand and worthwhile project, yet advocates with the power to actually bring it about are also in the habit of denial. They know that they dare not allow the people of Europe to choose, because each past occasion they did, the people said no. Rather than seeking popular consent, therefore, the consistent approach is to forge closer union by stealth and subterfuge.
In fact, the trouble with the ongoing European project stems from its beginnings as a political collaboration that was established primarily to protect business sections, rather than as a union of nations formed to promote human rights and ensure peace. The EU still puts profits first.
Q. During the EEC membership referendum in 1975, which of these images formed the background to the official campaign poster to remain and which was to leave? Answer at the end of the post…
How the left gradually softened its position toward the EU, and has latterly become enamoured with Brussels, is a subject I addressed in earlier posts (see here), so rather than repeating myself, I offer instead an answer given by former Syriza MP (elected as a member of the Greek Parliament in January 2015) and Professor of Economics at the School of Oriental and African Studies, University of London (SOAS), Costas Lapavitsas, during an interview with judicious Europhile and host of Novara Media, Aaron Bastini, when asked in what ways he thought firm advocates for "remain and reform" like his former Syriza colleague Yanis Varoufakis are mistaken [from 27:15 mins]:
"The thing that is absent in what Varoufakis is saying is in understanding the class nature of this, because these are not class neutral institutions. In the end they are institutions serving the interests of big business and big capital against labour… And when you're confronting these institutions class interest will manifest itself clearly and forcefully.

"You might give the best arguments in the world. You might be able to tell them "look austerity doesn't work". And you might be able to write a very good academic paper on that, which might get published in a very good academic journal, but in the realm of politics that's not how it works, because class interests will tell in the end and your argument will be dismissed. […]

"The class interests… are ruthless and unbending and that's obvious from how they're behaving. Ten years into the [banking] crisis, nothing's changed. Nothing."
Costas Lapavitsas, who is also author of "The Left Case Against the EU" was also recently interviewed by 'Labour Leave':
*
Did you ever watch one of those shows in which stage magic is exposed? I confess that this is a guilty pleasure of mine perhaps due to my irresistible urge to find out how things work – the same urge that led me to study science. However, the big problem with such shows, besides the obdurate tackiness, is that the tricks presented are in any case third-rate imitations of the best grand illusions. The eponymous star of the most popular of this genre is the Masked Magician, and he is the most ham-fisted conjuror you have probably ever seen. His props are as rickety and his illusions as unconvincing, as his sleight of hand is amateurish and clumsy. But, if you're like me, then you find yourself going back again and again, and cringing throughout. You want him to fool you, but he's simply not good enough, and the illusion is usually broken long before the big reveal.
Well, enough about the Masked Magician – I wish him no ill will – he just serves as a fitting analogy for what I see as the contemporary state of politics in Britain. All of it is clunky, amateurish, and utterly unconvincing. Long gone is the conviction of Churchill, Atlee, Wilson, Foot, Benn or even Thatcher; gone too, the slicker gloss of Blair and Cameron. Today's politics are unvarnished again, but not in a good way. It has become a very, very sorry spectacle indeed.
Take Boris Johnson's recent visit to Wakefield when he delivered an electioneering speech in front of a phalanx of police cadets, who had been waiting for over an hour for his bumbling appearance. When one of his unwitting backdrop props fainted in the heat, Johnson was left to make a disingenuous apology, before blustering on regardless. His cheap stunt had backfired – but what a stunt… how blatant, shambling, and frankly Trump-like. It's almost as though he and his advisors simply don't care whether they manage to impress many viewers or even how unprofessional they appear. The association, in this case of Johnson with the police, is enough to appeal to the target audience.
Likewise, shadow Foreign Secretary, Emily Thornberry, on last night's BBC Question Time, when asked what Labour's position on Brexit will be in the near-certain event of a forthcoming general election. We will negotiate a new deal with Europe and then hold another referendum with choices to accept Labour's new deal or else to remain, she told us. "Will you be campaigning against your own deal, a deal you have negotiated?" she was asked, at which point she lost her bearings entirely and after an excruciating pause, admitted that she would! This is not a credible position – this is not serious politics: it's an embarrassment.
There isn't time here to go through all the reasons we have reached this dire state of affairs. I mean where would we ever begin? With Cameron's original decision to call a referendum; or the series of slips and the rise of Ukip that forced his hand; or the EU's lack of flexibility when he tried to negotiate the original deal; or May's electoral ineptitude that reduced a working Conservative majority to a hung parliament; or the chicken coup of Labour MPs who sought to destroy Corbyn and inadvertently (or not) led May to call that election (an election she had vowed never to call); or the subsequent years of Conservative shilly-shallying, and the steady drift of Labour towards an undemocratic second referendum; or the return of Farage and Conservative Party's nuclear option election of Johnson as leader? Such a catalogue of backstabbing, procrastination, vacillation, and sheer betrayal! – even judged against their usual ghastly standards, the Brexit debacle has shown us the worst of the political establishment and the media.
In an interview with ITV news on September 16th, David Cameron talked about Johnson's decision to front the leave campaign saying, "Boris thought Brexit would be lost":
Unfortunately, we are where we are. The Conservatives are stuck with Johnson the remainer and his Old Etonian chums rallying the country to his sham anti-establishment cause and persuading the gullible that he is a staunch leaver, while Corbyn, the life-long Eurosceptic, who has been browbeaten into submission, enters a marriage of convenience with the equally sham pro-nationalist SNP and overtly anti-democratic Liberal Democrats, to carry the flickering torch of remain. All sides have given up on principle – in fact, and this is what is truly astonishing, they have largely given up on the pretence of principle. Both sides are simply hoping their opponents are more deeply fractured than they are. This is how they seek to regain power under our ludicrous and dysfunctional first-past-the-post system.
Counterfactually, had the Labour Party endorsed Corbyn in the days following the referendum and endorsed his call for the Conservative government to trigger Article 50, then Labour would very likely be leading the polls, if not already in government. But any promise of Lexit was dashed instead once the PLP 'rebels' launched their attacks on the party's leadership. Then Labour missed the boat a second time in the chaotic aftermath of the 2017 general election, and once again the fault must be laid at the door of the majority of PLP and Corbyn's own base who wasted the opportunity. Instead, little by little they have completely boxed him in over Europe, and in consequence we stand on the brink not only of a no deal Brexit under Johnson's reactionary government, but prospect that the project Corbyn started, with its noble aim of steering the party back to the left, will also be ruined on the back of electoral defeat.
Which is why at length, and in spite of everything, I shall still vote for Corbyn at the next election and encourage others to do likewise, but it is also why I feel unable to canvass on the doorsteps for the Labour Party as I did during the last campaign. My hope is that by some miracle Corbyn can recover ground and win office, and for this I am prepared to sacrifice leaving the EU. Labour's electoral success may very well rest on how many others will also put aside the desperate failings of the party, and stick to backing Corbyn.
*
Additional: My correspondence with Shadow Brexit Minister Paul Blomfield
Appended below is an exchange of letters with Paul Blomfield, who is MP for Sheffield Central (my constituency) and became Shadow Minister for Exiting the European Union in October 2016. Paul Blomfield has always replied at length to all of my correspondence which is greatly to his credit.
Jan 10th (contacted through 38 Degrees)
As your constituent I'm emailing you to let you know where I stand on Brexit ahead of the vote on Tuesday the 15th of January.
Theresa May's deal is a terrible one and unless she can renegotiate a compromise agreement with Brussels I want a clean break from the EU. This respects the result of the referendum. I believe we should leave as soon as possible even though I accept this could mean people's jobs and wages take a hit. Any reversal of the referendum vote to leave the EU will be regarded by many (far more than the 17 million who voted leave) as a denial of the will of the people and dictatorial.
Please let me know how you'll represent my views in Parliament.
*
Jan 15th
Dear James,
Thank you for your e-mail setting out your views on the Government's Brexit deal.  I value my correspondence with constituents and do appreciate you taking the time to write. I try to keep constituents in touch with my views and activities, including my work as a Shadow Brexit Minister, through a monthly e-newsletter. If you don't already receive it, just reply 'yes' to this email and I'll add you to the mailing list (see here for my data privacy policy).
As a Shadow Brexit Minister I was closely involved in drawing up the six tests against which Labour has consistently said that we would measure the deal. Our six tests were based on the Government's own stated objectives and the Prime Minister said that she was determined to meet them. When the deal was published in November we were clear that it did not meet those tests and we will therefore vote against it today.
Labour has always been clear that we respect the result of the referendum, but believe that people voted to get out and not to lose out. I appreciate that you say you would be prepared to take a cut in your income or lose your job, but most leave voters I've spoken to wouldn't agree; indeed they felt that leaving the EU would improve their position. We do not think that people's living standards should be sacrificed for a hard Brexit.  Labour respects that we have financial commitments to the EU to meet before we leave. It is not a 'fee to leave', but settles outstanding financial obligations to which we committed ourselves as a member. If we do not meet our legal obligations, no country would trust us in any negotiations over future trade agreements.
So, we will vote against the Withdrawal Agreement today and seek to ensure that the chaos and civil war in the Tory Party does not result in us crashing out of the EU without a deal; and therefore, with no transition period. We will continue to press for the most beneficial deal with the EU, which means a close relationship, and we will seek to amend the Government's proposals to that effect.
As you will know, we are not alone in voting against the deal. We will be joined by all opposition parties and a large number of Conservative MPs. In fact, it looks clear that it will not receive a Parliamentary majority. At that stage, all options will have to be available to avoid the consequences of no deal, as we set out at our Conference.
You can read more in my regular update on my website – see the latest one here.
With best wishes,
Paul
*
Jan 15th
Dear Paul,
Thank you for replying promptly and in full to email.
May's deal is the worst of all worlds and I am pleased that Labour will be voting against it. I also agree of course that we must seek the best deal for Britain since this is a no-brainer. However, if we refuse to entertain the option of no deal then in effect the EU holds all the cards. As Digby Jones put it: "When you have a Parliament turn around and saying 'we're going to say there'll be no deal' – it's like saying I'll buy a house for less but if I won't, I'll buy it for more."
Regarding the 'divorce bill', again I fully acknowledge that Britain should fully settle any financial obligation, but this is not the same as paying May's agreed "financial settlement" of £39bn which is conditional. This conditionality was made clear on September 7, 2018, when Michel Barnier conceded that the EU would allow a future trade agreement to be linked to the payment of the divorce bill.
Like most leave voters I too feel that leaving the EU will ultimately improve my position, although I did not vote to leave purely for economic reasons. Instead I voted to leave because I do not wish to live in a federalised Europe under centralised bureaucratic governance. Neither do I wish to see the formation of an EU army, a goal that was until very recently denied outright. I also wish to leave Europe because of the way it treats its poorest members (the so-called PIIGS) with the cruel imposition of unremitting austerity. Others voted to leave for reasons I actually deplore, but I am a democrat and respect the fact that they have as much right to vote as I did. To reiterate my previous points, the danger facing Labour is that so many of its traditional voters, in the North especially, will feel betrayed if the referendum vote is not respected. Unknown numbers will be recruited by the far right. Indeed, I fear that Labour may lose so much of its traditional support that it could easily enter into the wilderness once again.
So although I respect your alternative opinion on this issue, I do not believe Labour should engage in fearmongering. "Crashing out of the EU without a deal" is emotive language, and I feel that I must remind you that we did not vote for a deal but only to leave. Indeed at the time of the referendum we were warned that voting to leave would involve exit from the single market and customs union, yet we voted to leave nonetheless. I believe that people did not in fact prioritise economics in the vote, but made their choice for other reasons. This is all the more reason to fear the consequences of a U-turn on the referendum decision, and all the more reason to doubt that people can be won over by economic arguments now.
Thank you again for replying. Best wishes,
James
*
Feb 13th
Dear James,
Thanks for your further note. I really appreciate hearing constituents' views so I'm grateful for you taking the time to write and set out your thoughts on the issue. Another way I try to keep in touch about my views and activities, including my work as a Shadow Brexit Minister, is through a monthly e-newsletter. If you don't already receive it, just reply 'yes' to this email and I'll add you to the mailing list (see here for my data privacy policy).
On the financial settlement, you'll know that Michel Barnier said such a link could be explored but that it would depend on the legal implications. Even the former Brexit Secretary and Brexit campaigner, Dominic Raab, conceded that we would still have financial obligations in the event of no deal.
In terms of the EU's treatment of poorer countries and political integration, the UK was a leading member with significant influence and say in the EU, which we will lose on exiting.  It is always easier to influence and shape direction from within. You'll also know that all the PIIGS countries supported the UK remaining within the EU.  The rise of ring-wing populism across Europe is extremely concerning and EU Parliament will have a very different configuration after the elections in May. I think it is extremely unfortunate the UK Labour MEPs will not be there to counter this. I have to say that I don't recognise your description of the EU's "bureaucratic governance"; decisions are made through co-decision making involving the Commission, the elected members of the Council of Ministers and the elected members of the Parliament. Indeed, in many ways, it's a stronger democratic model than the UK's governance. I know that the 'European Army' was a popular myth in the referendum campaign, but it doesn't stand up to examination.
You mentioned the prospect of Labour losing voters who voted in favour of Brexit. I would challenge the idea that Labour voters are pro-Brexit; 2/3 of Labour voters backed remain, while 2/3 of Tory voters backed leave. It's true that many in some Labour areas (although not primarily our voters) did vote leave, but it was the Tories that delivered Brexit. That shouldn't be a surprise as it was a campaign led by the hard right neo-liberals opposed to the development of social Europe and what they see as regulatory constraints on free markets. Labour campaigned to remain in the EU, but we respect the result of the referendum. However, voters would not thank MPs who delivered Brexit on a false prospectus and politicians must be honest with the people who elect us, about the impact of different Brexit options on jobs and the economy and about the fact that we will have to reach agreement on common rules with countries with which we want to trade.
Therefore, warning about the effects of leaving without a deal is not fear mongering. The Treasury's own analysis indicates that it would hit our economy by a massive 10%. No deal would be disastrous for jobs and the economy. I spoke to motor manufacturers in December and they made it clear that they rely on the seamless flow of goods across borders and that the Government's advice to stockpile just isn't a viable option for their 'just-in-time' supply chains. Our universities, a sector that is crucial to Sheffield and supports 944,000 jobs across the country, recently described 'no deal' as one of the biggest threats they have ever faced. I also spoke to motor manufacturers in December and they made it clear that they rely on the seamless flow of goods across borders and that the Government's advice to stockpile just isn't a viable option for their 'just-in-time' supply chains
Despite spending £4.2 billion of public money that could have been spent on our NHS, schools and other public services, the Government is totally unprepared for 'no deal', most memorably demonstrated by Transport Secretary Chris Grayling's decision to award a £13.8m ferry to a company with no ships. On top of that, they have at least half a dozen Bills and swathes of secondary legislation to get through the House to fulfil the most basic requirements of leaving without a deal
'No Deal' was not on the ballot paper and several leading Brexiteers spoke about the favourable trade deal we would secure with the EU before the referendum. The International Trade Secretary, Liam Fox, also said that it would be the "easiest [trade deal] in human history". Interpretations of what the Brexit vote would mean also vary. The Tory MEP, Daniel Hannan, a longstanding Eurosceptic, repeatedly said that it would not mean leaving the single market: "Absolutely nobody is talking about threatening our place in the single market". So how the Brexit vote should be interpreted is debatable, but MPs have a responsibility to mitigate the damage as much as possible.
Thanks again for your email and you can keep up to date with all of my work on Brexit on my website.
Best wishes,
Paul
*
March 1st
Dear Paul,
Thanks again for your full and detailed reply to my previous email. I shall briefly respond to some of the points you raised before coming to the main issue of Labour's decision to support a second referendum.
Firstly, and I quote, you describe the formation of a 'European Army' as "a popular myth in the referendum campaign, saying that it doesn't stand up to examination." (With the link provided.) I have followed this link to fullfact.org which states in its main summary under the heading 'Conclusion' that:
"EU member countries work together on military matters, but the EU doesn't have its own military capabilities. At least a few European politicians do support the creation of an EU army, but that would need unanimous approval."
I fail to see in what way this refutes claims that the EU is seeking to form its own army. Moreover, those "few European politicians" happen to include EC President Jean-Claude Juncker who has repeated called for widescale military unification. Prominent Belgium MEP Guy Verhofstadt is also outspoken in demanding "real EU defence and foreign policy". There are countless other examples I might add here.
Secondly, you dismiss all the criticism of the EU's 'democracy deficit' and argue, and again I quote, "it's a stronger democratic model than the UK's governance". Leaving aside the constitutional arrangement that gives the unelected EC greater powers over the elected parliament (small wonder most voters in Britain are unable to name their own MEPs), the callous response of the EC and ECB (two branches of the so-called 'Troika') to the Eurozone financial crisis is fully indicative of the anti-democratic nature of the project. In a conversation with Noam Chomsky, former Greek Finance Minister, Yanis Varoufakis, who headed negotiations with the Eurogroup (and who has since advised Jeremy Corbyn), said this:
"The European Union doesn't suffer, or the Eurogroup, from a democratic deficit. It's like saying that we are on the moon and there is an oxygen deficit. There is no oxygen deficit on the moon. There is no oxygen, full stop." You can find the quote here: https://www.yanisvaroufakis.eu/2016/06/28/full-transcript-of-the-yanis-varoufakis-noam-chomsky-nypl-discussion/
Lastly, and most urgently, I wish to address Labour's unfortunate decision to support a second referendum. In your reply you said: "Labour campaigned to remain in the EU, but we respect the result of the referendum." So if there is a second referendum what choices will be put to the electorate?
If this is simply a second referendum on the deal to leave then I will reluctantly support Labour's position. However, if remaining in the EU is one of the choices on the ballot paper then a second referendum will be an affront to 17.4 million Brexit voters – the largest number of people who have ever voted for anything in all of our history. Furthermore, a second referendum with 'remain' on the ballot breaches Labour's election manifesto pledge, which is less than two years old and which you reiterated, that you accept and will respect the result of the first referendum. This will cause untold damage to Jeremy Corbyn's reputation for authenticity, believability and honesty. It will also reinvigorate Ukip, and provide ammunition to far right extremist Tommy Robinson. Like many people inside the party and outside, I believe that such a U-turn will very likely ruin Labour's electoral chances for decades to come.
Thank you again for replying. Best wishes,
James
*
April 15th
Dear James,
Thanks for your further note and apologies for the delay in getting back to you. As you can imagine, the past few weeks have been exceptionally busy for me as a Shadow Brexit Minister so although I read your email at the time, I am just now getting a chance to respond.
I'm a bit puzzled by your interpretation of the quotation from FullFact as I don't see how it refutes the claim that the EU is seeking to form a European army. On the contrary, it confirms that only "a few European politicians" do support this but, as it also states, it would require unanimous approval of every member state, which does not exist.
I disagree with Yanis Varoufakis. Our Parliament has always been sovereign as the Government confirmed clearly in their White Paper on leaving the EU and even outside of the EU, the UK will have to work with other countries, including the EU27, to achieve common aims. According to the House of Commons library, 13% of our laws 'come from Brussels' (where we do of course have a say in how those laws are made). In many instances, where rules are agreed at the European level, the UK has flexibility in how to implement what is agreed.
In the modern world, nations' interdependence and cooperation is inevitable and something to be celebrated rather than regretted. You are right that the European Commission is unelected, but so is our civil service and neither make laws, although both draft them. Laws need agreement of both the Council of (elected) Ministers and the European Parliament (more here). Moreover, votes in the Council are weighted according to population, although usually reached by consensus, and of course each country has a veto in key areas. You might also note that the European Parliament has the power to dismiss the Commission. On democratic credentials, the EU does far better than international organisations like the International Monetary Fund or the World Bank, for example.
To come back to the question of a further referendum: as I've made clear in previous emails, I campaigned to remain but accept the result of the referendum. What I do not accept is the interpretation that it was to rupture all ties with the EU. It was clearly a vote to leave but it was a narrow win and, numerically, roughly in line with the numbers that voted 'Yes' in the 1975 referendum (17,378,581), which was proportionally a much more resounding victory to remain at 67.5%.  Labour accepted the result of the first referendum by voting to give the Prime Minister the authority to trigger Article 50 and have been pushing for a Brexit deal that both respects the result of the referendum and protects jobs, the economy and our national security. I recognise the risk that it would present an opportunity for the far right, but if we limit our political choices on that basis where does it end?
Labour has urged the Prime Minister to step away from her red lines and are currently engaging in talks with the Government to press them to bring back a deal that can command a majority in Parliament and in the country by forging a close relationship with the EU. We have called on the Government to introduce primary legislation for a mandate to negotiate changes to the Political Declaration to secure a permanent and comprehensive customs union with the EU; close alignment with the single market underpinned by shared institutions and obligations; dynamic alignment on rights and protections; commitments on participation in EU agencies and funding programmes, including in areas such as the environment, education, and industrial regulation; and unambiguous agreement on the detail of future security arrangements, including access to the European Arrest Warrant and vital shared databases. We must do all we can to protect jobs and the economy, which is why Labour has supported a confirmatory public vote – giving the British people a choice between a credible leave option and remaining in the EU – to prevent a damaging Tory Brexit. This is in line with our 2018 Party Conference motion, which was passed unanimously, and, as you'll know, is overwhelmingly supported by the majority of Labour Party members.
Thanks again for getting in touch and you can find all of my blog posts and speeches on Brexit on my website.
Best wishes,
Paul
*
April 15th
Dear Paul,
Thanks again for your detailed reply and I do appreciate your efforts in this regard. I shall try to keep my reply very short. You write that you now support "a confirmatory public vote – giving the British people a choice between a credible leave option and remaining in the EU –  to prevent a damaging Tory Brexit" and that this is in line with the Party Conference motion. What you have failed to address, however, is my point that such a "confirmation public vote" (second referendum – why can't we call it what it is?), as I wrote, "breaches Labour's election manifesto pledge, which is less than two years old and which you reiterated, that you accept and will respect the result of the first referendum".
A second referendum between the proposed options will disenfranchise millions of voters who want neither to remain nor to accept May's deal. In effect, although they voted to 'leave', they are instead being told that this is impossible and asked in what way they wish to 'remain'. In the event of such a referendum I would expect a deluge of spoiled ballots (mine will be one). Indeed, the inclusion of 'remain' as an option in a second referendum will be seen as a betrayal of democracy because it is one. Lastly, as a Labour member myself, I fail to see how a conference motion can override a manifesto pledge. What precedent does this set? I campaigned on the manifesto and will feel ashamed of the party if it follows this course. Finally, if Labour does force a second referendum then it will anger millions of former voters, many of whom (as you do acknowledge) are likely to flock to the far-right. The point is that this abandonment of the left will be understandable in such circumstances. So this is not a matter of limiting our political choices, as for instance the calling for tighter immigration controls under former leader Ed Miliband was. This is not about pandering to extremists, but straightforwardly honouring a referendum result and Labour's election promises. If we cannot even do this, then how in good faith can I campaign for Labour again?
Thanks again for taking such trouble to reply to me.
Best wishes,
James
*
Follow up in response to a request to help with campaigning in European elections
May 8th
Dear Paul,
As I understand you, Labour is now seeking a "confirmatory vote" (i.e., second referendum) before the first referendum result has been enacted and contrary to the election manifesto pledge to honour the referendum result. This is certainly the case if, as you have given me to understand in previous correspondence, the proposed second referendum is to include 'remain' on the ballot. With due respect therefore I find myself unable to campaign for the Labour Party (of which I am a member) in the forthcoming European elections. Moreover, I shall not vote for Labour in those elections.
Best wishes,
James
*
May 9th
Dear James,
Thanks for getting back to me.
I am sorry that you do not support the party policy endorsed unanimously at our Party Conference last September:
"Should Parliament vote down a Tory Brexit deal or the talks end in no-deal, Conference believes this would constitute a loss of confidence in the Government. In these circumstances, the best outcome for the country is an immediate General Election that can sweep the Tories from power. If we cannot get a general election Labour must support all options remaining on the table, including campaigning for a public vote. If the Government is confident in negotiating a deal that working people, our economy and communities will benefit from they should not be afraid to put that deal to the public."
As we have already discussed, Labour did accept the outcome of the referendum and we voted to trigger Article 50. We confirmed that in our 2017 manifesto, but also said that we rejected the Tories' approach and wanted a close economic relationship with the EU seeking to retain the benefits of the customs union and single market, as well as alignment on rights and protections (see here). We have always been clear that we will not give the Prime Minister a blank cheque to harm our economy and people's jobs and livelihoods.
Best wishes,
Paul
*
May 9th
Dear Paul,
Thanks again for your prompt reply. I am sorry to write again and shall keep my own response as brief as possible. You say that Labour did (past tense) accept the outcome of the referendum adding that "we voted to trigger Article 50". However, the country voted to leave (whereas triggering Article 50 is procedural) and in spite of this, and though the deadline has since passed, Britain remains inside the EU. Backing a second referendum with an option to 'remain' is a more or less open call to revoke Article 50. Thus, if triggering Article 50 means that Labour accepted the outcome, then, by the same reasoning, revoking Article 50, which overturns the referendum result, will represent a clear betrayal of our manifesto promise. In this regard the policy endorsed by the party conference is an irrelevance since it is incompatible with manifesto pledges on which all Labour MPs were elected and on which we all campaigned. I regard this change in policy as entirely dishonourable, but worse than that, it will be electorally disastrous.
Best wishes,
James
*
May 28th
Hi James,
Thanks for your response. Please don't apologise for writing again; I appreciate you sharing your views.
Clearly the situation has developed further since you wrote, with last week's European elections. Indeed, here in Sheffield and in the country as a whole, the combined vote of those parties committed to a further public vote and remaining in the EU beat that of the those opposing a vote and leaving the EU at any cost. Labour was punished for an ambiguous message and lost votes to the Greens and the Liberal Democrats. So we have to look seriously at the issue of a further public vote, which I don't think would be dishonourable or electorally disastrous.
Party policy has evolved and developed and the latest Conference policy surpasses the two-year-old manifesto. Your suggestion that revoking Article 50 would be overturning the referendum result does not take into account that we would seek a fresh mandate. We have made every effort to push the Government to get a deal that would work for the country but it is clear that there is an impasse in Parliament and support for a vote to give people a final say is surely not anti-democratic. Indeed, there have been MPs and others who have been campaigning to leave the EU since the 1975 referendum. Campaigning to persuade people is a fundamental characteristic of democracy.
Nor do I agree it would be electorally disastrous. 65% of Labour voters voted remain and recent polling indicates that 72.5% Labour voters would back remain in another referendum. Clearly there would be some votes lost and have been already, but these are far outweighed by those lost on the other side.
Above all though, we have to do what we think is right to resolve the crisis. There were big variations in different areas, but with the country and Parliament divided, there is no option but to give the people a final say to break the impasse.
Best wishes,
Paul
*
 Answer:
1 From an article entitled "The left must put Britain's EU withdrawal on the agenda" written by Owen Jones, published in the Guardian on July 14, 2015. https://www.theguardian.com/commentisfree/2015/jul/14/left-reject-eu-greece-eurosceptic
2 From an article entitled "I don't like Brexit – I just don't see how it can be stopped" written by Owen Jones, published in the Guardian on January 3, 2018. https://www.theguardian.com/commentisfree/2018/jan/03/stop-brexit-campaign-vote-leave-populist
The following is taken from the Wikipedia entry on the 1975 EEC membership referendum (as it was captured on March 16th with footnotes retained)
https://en.wikipedia.org/wiki/1975_United_Kingdom_European_Communities_membership_referendum#Campaigning
The referendum was called in April 1975 after the renegotiation was formally concluded. Since Prime Minister Harold Wilson's cabinet was split between supporters and opponents of the Common Market, and since members of each side held their views strongly, he made the decision, unprecedented outside coalition government, to suspend the constitutional convention of Cabinet collective responsibility. Cabinet members would be allowed to publicly campaign against each other. In total, seven of the twenty-three members of the cabinet opposed EC membership.[10] Wilson's solution was that ministers speaking in the House of Commons should reflect government policy (i.e. support for EC membership), but would be allowed to speak freely elsewhere, thus avoiding a mass dismissal of Cabinet ministers. In spite of this, one minister, Eric Heffer, was obliged to resign after speaking against EC membership in the House of Commons.
Yes campaign (Britain In Europe)
The "Yes" campaign was officially supported by Wilson[11] and the majority of his cabinet, including the holders of the three other Great Offices of State: Denis Healey, the Chancellor of the Exchequer; James Callaghan, the Foreign Secretary; and Roy Jenkins, the Home Secretary.[citation needed] It was also supported by the majority of the Conservative Party, including its newly elected leader Margaret Thatcher — 249 of 275 party members in Parliament supported staying in the EC in a free vote in April 1975[11] — the Liberal Party, the Social Democratic and Labour Party, the Alliance Party of Northern Ireland and the Vanguard Unionist Progressive Party.
No campaign (National Referendum Campaign)
Tony Benn, Secretary of State for Industry, was one of the senior figures in the No campaign.
The influential Conservative Edward du Cann said that "the Labour party is hopelessly and irrevocably split and muddled over this issue".[11] The "No" campaign included the left wing of the Labour Party, including the cabinet ministers Michael Foot, Tony Benn, Peter Shore, Eric Varley, and Barbara Castle who during the campaign famously said "They lured us into the market with the mirage of the market miracle". Some Labour "No" supporters, including Varley, were on the right wing of the party, but most were from the left. The No campaign also included a large number of Labour backbenchers; upon the division on a pro-EC White Paper about the renegotiation, 148 Labour MPs opposed their own government's measure, whereas only 138 supported it and 32 abstained.[3]
"Many Conservatives feel the European Community is not good for Britain … The Conservative party is divided on it too", du Cann — head of the Conservatives' 1922 Committee — added,[11] although there were far fewer Eurosceptic figures in the Parliamentary Conservative Party in 1975 than there would be during later debates on Europe, such as the accession to the Maastricht Treaty. Most of the Ulster Unionist Party were for "No" in the referendum, most prominently the former Conservative minister Enoch Powell, who after Benn was the second-most prominent anti-Marketeer in the campaign.[12] Other parties supporting the "No" campaign included the Democratic Unionist Party, the Scottish National Party, Plaid Cymru, and parties outside Parliament including the National Front and the Communist Party of Great Britain.
Official party positions
Conservative and Liberal Party conferences consistently supported EC membership for several years up to 1975. At a Labour Party conference on 26 April 1975, the Labour membership rejected continuing EC membership by almost a 2:1 margin. Tony Benn said, "We have had a conference and the decision is clear … It is very clear that there now must be a move for the Labour Party to campaign." The majority of the Labour Party leadership was strongly for continuing membership, and the margin of the party vote was not a surprise, since only seven of forty-six trade unions present at the conference supported EC membership. Prior to the conference, the party had decided that if the conference voted by a margin of 2:1 or more in favour of a particular option, it would then support that position in the referendum campaign. Otherwise, the 'party machine' would remain neutral. Therefore, the Labour Party itself did not campaign on either side.
The campaign, funding and media support
The government distributed pamphlets from the official Yes[13] and No[14] campaigns to every household in Britain, together with its own pamphlet which argued in support of EC membership[15].[16] According to this pamphlet, "the most important (issues in the renegotiation) were FOOD and MONEY and JOBS".[citation needed]
During the campaign, almost the entire mainstream national British press supported the "Yes" campaign. The left-wing Morning Star was the only notable national daily to back the "No" campaign. Television broadcasts were used by both campaigns, like party political broadcasts during general elections. They were broadcast simultaneously on all three terrestrial channels: BBC 1, BBC 2 and ITV. They attracted audiences of up to 20 million viewers. The "Yes" campaign advertisements were thought to be much more effective, showing their speakers listening to and answering people's concerns, while the "No" campaign's broadcasts featured speakers reading from an autocue.
The "Yes" campaign enjoyed much more funding, thanks to the support of many British businesses and the Confederation of British Industry. According to the treasurer of the "Yes" campaign, Alistair McAlpine, "The banks and big industrial companies put in very large sums of money". At the time, business was "overwhelmingly pro-European",[17] and Harold Wilson met several prominent industrialists to elicit support. It was common for pro-Europeans to convene across party and ideological lines with businessmen.[17] John Mills, the national agent of the "No" campaign, recalled: "We were operating on a shoe-string compared to the Rolls Royce operation on the other side".[18] However, it was also the case that many civil society groups supported the "Yes" campaign, including the National Farmers Union and some trade unions.
Much of the "Yes" campaign focused on the credentials of its opponents. According to Alistair McAlpine, "The whole thrust of our campaign was to depict the anti-Marketeers as unreliable people – dangerous people who would lead you down the wrong path … It wasn't so much that it was sensible to stay in, but that anybody who proposed that we came out was off their rocker or virtually Marxist."[18] Tony Benn said there had been "Half a million jobs lost in Britain and a huge increase in food prices as a direct result of our entry into the Common Market",[17] using his position as Secretary of State for Industry as an authority. His claims were ridiculed by the "Yes" campaign and ministers; the Daily Mirror labelled Benn the "Minister of Fear", and other newspapers were similarly derisive. Ultimately, the "No" campaign lacked a popular, moderate figure to play the public leadership role for their campaign that Jenkins and Wilson fulfilled in the "Yes" campaign.[citation needed]