Reproduced in full below is an open letter signed by over a 100 prominent members of the Jewish community that was originally published in Monday's Guardian. The next day it was removed "pending investigation".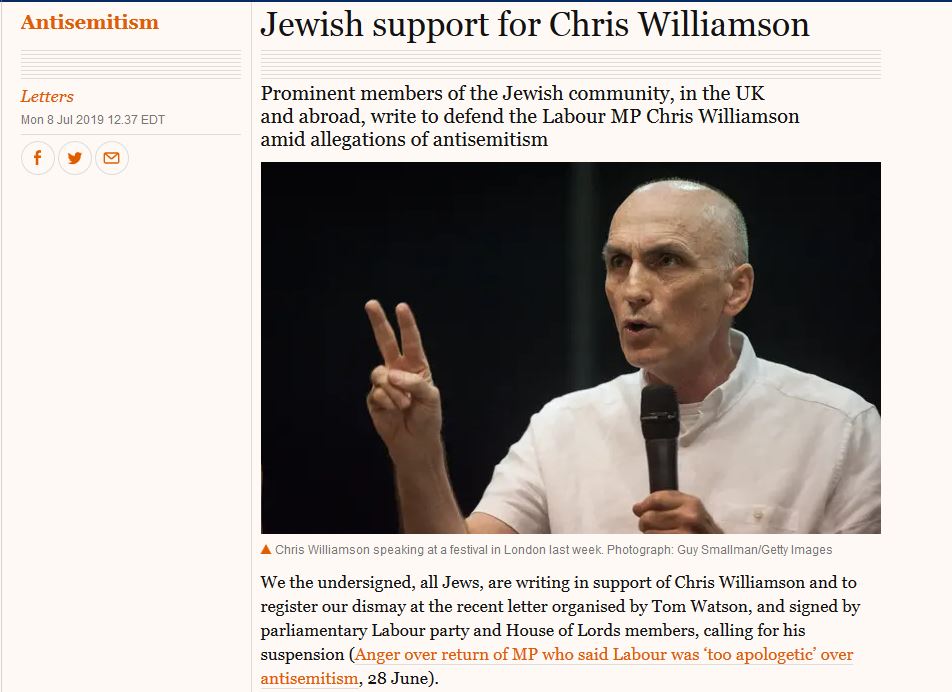 *
Jewish support for Chris Williamson
Prominent members of the Jewish community, in the UK and abroad, write to defend the Labour MP Chris Williamson amid allegations of antisemitism.
We the undersigned, all Jews, are writing in support of Chris Williamson and to register our dismay at the recent letter organised by Tom Watson, and signed by parliamentary Labour party and House of Lords members, calling for his suspension (Anger over return of MP who said Labour was 'too apologetic' over antisemitism, 28 June).
Chris Williamson did not say that the party had been "too apologetic about antisemitism", as has been widely misreported. He correctly stated that the Labour party has done more than any other party to combat the scourge of antisemitism and that, therefore, its stance should be less apologetic.
Such attacks on Jeremy Corbyn's supporters aim to undermine not only the Labour party's leadership but also all pro-Palestinian members.
The mass media have ignored the huge support for Chris both within and beyond the Labour party. Support that includes many Jews. The party needs people like him, with the energy and determination to fight for social justice.
As anti-racist Jews, we regard Chris as our ally: he stands as we do with the oppressed rather than the oppressor. It should also be noted that he has a longer record of campaigning against racism and fascism than most of his detractors.
The Chakrabarti report recommended that the party's disciplinary procedures respect due process, favour education over expulsion and promote a culture of free speech, yet this has been abandoned in practice. We ask the Labour party to reinstate Chris Williamson and cease persecuting such members on false allegations of antisemitism.
Noam Chomsky, MIT
Norman Finkelstein, Lecturer and writer
Ed Asner, Actor
Prof Richard Falk, Princeton University
Leah Lavene and Jenny Manson, Jewish Voice for Labour
…and more than 100 others.
For the full list of signatories, click here. This letter was previously published in The Guardian, but was removed "pending investigation".
Click here to find the same article as it appears reproduced by Off-Guardian.
*
Additional:
As Kit Knightly of Off-Guardian writes:
The Board of Deputies of British Jews apparently formally complained to the Guardian regarding their "mishandling" of the letter. It was covered in the Jewish Chronicle and the Huffington Post.

Either way, the letter is gone.

Of course, it's peculiar that this particular open letter had to sent in to them anyway, since The Graun usually like to advertise the views of Noam Chomsky. At least, as long as he's criticising the government of Venezuela, or critiqueing the BDS movement.

When he's deploring the US-backed coup in Venezuela, or dismissing the Russiagate accusations as "a bad joke", he tends to get less publicity.

Funny that.

Perhaps more important than the presence of Chomsky's name, or that of Norman Finkelstein, is the sheer number of CLP's represented by the other signatories.

Well over a hundred Jewish Labour members, representing dozens of CLPs, all completely at odds with the Parliamentary Labour Party on this issue. For years this rift – between the MPs and their members – has been obvious. It seems to get wider all the time.

You see Tom Watson et al. accusing Labour members of "bullying" MPs by calling for de-selection. None of the MPs who defected to the absurd Change UK (or whatever their current name is) faced a by-election – which means several CLPs, and thousands of loyal Labour voters, have had their votes and MPs stolen from them. The Blairite wing of the PLP, spearheaded by Watson and his cabal of climbers, have not said a word about this.

When a general election comes, this will be an issue to watch.

It is an encouraging sign for those of us who try hard to spread the truth, at least. Because it means the totally created "antisemitism crisis" is being seen for what it is by a good portion of Labour members. Just another example of ordinary people, in the real world, clashing with the media bubble.

Returning to the letter, it's actually hard to see why they would bother censoring it, yes it is counter to the establishment narrative, but it is hardly extreme. You could almost call deleting it a desperate thing to do. A move which shows the insecurity of their position. Whatever the eventually announced reason is for removing the letter, it is certainly the wrong thing to do, and not just ethically. The Streisand effect exists. Removing the letter simply calls attention to it, far smarter to just let it rot on the back pages of the internet.
Click here to read Knightly's full response published by Off-Guardian.