Sometimes a picture truly is worth a thousand words. The following observation was made by Craig Murray:
In Caracas we are seeing an attempt at a colour revolution – quite literally. Here, from a US government propaganda website (not Bellingcat, another one), we have a photograph of the overwhelmingly white opposition group in the Venezuelan National Assembly.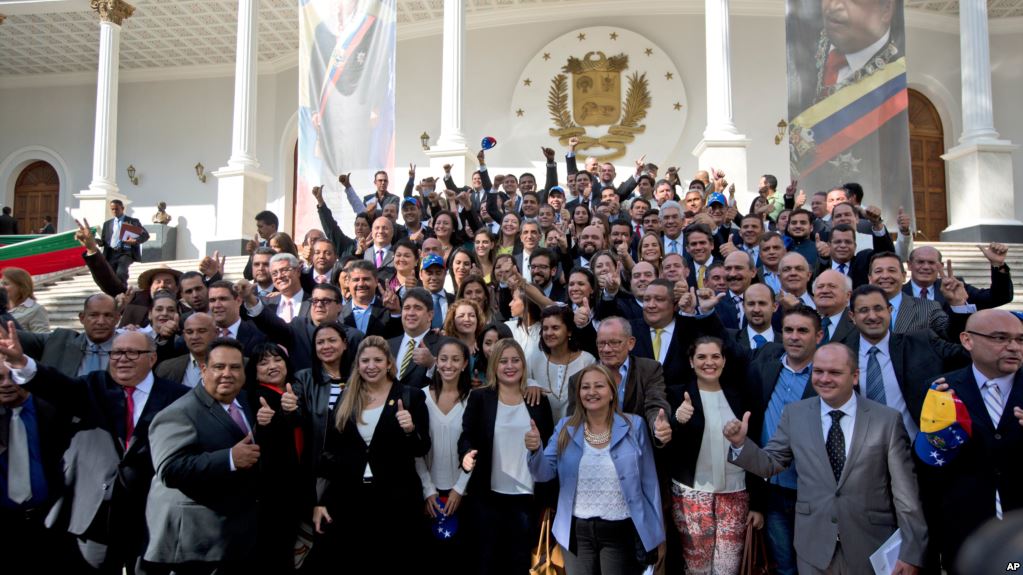 And here, we have from the BBC a shot of Maduro's new pro-Government citizens' assembly – overwhelmingly of different ethnicity.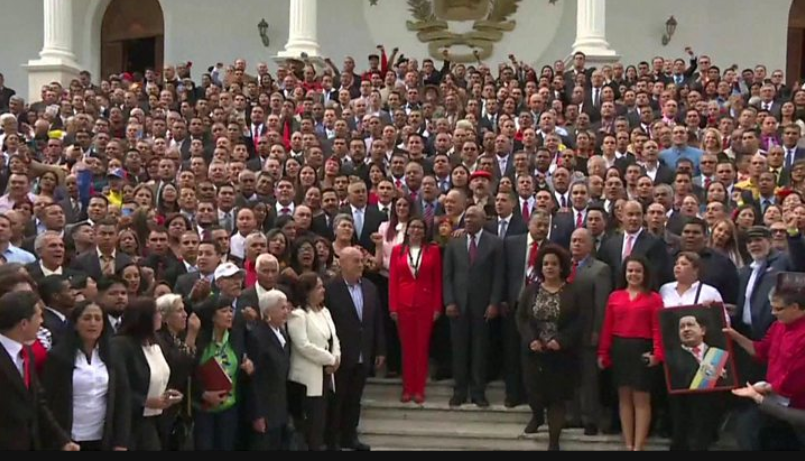 I should be plain, that I did not accept Maduro's ruse to set up the Constituent Assembly. But neither do I accept the CIA's ruse to overthrow the elected President. These photographs are helpful because they crystallise the fundamental issue – what is at stake is the West's attempt to reimpose economic apartheid on the people of Venezuela.
Click here to read Murray's full article entitled "From Karachi to Caracas" posted on Sunday 3rd.
*
Update:
On January 23, right after a phone call from Donald Trump, Juan Guaidó, former speaker of Venezuela's National Assembly, declared himself president. No voting. When you have official recognition from The Donald, who needs elections?

Say what?

I can explain what's going on in Venezuela in photos.
writes Greg Palast, who covered Venezuela during the Chavez presidency for both BBC2's Newsnight and the Guardian. In an article entitled "In Venezuela, White Supremacy Is a Key Driver of the Coup" published on February 7th, Palast continues:
First, we have Juan Guaidó, self-proclaimed (and Trump-proclaimed) president of the nation, with his wife and child, a photo prominently placed in The New York Times. And here, the class photo of Guaidó's party members in the National Assembly. They appear, overwhelmingly light-skinned — especially when compared to their political opposites in the third photo, the congress members who support the elected President Nicolás Maduro.

This is the story of Venezuela in black and white, the story not told in The New York Times or the rest of our establishment media. This year's so-called popular uprising is, at its heart, a furious backlash of the whiter (and wealthier) Venezuelans against their replacement by the larger Mestizo (mixed-race) poor. (Forty-four percent of the population that answered the 2014 census listed themselves as "white.")
Click here to read Greg Palast's full article at Truthout.org.