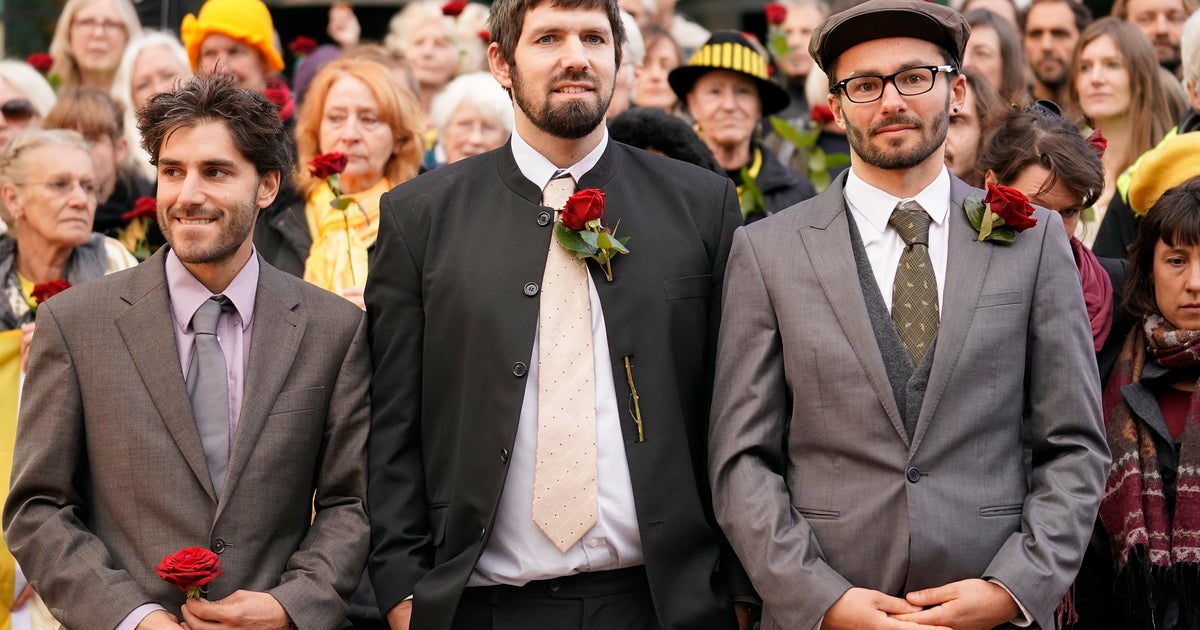 On Wednesday 26th, Simon Roscoe Blevins (right), a soil scientist from Sheffield, and Richard Roberts (centre), a piano restorer from London, were each sentenced to 16 months in prison for climbing onto delivery lorries as they tried to enter the Cuadrilla fracking site at Preston New Road near Blackpool, Lancashire. Another protector, Richard Loizou (left), a teacher from Devon, received 15 months for causing a public nuisance and a fourth defendant, Julian Brock, was given a 12-month suspended sentence after pleading guilty to the same offence.
Remarkably, the men had stayed on the lorries for at total of 99.5 hours.
Click here to read a full report on the sentencing hearing.
And here to sign the 38 Degrees petition to oppose fast-track fracking
*
Although I do not share all the views of the four protectors and my own reason for opposing shale gas extraction is based on overwhelming evidence of the toxic contamination of water, air and soil of the local environment (much of which is irreversible), I greatly admire their conviction and tremendous courage and fully endorse this campaign of non-violent direct action.
In solidarity I have written to my local MP, Paul Blomfield, and encourage others to do the same.
Dear Paul,

I am delighted that you are fully behind Labour's ban on fracking.

A few days ago I was deeply shocked to read about the imprisonment for 16 months of three peaceful anti-fracking protestors (another received a suspended sentence). As you may be aware, one of the four, Simon Roscoe Blevins, is a university soil scientist who lives in Pitsmoor. He is a friend of some of my own friends. You can read his own testimony here:

I've Been Jailed For Protesting Fracking – Here's Why I Won't Give Up The Fight

The handing out of custodial sentences for non-violent protest that does not involve criminal damage or intimidation is very nearly unprecedented in modern times. Comparisons have been made to the jailing of activists involved in the mass trespass on Kinder Scout in 1932, but even this comparison is inaccurate, because those involved were not sentenced for trespass but found guilty of affray, having been involved in scuffles with the landowner's henchmen.

In this instance, Lancashire Council has already voted against fracking but the local democratic process was later overturned. As the government now seeks to allow "permitted development" for fracking more widely (mostly in "the desolate north"), protestors like Simon Roscoe Blevins are the last line of defence against this appalling industry. The draconian sentencing of non-violent protestors is yet another bullying tactic.

This week's decision to jail three men for peaceably defending the environment represents a travesty of justice. The potential repercussions are so serious that I ask if you will raise the matter in Parliament.

With kind regards,

James Boswell
I received a reply from Paul Blomfield on October 10th as follows:
Dear James,

Thanks for your email regarding the sentence imposed on Simon Blevins. I was shocked by the sentence when I read about it and made my view clear at a public meeting on the 26th September, which I had organised with Sheffield Climate Alliance as part of my Big Conversation. I do oppose fracking, but there is a wider issue at stake on the treatment of peaceful protest. I've organised many protest activities over the years and recognise that there are consequences if activities step outside the law but am deeply concerned by the severity of this sentence.

I'll certainly be doing all I can, recognising that Simon works in my constituency, but am liaising with Gill Furniss as his MP. I've read that he intends to appeal the sentence and we'll therefore liaise with his solicitor, to ensure that any intervention helps the legal process.

With best wishes

Paul
*
Additional:
David Smythe was Professor of Geophysics at the University of Glasgow. Following early retirement in 1998 he consulted intermittently for the oil industry. Since 2013 he has researched the risks of contamination of groundwater resources by fracking.
In this TEDx talk from February he speaks specifically to the risks of fracking in the Lancashire Fylde and more generally exposes the fracking industry as both uneconomical and environmentally damaging. He also details ways in which both the industry and the government have been deliberately misleading the public:
*
Update:
More than a thousand academics – lecturers, researchers and professors at more than 70 institutions across the UK and abroad – have since signed an open letter calling for a judicial review of the prison sentences given to three men who took part in anti-fracking protests. The letter was originally entitled "Open letter from University of Sussex academics: The harsh sentencing of anti-fracking campaigners sets a dangerous precedent." It reads:
We the undersigned are writing to express our growing concern about the shrinking space for communities and environmental defenders to engage in civil opposition to fracking developments in the UK.

This week three non-violent campaigners opposing fracking were jailed for 15 to 16 months simply for 'causing a public nuisance' and for not expressing regret. This is the first time since 1932 that environmental defenders have been imprisoned for such long periods of time for staging a protest in the UK. It is also the first time ever that activists have been jailed for anti-fracking actions.

With fracking companies increasingly granted civil injunctions to prevent protest, the scope of protest is becoming more and more restricted, representing a threat to fundamental rights to freedom of expression and assembly.

Fracking is controversial in the UK. According to government surveys conducted in 2017, only 16% of people support fracking development. Given the grave environmental consequences of hydraulic fracturing and growing concerns about climate change, this is not surprising.

The ruling sets a worrying precedent, curtailing opportunities for the kind of public protests that have historically been effective in instituting the legal and policy changes that defend our environment for our future generations. We need more, not less, space for action to confront unsustainable industrial practices that harm our communities and perpetuate our reliance on fossil fuels.

We join calls for a judicial review of this absurdly harsh sentence, and an inquiry into the declining space for civil society protest that it represents.

Sincerely,

The original source of this article is University of Sussex

Copyright © Andrea Brock, Dr Amber Huff, and Prof. Lyla Mehta, University of Sussex, 2018
Click here to find the letter and read a periodically updated list of signatories as reprinted by Global Research.
*
On October 3rd, MEPs from across Europe joined in a protest at the European Parliament to send a message of solidarity to the campaigners. One of the MEPs, Keith Taylor, said:
"I am pleased so many of my colleagues join me in sending a united message of support to the brave heroes whose fight to protect our planet has robbed them of their liberty."

"We are supposed to be, the theory goes, a mature liberal democracy that can accommodate dissent.

"The decision to jail peaceful fracking protesters blows that myth wide-open; authoritarianism has become a favourite tool of a minority government that lacks the public's support to force through its environmentally destructive agenda by any other means.

"Any government that conspires with the dirty fossil fuel industry against its own people is rotten to the core."
Click here to read more in a report entitled "1000+ academics call for review of fracking protest prison sentences" written by Ruth Hayhurst and published in Drill or Drop.
*
On October 5th, Ian Crane devoted the first twenty minutes of episode 119 Fracking Nightmare to the case: