*
A day of tyranny
On Sunday, all across Catalunya ballot boxes were ripped from people's hands by masked police and a dangerous violence was unleashed, at random, upon some of the 2,262,424 people who stood in long lines to cast their vote. The repression dealt by the Spanish State to prohibit the Catalan Referendum, in every bloodied baton and ever rubber bullet, transformed the day from a question of independence to a question of democracy. People were voting for the right to vote.
writes independent journalist Kevin Buckland, who provides eyewitness testimony of the Spanish government's savage determination to thwart Sunday's referendum in Catalonia.
He continues:
I am sitting on the floor of the polling station in central Barcelona, a long line has grown behind us. We have been here for hours already, but it doesn't bother us. Just by being here we are useful. The rain has slowed to a drizzle and faces are emerging from beneath the umbrellas. It could be the line of people waiting to see a movie, young couples, the middle-aged with their adult daughters, families with children — these are not protestors, these are people.

There is a nervous tension, as we wait we are seeing realtime images of polling stations that look exactly the same as ours having their doors kicked in, people pulled away by their hair, elderly women thrown down stairs; twitter is a scroll of police clubs and rubber bullets. In some places the hundreds of people, with arms linked or hands in the air are enough to turn back the police, in others masked men walk out of schools holding half-filled ballot boxes.

Please take a second to imagine this: you go to your usual polling station and, as usual, you wait in a short line to vote. As you wait, masked men in dark armored suits smash their way in, pushing the elderly, clubbing your neighbor and firing rubber bullets into the crowd. They grab the ballot boxes and march out. They steal your vote; steal your voice. Twitter says there are 234 people injured.
This is the largest act of civil disobedience I have ever seen, and the bravery it required of the everyday people should not be diminished. Just by standing in that line we were all risking great harm. We wait our turn, patiently and calmly, but nervously. We pass the time by chatting to those next to us in line. The woman in front of us tells us of the first time she voted after fascism ended; of the student protests and the police brutality. In a country with such a recent history of dictatorship, voting means something different for the older generation.

The crowd cheers after an elderly woman walks past the long line after voting, she claps her hands in joy and the crowd joins her. Having spent most of her life under fascism, democracy must taste sweeter. I see the woman in front of me wipe away a tear. The crowd cheers next for a old man in a wheelchair and a young couple with their baby, the noise follows each of them from the polling station. We cheer for everyone, not for how they voted, but becausethey voted. This has become about more than independence, it is about the right to vote; the right of a population to ask itself a question and to answer it.
Click here to read Kevin Buckland's full report of the day.
*
*
Richard Sudan was another journalist who encountered the brutality first hand. The following extract is drawn from an article published by RT:
I witnessed for myself police trying to control the flood of people entering one polling station in Barcelona, only to fail due to the sheer numbers of those present. A number of videos showed police entering separate polling stations and seizing ballot boxes full of votes that had been cast. Were it not for the large amounts of people occupying the polling station where I spent the afternoon, I believe the same thing would have happened there too.

And this brings us to the crux of the matter: Spain, or any other country, cannot claim for itself the status of 'a democracy,' while repressing the fundamental democratic freedoms of its people, in this case, the Catalans. Personally, the situation brings to mind the plight of the Palestinians, who are routinely attacked by the Israeli state while Israel harps on about being a democracy. Hypocrisy of the highest order.
Now, we've all the seen the images of the Spanish police beating Catalans, shutting down polling booths, and seizing ballot boxes. What I didn't see, however, and which is a stark paradox in my mind, were gatherings of neo-Nazi nationalists who were openly doing Nazi salutes in Catalonia Square being challenged with the same vigor, by the very same police who were attacking the polling booths. Why? How can this possibly make any sense?

How can the Spanish police justify their crackdown on voters while allowing neo-nationalists to make open Nazi salutes and parade in Barcelona unchallenged? Are the Spanish authorities really more afraid of the ballot box than neo-Nazis?
Entitled "Deafening silence: EU must condemn Spain's Catalonia crackdown", the same piece continues:
The only thing worse than this violence and hypocrisy is the deafening silence from other European and world leaders. The EU as a bloc has failed to take a formal stand against the brutalization of the Catalan people, who are, after all, citizens of the EU. Now, I'm not a fan of the neo-liberal economic program that underpins the EU, and I'm even less of a fan of the 'leave' campaign in Britain.

But it cannot be right, that the leadership of the EU is silent on this issue of Catalonia when it is so willing to criticize human rights abuses elsewhere.
Click here to read Richard Sudan's full report.
*
Media silence and complicity
In the days leading up to the referendum, corporate media outlets with few notable exceptions (RT, Al Jazeera and to some extent the Guardian), uncritically repeated the pro-Madrid mantra that the independence election was unconstitutional and thus illegal. Here was the patina of legitimacy for what would quickly follow. Repeating it meant promoting the Spanish government's pretext for violent suppression. It justified the media's collective decision to downplay an already impending paramilitary crackdown against a peaceful movement.
Of course the full shock of Catalonia's bloody Sunday could hardly fail to make headline news across the mainstream. That said, the media is well-honed in methods for spinning half truths and so although widely reported, the true picture was obscured nonetheless: voters became "protesters" with Madrid's armoured enforcers portrayed as "the security cordon". Reprinted below is part of an excellent post put together by Craig Murray which summarises the propaganda techniques used across the British media: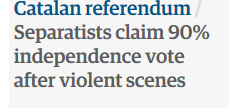 This was a headline on the Guardian front page at 10.29am today. The people who wrote it are highly educated media professionals. The misleading impression a natural reading gives is absolutely deliberate.

Maintaining the Establishment line in face of reality has been a particular problem for picture editors. The Daily Telegraph has produced a whole series of photos whose captions test the "big lie" technique to its limits.
Note the caption specifically puts the agency for the "clash" on the people. "People clash with Spanish Guardia Civila…". But the picture shows something very different, a voter being manhandled away from the polling station.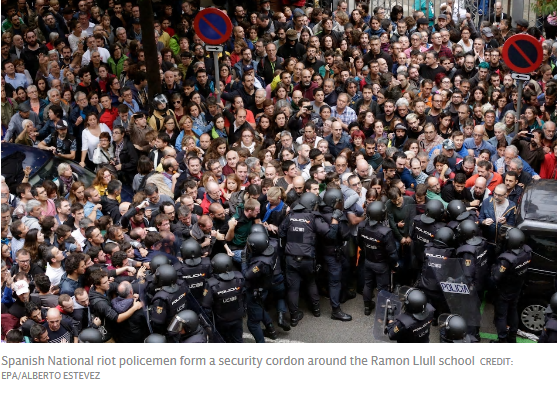 Actually what they are doing is preventing voters from entering a polling station, not preventing a riot from attacking a school, which is the natural reading of the caption.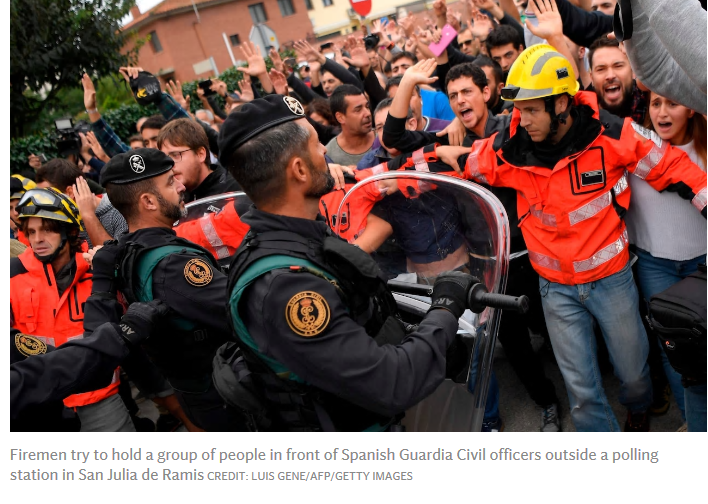 In fact the firemen are trying to shield people walking to vote from the paramilitaries. The firemen were attacked by the Guardia Civilia shortly after that.

Sky News every half hour is repeating the mantra that the Catalan government claims a mandate for Independence "after a referendum marred by violence", again without stating what caused the violence. In general however Sky's coverage has been a great deal better than the BBC; Al Jazeera has been excellent.
Click here to read Craig Murray's full article.
*
What next?
When Spanish President Mariano Rajoy deployed thousands of police forces to Catalonia to repress an illegal referendum for independence, he probably thought it would bring some closure to an open issue. Perhaps, enforcing the law violently on peaceful citizens who just wanted to cast a vote, and doing it on the global stage would finally convince those rebellious Catalonians that their cause was lost.

Far from closure, the events of 1 October 2017 will cause more consternation in Catalonia than ever before. It is fair to question if Catalonians live in a 21st Century democracy, whether their most basic human rights are going to be respected and whether there is any room for political dialogue. Many of those who were not pro-independence before yesterday but supported a referendum, are probably wondering today whether there is any point in even considering staying in Spain, after all.
writes journalist Victor Lasa in another article published by Counterpunch.
Lasa continues:
Make no mistake, this is not a symptom of political idiocy, but a well-thought, effective strategy. Surveys are already showing the PP [Partido Popular, the ruling party in Madrid] would win the government again, by a landslide. The PP thrives in conflict, and Catalonians served them one on a silver platter. Why resolve a conflict when you can benefit from it instead?  This is classic Real Politik applied within its own borders. By simplifying and trivializing, they polarize the electorate, perhaps leaving almost no chance for those who show moderation and relative impartiality, like center-left PSOE and Podemos. On the other hand, this conflict is the perfect attention deviation device. One they desperately need to divert attention from hundreds of cases of rampant corruption, which include the political manipulation of the same national police they sent over to Catalonia.
Madrid's iron-fisted suppression of Catalan nationalism plays well as a populist strategy in many quarters of Spain, however as Lasa points out, this latest display of force was so excessive that it has altered the political landscape more emphatically. He adds in conclusion:
The next time they have a chance, Spaniards and Catalonians will vote with their guts rather than their brains. Nevermind that PP will be reduced to political irrelevance both in Catalonia and the Basque Country. They will have the rest of Spain, drawing a map that paradoxically will make borders ever more obvious. One more question to answer now is how far the PP will go with this strategy. How much can the conflict be managed for political benefit before it explodes into an uncontrollable succession of violent events. It looks like we could find out soon, as the Generalitat [government of Catalonia] prepares itself to unilaterally declare Independence in the following days.
Click here to read Victor Lasa's full article entitled "Catalonia and the Unsustainable Strategy of Conservative Spain".
*
Update:
On October 2nd, Spanish Minister of Foreign Affairs, Alfonso Dastis, was interviewed on BBC2's Newsnight by Mark Urban. Here is part of that interview [from 0:50 mins]:
MU: But do you think the police in every case – pushing women downstairs, firing rubber bullets into polling stations – do you think they have used proportionate and legitimate force?

AD: Yes I do.
However, when interviewed more recently (Sunday October 22nd) on BBC's Andrew Marr Show, Dastis' position had completely changed. Where previously he tacitly acknowledged the extreme police brutality and defended it as legitimate, he now claimed it was "fake news" [from 6:45mins]:
AD: No I don't think there is any brutal situation – look, I think by now many of those pictures have proven to be fake pictures…

AM interjects: Really?

AD: And if there was any use of force it was a limited one and prompted by the fact that the law and order agencies were prevented from discharging the orders of the courts.

AM: You're saying that those pictures that people saw of Spanish police intervening aggressively in polling stations are all fake pictures – they didn't happen?

AD: I'm not saying that all are fake pictures but some of them are. And you know there has been a lot of alternative facts and fake news here. And as I said, if there was at all – and according to the pictures there was – some use of force it was not a deliberate use of force. It was a provoked use of force.
Unfortunately I cannot embed the interview because that option has been made unavailable but you can watch it by following this link: https://youtu.be/wuIAx_oQ-Ss
You can also watch the same interview on BBC iplayer by clicking here.