Victory for Syriza means the election of the first anti-austerity party in the western world. Our heartfelt congratulations and best wishes should go to everyone in Greece. The cradle of civilisation and birthplace of democracy have pointed the way forward once again.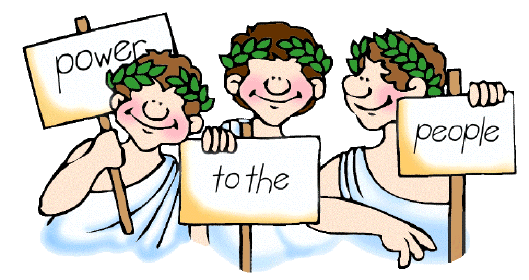 Following the financial crisis (which was actually a banking crisis, as I have pointed out many times before), it was Greece that was unfortunate enough to be singled out and placed at the head of the queue for dose after dose of neo-liberal economic shock therapy. The so-called "Troika" of the IMF, ECB and EU being quick to impose a strict austerity programme, backed up with further 'Washington Consensus'-style 'conditionalities' — the enforced privatisation of public services and other types of 'deregulation'.
More than half a decade later, and instead of prosperity, "austerity" (i.e., savage cuts – I always apply apostrophes) has created a vicious spiral of debt, with mass unemployment and reduced incomes leading inexorably to reduced demand, stifled economic growth and, no less importantly, lost tax revenues that would otherwise have been available for government investment. Along the way, money has been deliberately siphoned from the poorest in society to the wealthiest. But then "austerity" provides a wonderful excuse for this theft and always did.
The main message to be taken from Sunday's dramatic election result – a landslide victory for one of the newest parties in Europe – was perfectly loud and clear, though certainly not the one that the news media will want you to focus on. It is that 'austerity' simply does NOT work! (except for a tiny elite who, some twenty fours prior to the Greek election, were flying home to their mansions from that annual obscenity known as the World Economic Forum in Davos in about seven hundred separate private jets.)
Click here to see a full breakdown of the election results region by region.
Of course, and especially in light of the vapid insincerity of Barack Obama's 2008 "Hope and Change" campaign, it is understandably difficult for many people to grasp that any kind of meaningful political change can be delivered through the ballot box (or achieved in any other way). Duped over and over again in election after election, we have all been conditioned to believe in our own helplessness. And Obama, more than perhaps anyone else, has been responsible for undermining hope, causing us to feel that to dream of a better future is forlorn and that whatever sociopolitical change comes, invariably turns out for the worst. But we must remind ourselves that Obama was an out-and-out phoney. An insider, Wall Street crony, who was astutely repackaged as a messianic saviour for a naive and race-divided American public. Alexis Tspiras and Syriza are a different kettle of fish altogether. They offer a genuine grassroots opposition which, unlike Obama, came into office despite the efforts of a hostile media, and still remain free from corporate strings. They also bring to the table a set of carefully deliberated economic and other policy demands – something else that was conspicuously absent from Obama's intentionally vague "Hope and Change" campaign.
Whether or not Alexis Tsipras and Syriza will now deliver on all their promises we must wait and see. Meanwhile, the people of Greece and elsewhere might help if only by continuing to loudly voice support for those same demands. This is a time for everyone of goodwill to put aside lesser ideological differences – just as Syriza have already done by forming a coalition with a party of the right – to join the Greeks in solidarity, supporting their struggle for self-determination and basic democratic control against the oppressive outside forces of "the Troika".
What the Greek people achieved on Sunday also presents us with a solid foundation for our own fight against "austerity". They have opened up a window of opportunity (perhaps a narrow one) for establishing a movement that demands real change across the whole continent. For this victory was not about Syriza as such, but about a principle. That lives of ordinary people matter far more than a plethora of inanimate market indices and corporate balance sheets. The greater hope being that a spark from Syriza's extraordinary election victory will be enough to ignite a chain reaction through Spain (with Podemos), Portugal, Italy and on and on, to ultimately force a total cessation of the callous insanity of the imposed "austerity" regime. And our hopes ought not to end with mere 'change' per se, which may of course be good or bad, but for a lasting improvement in our societies, beginning at the economic level, and bringing about a more prosperous future for all nations.
*
Here in Britain, the closest group we have to Syriza is Left Unity, who have already formed a loose alliance with both Syriza and Podemos:
Somewhat belatedly (in my opinion), Left Unity recently launched their own election campaign. They are now asking for support:
Austerity has wrecked Britain. We are far worse off now than we were in 2010 – and all we are promised is more hard times. Today the richest 1% in Britain own as much wealth as the poorest half of the population put together.

The 2015 general election will be an opportunity for millions of people across the country to have their say over the austerity programme of the Con-Dem government. The propaganda machine has already sprung into action, with George Osborne claiming to be tackling the national debt and to have the economy back on track. In reality, real wages are falling, prices are soaring – and the deficit has actually grown under his austerity regime.

And yet the opposition from Labour has been appalling. They have given ground on almost every key issue. Labour has promised to keep to the Tory spending plans if they are elected in May. They won't roll back any of the changes to education. They claim they will repeal the Health and Social Care Bill, but they won't scrap PFI, which is bankrupting hospital trusts.

This is why we need Left Unity.

We will be standing candidates in different constituencies across the country. Our plan is not to stand hundreds of candidates, but to get organised in selected key seats to get Left Unity's message out to potential voters.

We need your support now to help organise election campaigns on the ground. Left Unity's national council has issued an appeal for £20,000 to fund this work.
*
 Additional:
Yanis Varoufakis, who is professor of economic theory at the University of Athens, has been appointed as the new Greek Finance Minister. Here is an interview he gave that was broadcast on Russia Today's "Boom Bust" back on January 12th (a fortnight prior to the election):
And this is Varoufakis speaking two years ago in an address that was presented to the founding assembly of the United Front Against Austerity (UFAA) on October 27, 2012 in New York City:
His writings can be found at http://yanisvaroufakis.edu
*
Update:
On February 2nd, the Keiser Report was devoted to analysis of the Greece situation. Reminding us that Greece is insolvent in much the way the banks were and remain insolvent, Max Keiser and Stacy Herbert also highlighted the vital role that Goldman Sachs had played in an earlier deception to hide Greek debt. A scheme which enabled the Greek government of the time to meet the criteria necessary to join the Eurozone:
Click here to watch on the Russia Today website.